I love one-pot meals that cover the four basic food groups. I love them even more if they can be prepared in less than 30 minutes, like this dish. The only trouble with this dish was the cheese. I went to three stores before finding it at one of Milwaukee's gems, Glorioso Brothers Company, an Italian grocer and specialty food shop on now-trendy Brady Street. If you can't find ricotta salata, try substituting feta.
I'm still eating orchard apples (our CSA delivery included a couple more pounds!), but I'm not going to complain. We would have bought more if we needed to to make caramel-coated apples, a now annual tradition for us. Although you can decorate the apples with just about anything, I especially love the caramel paired with salted, roasted nuts.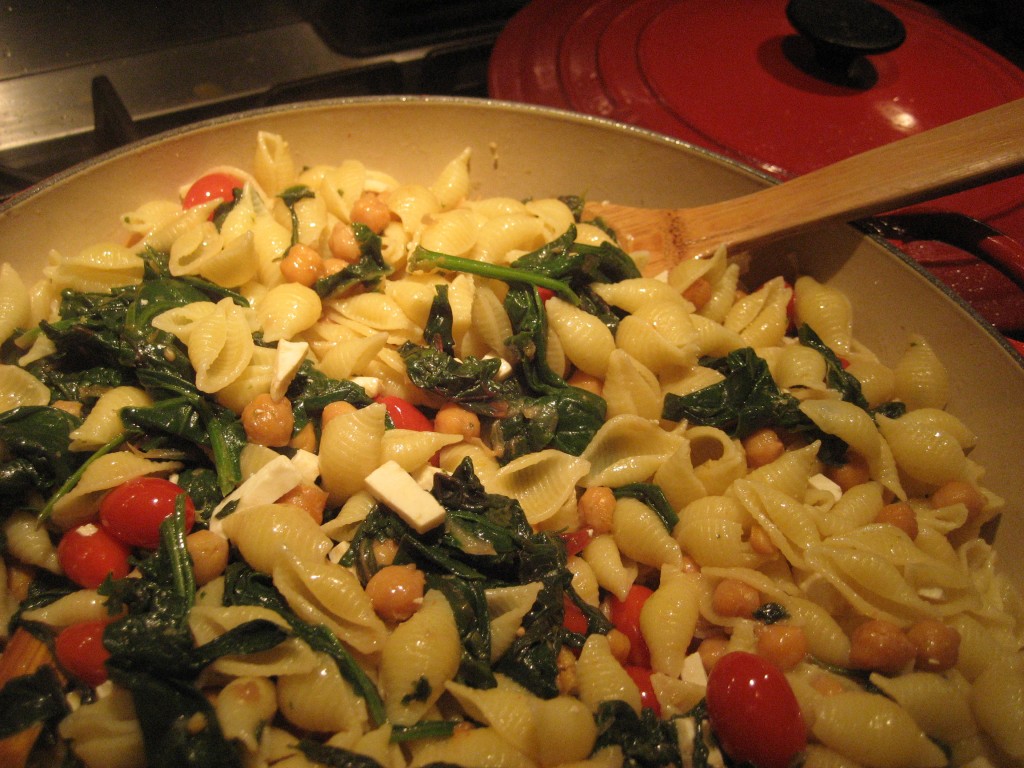 Pasta with Greens, Garbanzo Beans and Ricotta Salata
adapted from Food Network's Giada at Home
Serves 4 to 6
1 lb (450 g) medium pasta shells, orecchiette or other short pasta
1/2 cup (120 ml) olive oil
2 garlic cloves, crushed
1/2 teaspoon red pepper flakes
12 oz (340 g) Swiss chard, stemmed and roughly chopped
12 oz (340 g) baby spinach leaves
1 x 15-oz (425‑g) can garbanzo beans, rinsed and drained
2 cups (280 g) small cherry or grape tomatoes
8 oz (225 g) ricotta salata cheese, crumbled
2 teaspoons lemon zest
salt and freshly ground black pepper
Bring a large pot of salted water to a boil over high heat. Add the pasta and cook until al dente, according to package directions. Drain and reserve about 1 cup (240 ml) of the pasta water.
In a large skillet over a medium-high heat, heat the oil. Add the garlic and cook until fragrant and lightly browned, about 4 minutes. Using a slotted spoon, remove the garlic and discard. Stir in the red pepper flakes to the oil. Add the chard and cook until wilted. Add the spinach and cook until wilted, stirring. Add the beans and tomatoes and cook for 5 minutes. Turn off the heat. Add the pasta, half the cheese, and lemon zest. Toss well and thin out the sauce with a little pasta water, if needed.
Transfer to a large serving bowl and season with salt and pepper. Sprinkle with the remaining cheese and serve.
***
Caramel-coated Apples
adapted from Kraft
Makes 5 caramel apples
5 apples, washed and well dried
14 oz (400 g) caramels, unwrapped
2 tablespoons water
toppings: chopped nuts, mini chocolate chips, shredded coconut, sprinkles
Insert wooden sticks (from the bag of caramels or popsicle sticks) into the stem ends of the apples. Cover a large cutting board with waxed paper and grease the paper with butter.
Cook the caramels and water in a large saucepan on a medium-low heat until the caramels are completely melted, stirring constantly.
Dip the apples in caramel. Spoon additional caramel over the apples if necessary to evenly coat them. Let excess caramel drip off. Scrape the bottoms of the apples to remove more excess caramel. Roll the apples in your topping(s) of choice. Place the apples on the prepared plate. Refrigerate for 1 hour (if you can wait). Remove from the refrigerator 15 minutes before serving; let stand at room temperature to soften slightly. Refrigerate leftovers.

Email this post

Print this post