This is a great meal to serve when dinner for six suddenly turns into dinner for nine. Cousin Alais came to visit and our casual supper turned into a casual dinner party when old friends from California came into town. The braised pork dish doubles well and rice can stretch a long way when you need it to. An Asian-inspired salad rounds out the meal well. We also ate an asparagus and bean sprout salad that my in-laws made. If I can talk my mother-in-law out of the recipe, I'll add it later.
I've been looking for these cupcakes for a long time, maybe my entire adult life. I love coconut; I love cake. So why is it so hard to find a good coconut cake? This cupcake recipe is exactly what it should be. Delicate, not too sweet, with a strong coconut flavor and a tangy frosting. I think the coconut milk and dessicated coconut made this recipe. If you're looking for dessicated coconut (sweetened or unsweetened work fine), check out Whole Foods or your local health food store. Also, these make precious Halloween ghost cupcakes with the addition of mini-chocolate chip eyes. Sam insisted on adding noses, which also looked cute, if not exactly scary.
Clay Pot Pork
from Gourmet, May 2008
Serves 4
1/3 cup (75 g) sugar
3/4 cup (175 ml) water
1/3 cup (80 ml) Asian fish sauce, preferably Vietnamese
3 shallots, thinly sliced
2 garlic cloves, thinly sliced
3 scallions, thinly sliced diagonally, white and green parts kept separate
1 lb (450 g) trimmed boneless pork shoulder, cut into 1‑inch cubes
1 teaspoon finely ground black pepper
cooked rice, to serve
Cook the sugar in a dry 3‑quart heavy saucepan over a moderate heat, without stirring, until it begins to melt. Continue to cook, stirring occasionally with a fork, until the sugar has melted into a deep golden caramel. Carefully add the water and fish sauce (the caramel will harden and steam vigorously) and cook, stirring, until the caramel is dissolved. Add the shallots, garlic, and white part of the scallions and cook, uncovered, stirring occasionally, for 4 minutes.
Toss the pork with the pepper in a bowl and stir into the sauce. Bring to a simmer, then cover the pan, reduce the heat to low, and braise the pork, stirring once or twice, until very tender, 1 1/4 to 1 1/2 hours. Stir in the scallion greens and serve with rice.
***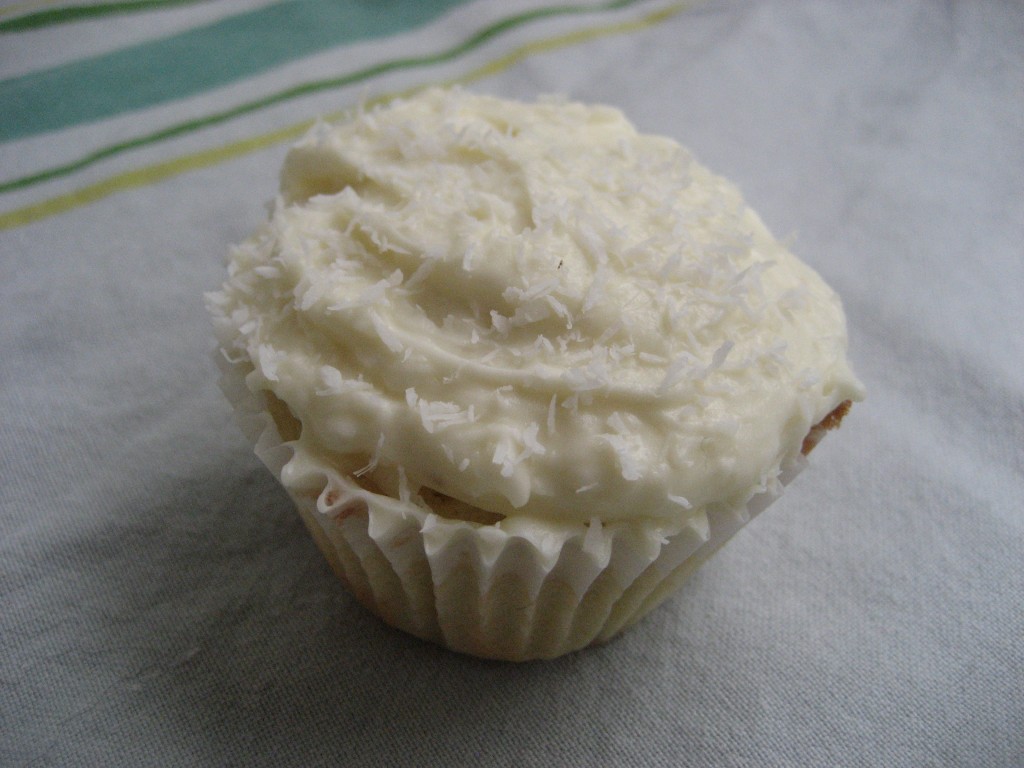 Coconut Cupcakes with Coconut Cream Cheese Frosting
adapted from Simplyrecipes.com
Makes 18 cupcakes
for the cupcakes:
3/4 cup (165 g) unsalted butter, room temperature
1 1/4 cup (250 g) sugar
3 eggs, room temperature
2 1/4 cups (270 g) flour
1 teaspoon salt
1 teaspoon baking powder
1 cup (240 ml) canned coconut milk (regular, not light)
1 teaspoon vanilla extract
1/2 cup (40 g) desiccated coconut
for the frosting:
1/4 cup (55 g) butter, room temperature
8 oz (225 g) cream cheese, room temperature
3/4 to 1 cup (90 to 120 g) powdered sugar
1/4 cup (20 g) desiccated coconut, plus extra for sprinkling
Preheat the oven to 350°F (180°C).
Cream the butter until light and fluffy. Add the sugar and cream until light and fluffy again, scraping down the sides halfway through to ensure even mixing.
Add the eggs one at a time, beating for 30 seconds each to ensure they are well mixed. Be sure to scrape down the sides to ensure even mixing.
Combine the flour, salt, and baking powder in one bowl. In another, add 1 cup (240 ml) of a well-shaken can of coconut milk and the vanilla. Add one-third of the dry ingredients to the butter and sugar mixture and mix, then add half of the wet ingredients. Continue alternating with the wet and dry mixtures, ending with the dry. Stop mixing just as the ingredients become incorporated; do not overbeat. Fold in the coconut.
Scoop the cupcake batter into cupcake papers about three-quarters of the way full. Bake for 18 to 22 minutes, rotating the pan after 15 minutes to ensure even baking. Be sure to check with a toothpick to see if the cupcakes are done. If the toothpick comes out of the cupcake clean, then they're ready. Allow the cupcakes to cool for a minute or two in the pan, then transfer to a wire rack to cool completely.
To make the frosting, cream the butter and cream cheese together for about 3 minutes. Scrape down the sides and bottom of the bowl. Slowly add the powdered sugar — taste as you go, adding more sugar until you've reached the desired sweetness. Fold in the coconut. Spread about 2 tablespoons onto each cooled cupcake. Sprinkle a bit of extra shredded coconut on top and serve.

Email this post

Print this post