I saw recipes for ratatouille for years and always flipped right by them in my cookbooks. A stew of nothing but vegetables sounded bland and boring to me — and this from someone who was a vegetarian for a time. It was only when I came across this recipe for Italian sausages and ratatouille that I was tempted to finally give it a try. I couldn't believe how good it was, and kicked myself for not making it sooner. It's the kind of dish that's definitely more than the sum of its parts. While the sausages do impart an extra depth of flavor to it — especially if you get high-quality butcher sausages like pepper and herb, or my favorite, the Guinness sausages my local butcher makes — I've since made this just as often without them, and it's equally as good. It's the perfect dinner for late summer, when all these vegetables are readily available. I always make this on the day I get my delivery of organic fruit and veg, when everything is fresh and perfect.
There are so many versions of this classic dish out there. Most call for fresh tomatoes, as does this one, but to be honest, I just use canned tomatoes 99% of the time. Some use fennel, green peppers, wine or balsamic vinegar. Some use basil, marjoram, parsley or herbes de Provence. Almost all of them sauté the vegetables in batches in separate pans (I roast them because it's easier). In other words, pretty much anything goes — use what you have or what you like and you can't go too far wrong.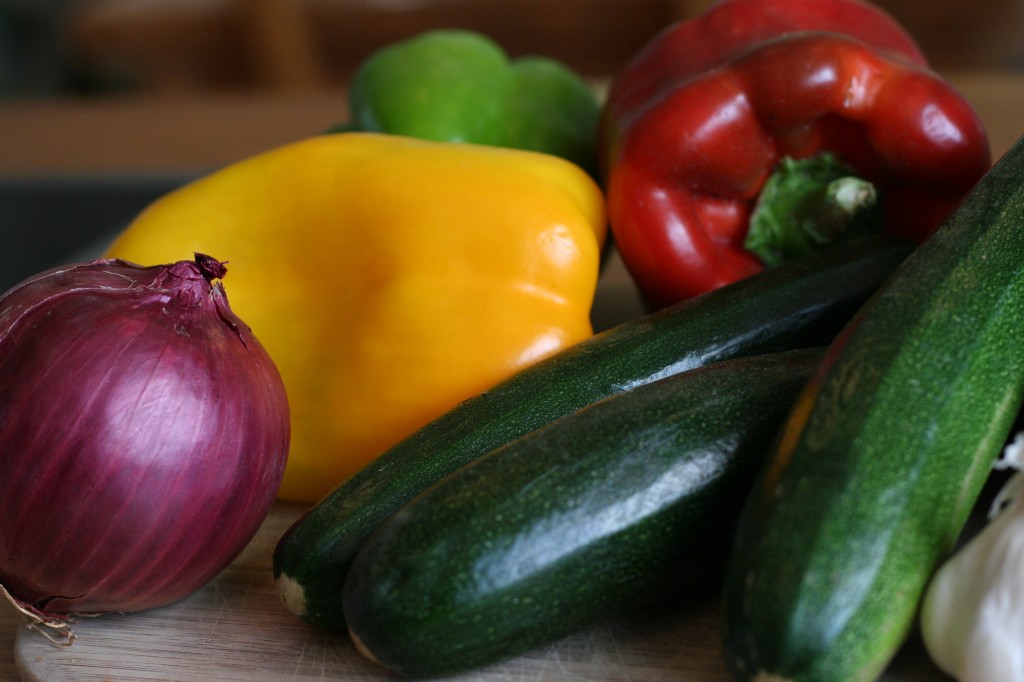 Still looking for more ways to use up tomatoes? Try Chicken Cacciatore, Tomato and Goat's Cheese Tart, Ravioli and Tomato Salad, Spaghetti with Fresh Tomato Sauce or Spaghetti with Roast Cherry Tomatoes, Chili and Basil.
Oven-roasted Ratatouille with (or without) Sausages
Serves 6
4 medium zucchini, chopped into bite-sized pieces
3 small eggplants, chopped into bite-sized pieces
3 red or white onions, chopped into bite-sized pieces
2 red peppers, deseeded and chopped into bite-sized pieces
2 yellow peppers, deseeded and chopped into bite-sized pieces
olive oil
salt and freshly ground black pepper
3 cloves garlic, chopped
2 x 14 oz (400 g) cans of chopped tomatoes
a few sprigs of fresh thyme (if you have it), chopped
2 sprigs of fresh rosemary, chopped
12 good-quality butcher sausages (allow 2 sausages per person)
Preheat the oven to 400°F (200°C).
Place the chopped zucchini, eggplants, onions and peppers on 2 baking sheets. Drizzle with olive oil and season well with salt and freshly ground black pepper. Toss the vegetables with your hands to ensure they're all coated with the oil. Roast the vegetables in the oven for about 30 minutes, until they have blackened slightly, taking care not to let anything burn.
About 10 minutes before the vegetables are done roasting, heat 1 tablespoon of olive oil in a large pot (big enough to eventually hold all the vegetables, tomatoes and sausages, if you're using them) over a medium heat. Add the garlic and cook for 1 minute, taking care not to let it burn. Add the tomatoes, chopped herbs and salt and freshly ground pepper and ring to the boil. Reduce the heat and simmer, uncovered, while the vegetables finish roasting.
Once the vegetables are done, add them to the pot with the tomatoes and stir to combine. Nestle the sausages into the vegetables and sauce, making sure they are immersed in the sauce as much as possible. Cover the pot halfway and continue to simmer on a medium-low, stirring occasionally so that nothing burns on the bottom, for about 30 minutes, until the sausages are cooked through and the flavours have blended together. Season to taste. Serve with crusty bread, or spooned on top of pasta as a sauce.

Email this post

Print this post