You can learn a lot from reading cookbooks. By that I don't mean just reading the recipes, but the surrounding text as well, where some good tips can be hidden. It was from Nigella Lawson's How to Eat that I learned the great trick of substituting vermouth when a recipe calls for white wine, for the simple reason that if I open a bottle of wine to add some to whatever I'm cooking, the rest of it is going to be drunk that night. That's not necessarily a problem, except that I like to cook with wine and that can get expensive, whereas you just need a splash of vermouth for the same effect and one bottle will last for a couple months.
Another invaluable trick is one I learned from Rick Balyess's Mexican Kitchen: deflaming onions. I've never been a fan of raw onions, finding them to be too overpowering in most dishes, but deflaming them takes a lot of the bite out of them. All you do is prepare the onion as your recipe says to, then toss the cut-up onion into a strainer and rinse well under cold water. I do this all the time now.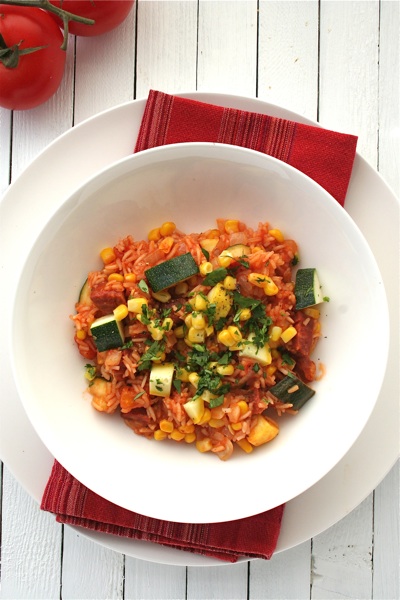 This is a great one-dish dinner on its own, though Rick Bayless suggests pairing it with some dressed greens (try the Tangy Avocado Dressing) or a spinach salad, warm tortillas, and perhaps a small bowl of beans for, as he says, "a supper to savor." If you're really in the spirit of the summer season, use the kernels from 1 ear of fresh corn here.
Mexican Rice Supper with Chorizo, Zucchini and Corn
adapted from Rick Bayless's Mexican Kitchen by Rick Bayless
Serves 4
If you have your own favorite salsa recipe, then by all means use that instead here. If you don't want to bother making your own salsa, just substitute 2 cups (480 ml) of a good store-bought one. This dish can be made a day ahead, though the zucchini will suffer a bit in the reheating.
for the salsa:
2 medium round tomatoes or 4 to 6 plum tomatoes, chopped into 1/4‑inch dice
1 or 2 red chilies (or 3 to 5 fresh Serrano chilies), deseeded and finely chopped
1 large garlic clove, finely chopped
3 tablespoons chopped cilantro, plus extra to garnish
1 small onion, finely chopped
for the rice:
1 cup (225 g) chorizo sausage, casing removed
1 cup (180 g) rice, preferably medium grain
3/4 cup (175 ml) chicken, beef or vegetable stock (or water)
salt and freshly ground black pepper
2 small zucchini, cut into 1/2‑inch dice
1 cup (200 g) corn
To make the salsa, mix together the tomatoes, chillies, garlic and cilantro. Place the chopped onion into a strainer, rinse under cold water, shake off the excess and add to the mixture.
To make the rice, break up the chorizo into a medium heavy-bottomed saucepan (it will need to be big enough to accommodate all the ingredients) and set over a medium heat. Stir regularly, breaking up any lumps, until the chorizo is thoroughly cooked, about 10 minutes. Remove it with a slotted spoon, then pour off all but 1 tablespoon or so of the fat. Add the rice to the pan, return to the heat and stir regularly until the rice is lightly browned, about 7 minutes. Add the salsa, raise the heat to medium-high and cook, stirring every once in a while, until very thick and reduced, about 7 minutes.
While the mixture cooks, bring the stock (or water) to a boil in a small saucepan. Add to the rice mixture, stir once, scrape down any rice kernels clinging to the side of the pan, cover and cook over a medium-low heat for 10 minutes.
Add the cooked chorizo, zucchini and corn, re-cover and cook 5 minutes longer. Uncover and bite into a grain of rice: it should be nearly cooked through. If the rice is ready, turn off the heat, cover, and let stand for 5 to 10 minutes longer to complete the cooking. If the rice seems far from done, continue cooking for 5 minutes or so, retest, then turn off the heat and let stand for a few more minutes.
Divide into 4 warmed bowls, sprinkle with the extra cilantro, and serve.

Email this post

Print this post