I wasn't planning to post this week (birthdays, holidays, children, my excuses could go on forever), but this cake is so quick, easy, and different, I had to share. In case any of you need a holiday dessert you can make the ahead of time, this is the cake for you. It's texture and flavor become more complex on day two, though eating it warm out of the oven might be delicious also. This cake alone might save my sanity this season. I made it last weekend for lunch with my cousin. It's not too sweet so I'm taking another one to work for my birthday breakfast treat tomorrow. And then I'll make it again on Friday night to serve with Christmas dinner on Saturday. Speaking of which, I'm cutting this post short so I can get back to figuring out the logistics of seating thirteen people for dinner at a table that only holds twelve. Happy holidays everyone!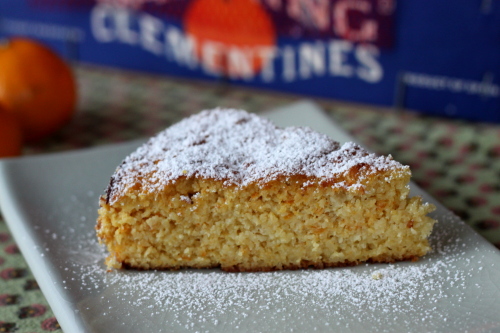 Clementine Cake
adapted from Nigella Lawson
Serves 8
Like many of Nigella Lawson's cakes, this one seems an incredibly bad idea as you stir it together. Seriously, who would think to boil whole clementines, mash them peel and all, and throw them into a cake that doesn't even have flour? It works though, and your whole house will smell wonderfully of citrus as it bakes.

4 to 5 clementines (about 13 oz / 370 g total weight)
6 eggs
1 cup plus 2 tablespoons (225 g) sugar
2 1/3 cups (250 g) ground almonds
1 heaping teaspoon baking powder
Powdered (confectioner's) sugar, for dusting
Put the clementines in a pot with cold water to cover, bring to the boil, and cook for 2 hours. [Check the pan regularly to ensure it doesn't dry out.] Drain the clementines and, when cool, cut each clementine in half and remove the seeds. Then finely chop the skins, pith, and fruit in the processor (or by hand, of course).
Preheat the oven to 375°F (190°C). Butter and line an 8‑inch springform pan with parchment paper.
Beat the eggs. Add the sugar, almonds, and baking powder. Mix well, adding the chopped clementines. I don't like using the processor for this, and frankly, you can't balk at a little light stirring.
Pour the cake mixture into the prepared pan and bake for 1 hour, when a skewer will come out clean; you'll probably have to cover the cake with foil after about 40 minutes to stop the top from burning. Remove from the oven and leave to cool, in the pan on a rack. When the cake is cold, you can take it out of the pan.

Email this post

Print this post