I originally posted this on February 15 2010, but have updated the recipe to make it easier and less time consuming.
I've been trying to go back to cookbooks I haven't used in awhile, so last week I pulled The River Cottage Meat Book
by Hugh Fearnley-Whittingstall down off the shelf and cassoulet caught my eye. While I wound up making a different version, it ticks a lot of boxes — this one can be made in a slow cooker, it's good value (cassoulet is a traditional French peasant dish), it's hearty, rib-sticking food for cold nights and it makes more than enough for two meals.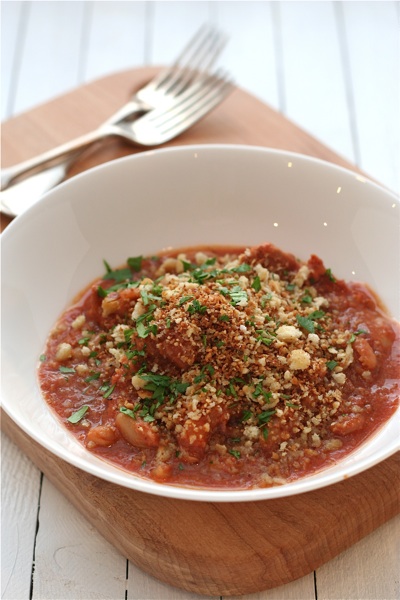 If you like the idea of a cassoulet but don't have a slow cooker or don't have all day to let it cook, you could try Jacques Pépin's 30-minute version or Jamie Oliver's kinda sausage cassoulet. In his recipe, Hugh F‑W suggests serving this with an orange and watercress salad.
Slow Cooker Cassoulet
Serves 8 to 10
If you can't get pork shoulder, pork leg or even loin would work too — just get the butcher to remove the fat for you. If you wanted to add in some veg, a few carrots, peeled and sliced on the diagonal, would work well.
olive oil
3 onions, coarsely chopped
salt and freshly ground black pepper
3 lb (1.4 kg) boneless pork shoulder, cut into 2‑inch pieces (you can ask your butcher to do this for you)
1 lb (450 g) fully cooked or smoked chorizo or garlic sausage links, sliced on the diagonal
2 x 14 oz (400 g) cans of cannellini, haricot or Great Northern beans
1 x 28 oz (or 2 x 14 oz/400 g) cans whole plum tomatoes, drained and coarsely chopped
2 cups (500 ml) chicken stock
1 cup (500 ml) dry white wine, such as Sauvignon Blanc (or use stock or water if you prefer not to use alcohol)
3 tablespoons tomato paste
1 head of garlic, halved crosswise
1 cup (100 g) breadcrumbs, plus extra to serve
a handful of chopped fresh flat-leaf parsley, plus extra for garnish
crusty bread, to serve
Put a large frying pan over a medium heat and add in a splash of olive oil. Add the onions and a pinch of salt to prevent the onions from browning and cook for about 10 minutes, until they're translucent but now browned. Transfer the onions to the slow cooker, then stir in the pork, chorizo, beans, tomatoes, stock, wine, tomato paste and garlic along with a generous seasoning of salt and pepper.
Set the cooker to low and cook, covered, for about 8 hours, until the pork pulls apart easily with a fork (though it could be as much as 10 hours). Skim off any fat and remove and discard the garlic. Fold in the panko or breadcrumbs and the parsley. Taste and season as needed.
Let the cassoulet stand at room temperature for 10 minutes before serving. Sprinkle each serving with extra breadcrumbs and parsley and serve with warm crusty bread.

Email this post

Print this post