Back in December, a local DIY store had an unbeatable deal on greenhouses when they had them on sale for a little over €100, so we snapped one up. Granted, it's as small and flimsy as you'd expect a €100 greenhouse to be, but it's still standing, despite our reservations that it would all fall to pieces in the first strong wind. And it means that we're finally able to grow tomatoes! But if I thought my husband was besotted with his potatoes last year, that was nothing compared to his love affair with the tomatoes. Any free minute he gets, he's pottering around out in that greenhouse, checking on the cherry and San Marzano tomatoes before he leaves for work in the morning and then again as soon as he gets in the door at night to see how they've ripened during the day. I don't think we'll have a glut of them and will probably be eating them on their own with just a little salt, pepper and a drizzle of good olive oil, but if your garden is producing a lot of cherry tomatoes or if you can get them cheap at a farmers' market, this is one of my favorite new dishes that I've made a few times now and is a good way to use them.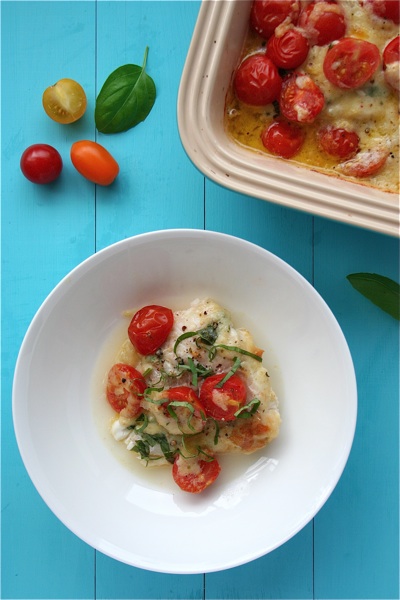 Gratin of Fish with Cheese, Tomatoes and Herbs
adapted from Rachel's Favourite Food at Home
by Rachel Allen
Serves 4
When you make this, you'll probably start to think that the cheese and cream mixture isn't enough to cover all the fish, but don't worry, it will once it melts. Rachel Allen's original recipe calls for flat fish, such as plaice or lemon sole, but I like the meatier texture of a firm white fish like hake or cod instead. If you can't get one or the other of Gruyère or Swiss cheese (Emmental), just double the quantity of the cheese you can get. If you're in Ireland, try using the Glebe Brethan farmhouse cheese instead of the Gruyère.
1 cup (100 g) grated Gruyère cheese
1 cup (100 g) grated Swiss cheese (Emmental cheese)
1 tablespoon Dijon mustard
5 tablespoons cream
salt and freshly ground black pepper
1 punnet (9 oz/250 g) cherry tomatoes
1 teaspoon chopped fresh thyme leaves or 2 tablespoons chopped fresh basil
1 1/2 lb (750 g) white fish fillets, such as hake or cod, skinned and deboned
green salad, to serve
boiled new potatoes, to serve
Preheat the oven to 350°F (180°C).
Place the grated cheeses, mustard and cream into a bowl and mix well. Season with salt and freshly ground black pepper and set aside.
Cut the cherry tomatoes in half and place into a bowl. Season with a little salt and add the herbs. Mix the ingredients well so that the cherry tomatoes are well seasoned.
Lay the fish in a gratin dish (or individual ovenproof dishes) in a single layer if you can. Dot the cheese mixture over the fish, then scatter the tomatoes and herbs on top. Transfer the fish to the oven and cook for 20 to 30 minutes (or 15 minutes for single portions), until the cheese is golden brown and the fish is cooked through.
To serve, place a portion of the fish on a plate and serve with a big green salad and some boiled new potatoes.

Email this post

Print this post