As odd as this is to admit, I've developed an addiction to canning. It all started quite innocently with a batch of strawberry lemonade concentrate a couple years ago. Then last year Kristin helped me put up a batch of garlic dill pickles. Now I've worked my way up to pickled peppers, spicy dilly beans, green tomato relish, and, finally this year, jam. Strawberry jam, though not the easiest thing I've ever cooked, may be one of the best things to come off my stove top. Even the extra emergency trip to the store to buy more Sure Jell (Anabelle had hidden mine in the microwave) didn't bother me after tasting the final product.
But what can you do with such a treasure? Surely it could not live up to its potential merely spread on wheat toast. Leave it to Sam to come up with a solution — a jelly roll. How a four-year-old even knows about this old-fashioned dessert is beyond me, but I'm glad he does. The light sponge cake highlights the sweet, ruby red jam beautifully, a tasty and lovely looking treat, perfect for a picnic.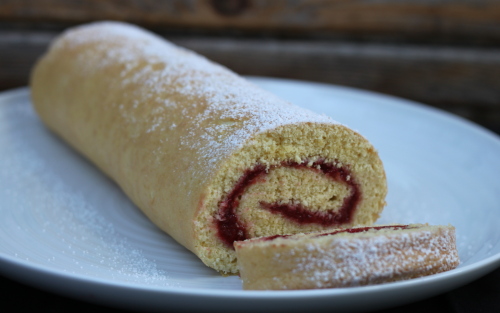 Old South Jelly Roll Cake
From Paula Deen, Food Network
4 eggs, separated
3/4 cup (150 g) sugar
1 tablespoon vanilla
3/4 cup (75 g) cake flour, sifted
3/4 teaspoon baking powder
1/4 teaspoon salt
1 cup (250 ml) jam, stirred well
confectioners' sugar (a.k.a. icing sugar), for dusting, sifted
whipped cream, to serve (optional)
Preheat the oven to 400°F (200°C).
In a small bowl, beat the egg whites until stiff but not dry and set aside. In another bowl, beat the egg yolks until light. Gradually add the sugar and vanilla, and mix well. Sift together the flour, baking powder, and salt. Add the sifted flour mixture to the egg yolk mixture. Fold the egg whites into the egg mixture and pour the batter into a 15 x 10 x 1‑inch jelly roll (Swiss roll) pan lined with waxed paper. Bake for 8 to 10 minutes, or until the cake is golden.
Loosen the edges of cake and invert the cake onto a dish towel dusted with confectioners' sugar. Gently and slowly peel the wax paper off the cake. Trim 1/4 inch of hard crust off each long side of the jelly roll cake. Begin with the narrow side and roll the cake and towel up together. Cool the cake on a rack, seam side down, for 10 to 15 minutes.
Once the cake has cooled, gently unroll and spread the cake with jam and re-roll. Sprinkle with confectioners' sugar. Serve with whipped cream, if desired.

Email this post

Print this post