When I'm feeling especially nice, or especially burdened with working mom's guilt, dinner planning tends to be child-focused. My kids are great eaters, but like most kids, they'd rather have white bread than wheat, white rice instead of brown, and regular pasta instead of whole grain. Since I knew I was going to put something white (i.e. unhealthy) on their plates, why not just do it up right with bacon, cheese and a few eggs, à la carbonara?
I've been wanting to try pasta carbonara for years but never thought to search out a recipe. I ended up using a simple, straightforward version from a culinary school's online recipe collection. Admittedly, I've never eaten pasta carbonara so I can't tell you if their version is especially good. I can tell you that my kids gobbled it up, asking for more before their first helpings were even finished. My husband and I also enjoyed it, though we both agreed that extra freshly chopped parsley and cracked black pepper enhanced the dish.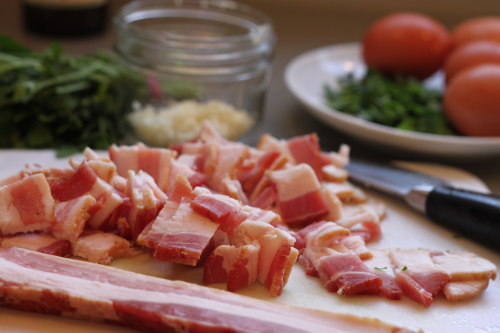 Classic Spaghetti Carbonara
adapted from Baltimore International College's School of Culinary Arts
Serves 4
To make this a 30-minute meal, put on your pasta water to boil immediately. While the water comes to a boil, you can chop your ingredients. Start the bacon frying, then throw your pasta in its water. The sauce comes together in just about the same time it takes the spaghetti to cook.
1/2 lb (225 g) bacon, chopped
1 tablespoon garlic, chopped
1 lb (450 g) fresh spaghetti, cooked al dente (note: I used dry pasta)
4 large eggs, beaten
1 cup (100 g) freshly grated Parmigiano-Reggiano
1 tablespoon chopped fresh parsley (or more, to taste)
salt and freshly ground black pepper
In a large sauté pan over a medium heat, cook the bacon until crispy, about 6 minutes. Remove the bacon and drain on paper towels. Pour off all the oil except for 3 tablespoons. Add the garlic, season with black pepper and sauté for 30 seconds. Add the crispy bacon and the cooked pasta. Sauté for 1 minute.
Season the eggs with salt. Remove the pan from the heat and add the eggs, whisking quickly until the eggs thicken, but do not scramble. Add the cheese and re-season with salt and pepper. Mound into serving bowls and garnish with parsley.

Email this post

Print this post