A slow cooker isn't the most glamorous piece of kitchen equipment, but it's a busy cook's best friend. Kelly has sung their praises, and I convinced my friend Emma to buy one last year when the cold weather set in after talking up all their benefits. After a few months though, she admitted that the first two recipes she'd made were flops, one of which was so bad they wound up giving it to the dogs and ordering take-out. That's the main drawback with slow cookers, and why I'm always hesitant to buy cookbooks dedicated solely to them. When a slow cooker recipe is bad, it tends to be really bad — insipid or even, as in Emma's case, inedible.
In the meantime though, Emma bought a copy of Antony's Slow Cooking by Antony Worrall Thompson and tried this recipe, which she liked so much she passed it on to me. I in turn like it so much that I've made it twice in the past month and it's become my new favorite slow cooker recipe. And that's the flip side to the slow cooker – when you get a good recipe, it can be really good, like this one.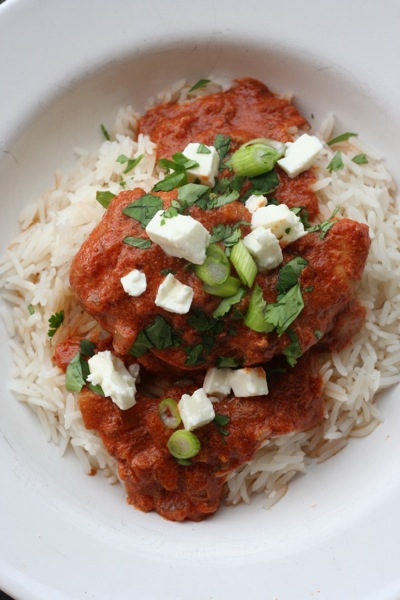 Slow Cooker Buttered Chicken and Tomato Curry
adapted from Antony's Slow Cooking by Antony Worall-Thompson
Serves 4
Buttered chicken is a classic mild curry — it's creamy, not spicy, so my kids loved it and practically licked their bowls clean to get every last bit of the sauce. Please don't be put off by the long list of ingredients — it's really just a bunch of spices that are all widely available.
The original recipes calls for heavy cream to be stirred in at the end in addition to more butter, but I found the sauce to be delicious without all those extra calories. But if you're so inclined, add in 1/3 cup (80 ml) heavy cream at the end of the cooking time, cover and cook on high for 20 minutes. Remove the chicken to a warm serving dish, then whisk 6 tablespoons (3 oz/90 g) butter into the sauce, making sure it's well emulsified. Check the seasoning, then pour the sauce over the chicken and garnish, as below.
2 tablespoons lemon juice (should be the juice of 1 large lemon)
1/2 teaspoon salt
1 teaspoon chili powder
2 lb (1 kg) skinless chicken thigh fillets or skinless chicken breasts
1 1/4 cup (300 ml) Greek yogurt
2 teaspoons ground ginger
2 teaspoons garam masala
2 tablespoons (30 g) unsalted butter
1 tablespoon vegetable oil
2 onions, finely chopped
1 teaspoon ground coriander
1 teaspoon sweet paprika
1/2 teaspoon ground cumin
1/2 teaspoon fennel seeds
1/2 teaspoon ground cinnamon stick
4 garlic cloves, crushed or finely chopped
14 fl oz (400 ml) passata (or blend a 14 oz/400g can of whole plum tomatoes until it's smooth if you can't get passata)
2 tablespoons tomato paste (puree)
5 fl oz (150 ml) chicken stock
2 tablespoons light brown sugar
salt and freshly ground pepper
to garnish:
fresh cilantro (coriander)
flaked almonds
spring onions, sliced
feta chees
to serve:
basmati or pilau rice
Whisk together the lemon juice, salt and chili powder. Place the chicken in a non-metallic bowl and pour over the lemon juice mixture. Cover and marinade for at least 30 minutes, but ideally overnight.
When you're ready to cook, whisk together the yogurt, ginger and garam masala, pour over the marinated chicken and mix well. Spoon the chicken mix into the slow cooker.
Heat the butter with the oil in a frying pan over a medium-low heat, then cook the onion and spices for 8 to 10 minutes, until the onion has softened but hasn't colored (adding a pinch of salt to the onions when they're cooking helps to prevent them from browning too much). Add the garlic and cook for 1 minute more. Stir the onion mix into the chicken in the slow cooker, then stir in the passata, tomato purée, chicken stock and brown sugar. Mix to combine everything well then cover and cook on low for 5 to 6 hours, until the chicken is cooked through. Garnish with cilantro (coriander), almonds and spring onions. Just before serving, crumble the feta over the surface. Serve with basmati or pilau rice.

Email this post

Print this post