In what I suspect will become a birthday tradition, Sam once again asked for "chocolate cake with whipped cream" for his birthday party this year. Although my holiday schedule wasn't quite as hectic as Kristin's, between December 1st, 2010 and January 1st, 2011, I had already celebrated eight days of Chanukah, my husband's birthday, my birthday, Christmas, and New Year's. Exhausted from the festivities, I was tempted to remake last year's icebox cake and spare myself the time it would take to find a new recipe to fit Sam's party criteria. But I just couldn't brush off the request that easily. It's not Sam's fault he was born the first week in January and that his birthday, like mine, tends to be sucked up and forgotten amidst the winter holiday hustle and bustle. I luckily found another great make-ahead cake covered in whipped cream, chocolate, and–as an added bonus–sprinkles. Despite its less than perfect appearance (to be blamed on a final layer of too warm hot fudge sauce), this cake was a real crowd-pleaser.
The birthday dinner itself was a lighter affair. Sam is a huge fan of Japanese food, especially edamame, so this edamame-based pesto caught my eye while I browsed cookbooks for a cake recipe. The pesto tasted amazing dolloped on a piece of sauteed cod, and nearly as good spread on a cracker later that night as a bedtime snack. I rounded out dinner with simple steamed veggies and cooked quinoa.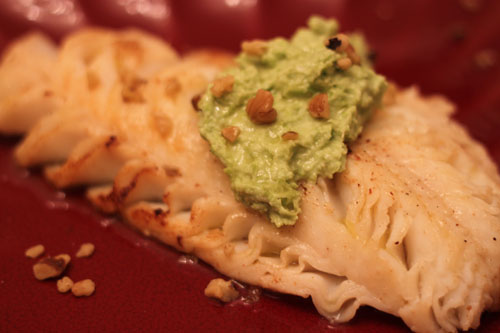 Fish with Edamame Pesto
adapted from Mark Bittman's Kitchen Express: 404 inspired seasonal dishes you can make in 20 minutes or less
serves 3
1 bag frozen edamame (in pods)
olive oil
1 clove garlic, grated
juice of half a lemon
handful of grated Parmesan cheese
salt and pepper, to taste
1 lb (450 g) cod or other fish fillet(s)
2 tablespoons butter or olive oil
chopped walnuts, for garnish
Blanch the frozen edamame in boiling salted water for 3–5 minutes until tender. Drain and rinse the edamame under cold water. Shell the soybeans and place them in a blender or food processor with a few tablespoons of olive oil (or more, as needed) to get a nice puree. Add the garlic, lemon juice, and Parmesan and blend until smooth. Season the puree to taste with salt and pepper.
Season the fish fillet with salt and pepper. Cook the fillet(s) in the butter or olive oil over medium heat about 4 minutes per side or until golden and cooked through. Serve the fish with a spoonful of the pesto and garnish with chopped walnuts.
***
Cookies-and-Cream Ice Cream Cake
adapted from Bon Appetit, June 2000
serves 12
1 x 16-oz (45o‑g) pound cake, thawed if frozen
1/2 gallon (about 1 kg) cookies-and-cream ice cream, slightly softened
12 oz (340 g) hot fudge sauce (purchased or homemade)
6 oz (170 g) semisweet chocolate chips
1/4 (60 ml) cup water
10 Oreo cookies, coarsely chopped
1 cup (240 ml) chilled whipping cream
2 tablespoons sugar
candy sprinkles
Cut the cake into 1/3‑inch-thick slices. Halve each slice diagonally, forming triangles. Cover the bottom of a 9‑inch-diameter springform pan with the cake by arranging some triangles, points facing in, around the edge of pan. Fill in the center with more triangles; then cut additional pieces to fill in any spaces. Spread half of the ice cream over the cake. Freeze until firm, about 1 hour.
Stir the fudge sauce, chocolate chips and 1/4 cup water in a heavy medium saucepan over medium-low heat until melted and smooth. Cool to just barely lukewarm. Spread half of the fudge sauce over the ice cream. Sprinkle with the cookies. Top with enough remaining cake slices to cover. Spread the remaining ice cream over. Freeze 1 hour.
Stir the remaining fudge sauce over medium-low heat until barely lukewarm. Pour the sauce over the ice cream, spreading to the edge. Freeze at least 6 hours or overnight.
To serve, let cake sit in fridge about 15 minutes to slightly thaw. While the cake thaws, beat the cream and sugar in a medium bowl to stiff peaks. Run a knife around the pan sides to loosen the cake. Release the pan sides. Spread the whipped cream around the side of the cake and, if desired, pipe a border of whipped cream around the top edge of the cake. Scatter sprinkles or other small candies atop the cake.

Email this post

Print this post