Today is Sam's third birthday. We celebrated this weekend with a houseful of kids and a very patient though ultimately frazzled Kindermusic teacher. During our party planning, Sam asked for a whipped cream cake. Not knowing exactly what a whipped cream cake might entail, I turned to the trusted Smitten Kitchen. The resulting concoction, an icebox cake, is straight from the 1950s, piled high with freshly whipped cream, thin chocolate wafer cookies, a dusting of chocolate shavings, and eleven layers of deliciousness. Probably my favorite thing about the cake was the fact that it's made the day before, leaving plenty of time in the morning to hang balloons and hide the household mess before company arrives. There was no cake left by the time we ate dinner, but it would have tasted just as good with our salmon dinner as it did with our Zaffiro's pizza lunch.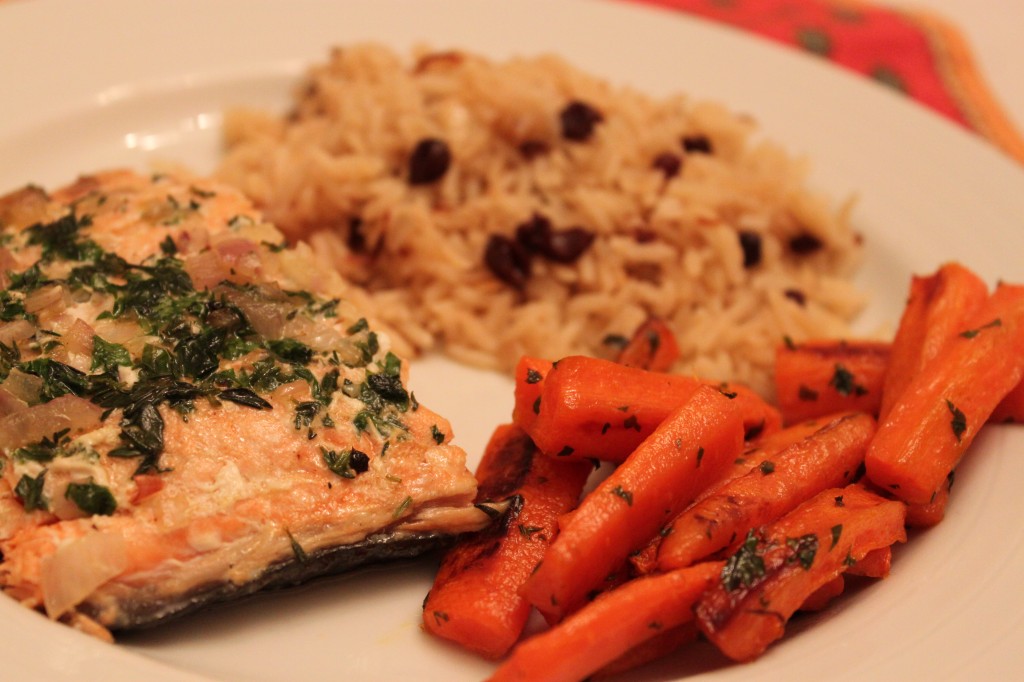 Salmon Roasted with Herbs
adapted from How To Cook Everything: Simple Recipes for Great Food
by Mark Bittman
Serves 4
2 tablespoons (30 g) butter
2 tablespoons olive oil
1 1/2 lb (680 g) salmon fillet
salt and freshly ground black pepper to taste
2 teaspoons fresh thyme
2 teaspoons fresh parsley
1 large shallot, minced
Preheat the oven to 475°F (240°C). Melt the butter until the foam subsides in a medium roasting pan in the oven as it preheats. Add the olive oil to the melted butter.
Season the salmon with salt and pepper, then sprinkle the flesh of the fillet with the herbs and shallot, pressing lightly. Carefully place the salmon in the butter and oil, flesh side down, and put the pan in the oven. Roast for about 5 minutes, then flip the salmon over and roast 4 to 6 minutes longer, until the salmon is done (peek between the flakes with a thin-bladed knife). Serve immediately.
***
Rice Pilaf with Onions, Almonds and Currants
adapted from How To Cook Everything: Simple Recipes for Great Food
by Mark Bittman
Serves 4
2 tablespoons (30 g) butter or olive oil
1 small onion, chopped
1 1/2 cups (175 g) rice
salt and freshly ground black pepper
2 1/2 cups (600 ml) chicken broth, heated to the boiling point
1/2 cup (75 g) currants
1/2 cup (50 g) almond slivers
minced fresh parsley leaves, for garnish
Place the butter or oil in a large, deep skillet with a lid over a medium-high heat. When the butter melts or the oil is hot, add the onion. Cook, stirring, until the onion softens but does not brown, 5 to 8 minutes.
Add the rice all at once, turn the heat to medium, and stir until the rice is glossy and completely coated with butter or oil. Cook for 2 to 3 minutes, then stir in the almonds and cook 3 to 4 more minutes, until fragrant and starting to color lightly. Stir in the currants. Season well with salt and pepper, then turn the heat down to low and add the broth, all at once. Stir once and cover the pan.
Cook for 15 to 20 minutes, until nearly all of the liquid is absorbed. Turn off the heat and let rest for another 5 to 10 minutes. Check the seasoning, garnish and serve immediately.
***
Maple-glazed Carrots
inspired by my friend Lindsay
Serves 4
1 lb (450 g) carrots, peeled
4 tablespoons olive oil
2 tablespoons maple syrup
4 tablespoons fresh parsley, minced
salt and freshly ground black pepper to taste
Preheat the oven to 450°F (230°C).
Cut the carrots into 2‑inch-long pieces, halving or quartering large parts of the carrots so each piece is about 1/2 inch thick. Toss with olive oil, maple syrup, parsley, salt and pepper. Spread the carrots onto a large baking sheet in a single layer. Roast for 15 to 25 minutes, until the carrots are tender, turning the carrots once or twice to prevent scorching.
***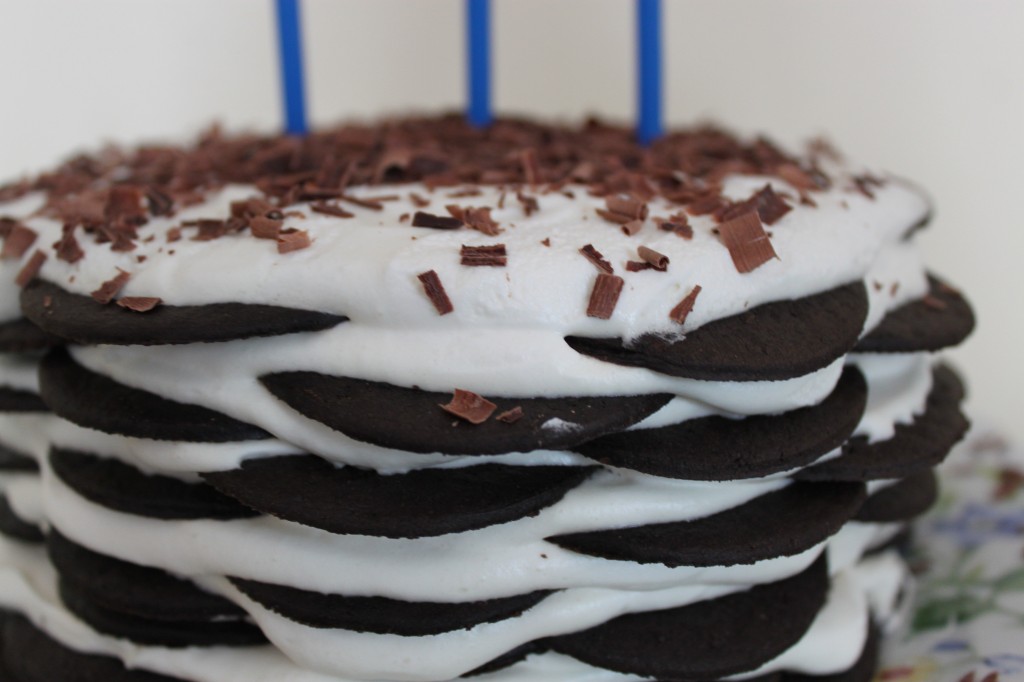 Icebox Cake
from Smitten Kitchen
Serves 12
3 cups (700 ml) heavy cream
3 tablespoons sugar
1 tablespoon vanilla extract
2 x 9‑oz (250‑g) packages chocolate wafer cookies
unsweetened cocoa (or chocolate shavings)
In a large bowl, beat the cream, sugar and vanilla with an electric mixer on high speed until soft peaks form.
On a flat serving plate, arrange 7 cookies side by side in a circle, keeping 1 cookie in the center.
Spread with 1/2 cup (120 ml) whipped cream, making a 7‑inch circle. Repeat with the remaining cookies and cream, making 11 layers of cookies and ending with a layer of cream (there will be a few cookies left over). Cover with plastic wrap and refrigerate overnight. To serve, dust the top lightly with cocoa powder or chocolate shavings.

Email this post

Print this post