Like many teenage girls, I tried out vegetarianism in high school for about three months. I lost weight, my skin turned an odd(er) shade of white, and all I could think about was turkey croissants and sausage. Although my vegetarian experiment didn't last long, I still try to eat vegetarian at least once a week. It's healthy, of course, but also cheap. Tonight's dinner, made with all organic ingredients, served two adults and one toddler and cost about $6, about the price of a fast-food value meal.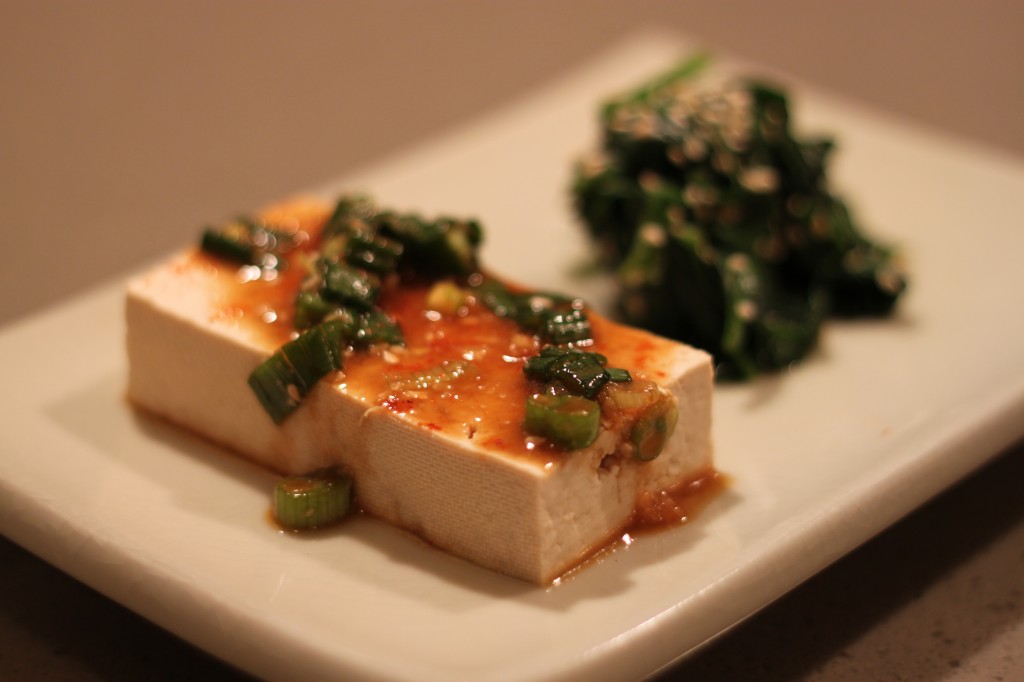 Warm Tofu with Spicy Garlic Sauce
adapted from Gourmet, March 2009
Serves 2 to 3
1 x 15-oz (425‑g) package soft tofu (not silken)
1 small clove garlic, chopped
4 scallions, chopped
2 teaspoons sesame seeds, toasted and crushed with the side of a heavy knife
3 tablespoons soy sauce
1 tablespoon sesame oil
1/2 teaspoon sugar
1 teaspoon coarse Korean hot red pepper flakes or other ground hot pepper
Carefully rinse the tofu, then cover with cold water in a medium saucepan. Bring the water to a simmer over medium-high heat, then keep warm, covered, over very low heat.
Meanwhile, mince and mash the garlic to a paste with a pinch of salt. Stir together the garlic paste with all remaining ingredients except the tofu and hot pepper flakes.
Just before serving, carefully lift the tofu from the saucepan with a large spatula and drain it on paper towels. Gently pat dry, then cut the tofu into 4 to 5 slices. Spoon some sauce over each tofu piece, sprinkle with pepper flakes to taste, and serve warm. Serve the remaining sauce on the side with rice.
***
Steamed Spinach, Japanese Style
Serves 3
9 oz (250 g) baby spinach
1 tablespoon soy sauce
1 tablespoon sesame seeds, toasted
Wash the spinach and drain, but do not dry thoroughly. Place the spinach in a large saucepan and cover with a tight-fitting lid. Cook the spinach over a medium heat until wilted, about 5 minutes. There should be enough water on the spinach to steam it. Toss the cooked spinach with soy sauce and garnish with sesame seeds.

Email this post

Print this post