From Issaquah to Birmingham, towns across the globe are finding that the recession has driven consumers from the ubiquitous Borders or Barnes & Nobles back to public libraries. Libraries are especially useful for people like me who love drooling over glossy cookbook pages but are too cheap to actually buy them. The stash of cookbooks at our East Side library is so overwhelming that I've taken to letting Sam pick out the cookbook we bring home with us. This week, I decided to try random picks at the beginning of the alphabet. Tonight we had "B" for Bittman — Mark Bittman, the New York Times's Minimalist with the most. I've made several of his recipes, clipped from the inky pages of the Times, but this was my first time browsing through one of his cookbooks. I couldn't be happier with my choice (Mark Bittman's Quick and Easy Recipes from the New York Times
). The book is filled with quick and easy recipes, just as it promises, with lots of notes on how to adapt the recipes depending on what you have on hand.
Though I'm not normally impressed with entree salads (it takes a lot of lettuce to fill me up), this chicken salad is truly satisfying. The scallion pancakes make a nice savory accompaniment, but a good baguette would work as well.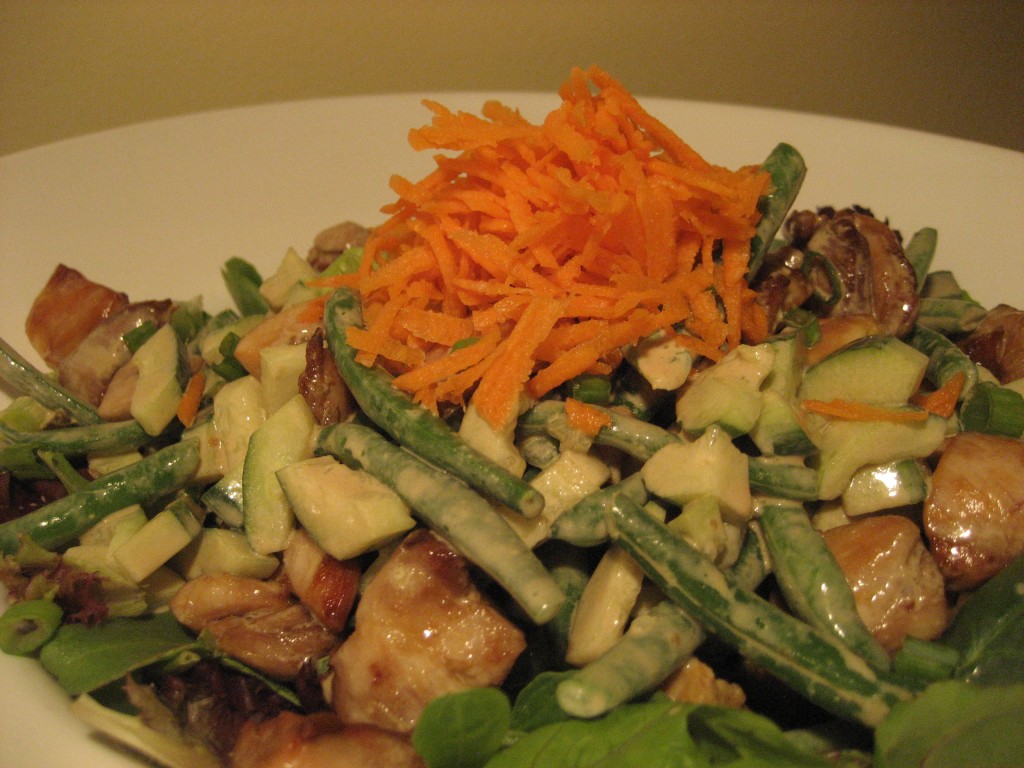 Asian Chicken Salad with Greens
adapted from Mark Bittman's Quick and Easy Recipes from the New York Times
Serves 4
1 1/2 lb (680 g) skinless, boneless chicken thighs (recommended) or breasts
1/4 cup (60 ml) soy sauce
3 tablespoons tahini or peanut butter
1 teaspoon sesame oil
1 clove garlic, peeled
a few drops of hot sauce
salt and freshly ground pepper
1/2 teaspoon sugar
2 tablespoons rice wine vinegar or other mild vinegar
1 cucumber
6 cups (7 oz/200 g) salad greens
2 scallions, chopped
cilantro and grated carrot, to garnish
Preheat the broiler. Cut the chicken meat into 1/2- to 1‑inch chunks, then place in a 13 x 9‑inch baking dish and drizzle with 2 tablespoons of the soy sauce.
In a blender, combine the remaining soy sauce with the tahini, sesame oil, garlic, hot sauce, salt, pepper, sugar and vinegar. Turn the blender on and add 1/3 cup (80 ml) hot water, a teaspoon at a time, until the mixture is smooth and creamy. Cool the dressing in the refrigerator.
Broil the chicken, turning once or twice. Total cooking time will be 10 to 12 minutes for thighs or 6 to 8 minutes for breasts. Meanwhile, peel the cucumber (if it's waxed), slice it in half the long way, and scoop out the seeds with a grapefruit spoon. Cut it into 1/2‑inch dice, and combine in a bowl with the dressing. When the chicken is done, let it rest and cool for a few minutes, then toss it and the cucumber with a few tablespoons of the dressing. Taste and adjust the seasoning if necessary. Serve the chicken and cucumbers on top of greens, garnished with cilantro and shredded carrot. Pass extra dressing so everyone can add dressing to his or her taste.
***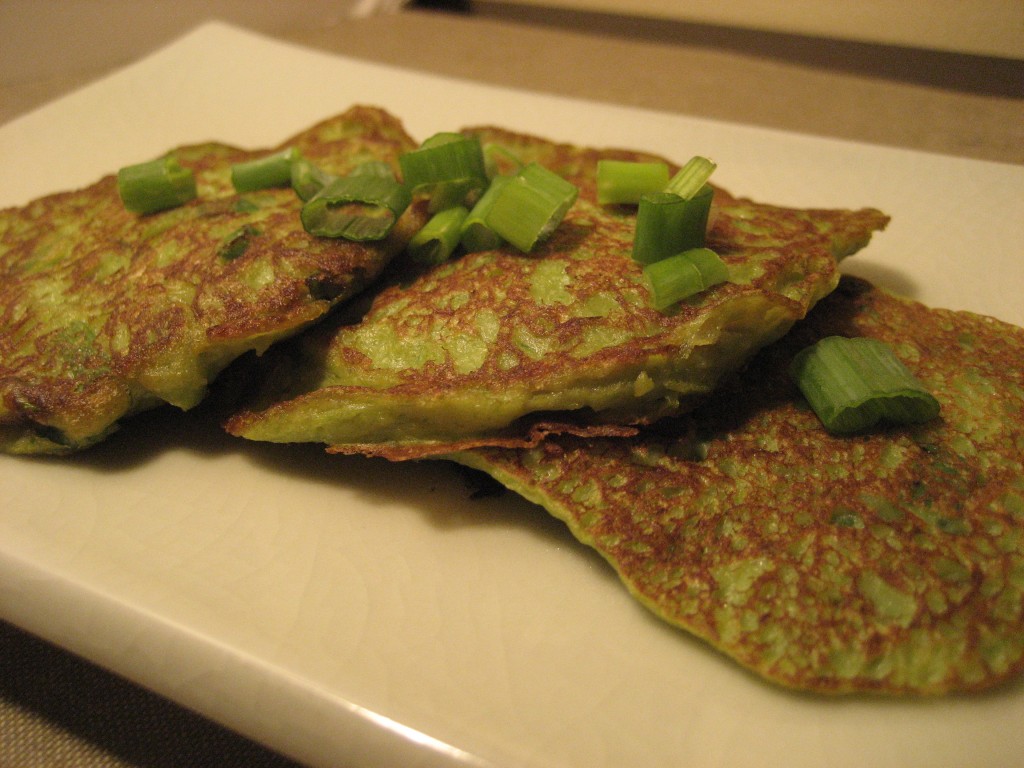 Scallion Pancakes
from Mark Bittman's Quick and Easy Recipes from the New York Times
Serves 4
salt and freshly ground black pepper
4 bunches scallions or spring onions, about 1 lb (450 g)
1 egg
1 teaspoon soy sauce
1/2 cup (60 g) flour
peanut, canola or olive oil as needed
Bring a medium pot of salted water to a boil while you trim the scallions. Roughly chop three bunches, and mince the fourth.
Add the larger portion of scallions to the water, and cook for about 5 minutes, or until tender. Drain, reserving about 1/2 cup (120 ml) of the cooking liquid. Puree the cooked scallions in a blender, adding just enough of the cooking liquid to allow the machine to do its work.
Mix the puree with the egg and soy, then gently stir in the flour until blended. Add pepper to taste, then the reserved minced scallions. Film a nonstick or well-seasoned skillet with oil, and turn the heat to medium-high. Drop the batter into the pan by the tablespoon or quarter cup, and cook about 2 minutes to a side, or until lightly browned. If necessary, the pancakes can be kept warm in a 200°F (95°C) oven for about 30 minutes.

Email this post

Print this post