Back in the days before I used to cook, we would often buy a carton of Avonmore ready-made carrot and coriander soup. I can't think why now, seeing how easy this is to make. Pair the soup with a good-quality brown bread from the bakery along with a dessert that Delia Smith says is so easy even children can make it, and you have a quick midweek meal.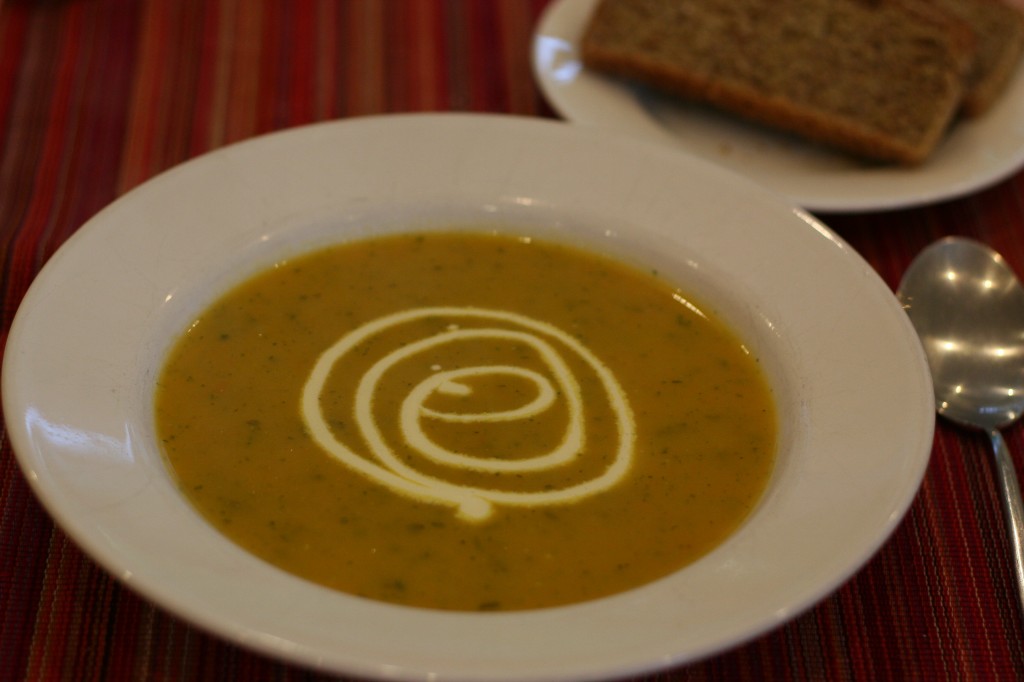 Carrot and Cilantro Soup
Serves 4 to 6
2 tablespoons olive oil
1 white onion, roughly chopped
1 1/2 lb (680 g) carrots, peeled and roughly chopped
1 large potato, peeled and roughly chopped
4 to 6 cups (1 to 1.4 liters) vegetable stock
1 bunch cilantro
salt and freshly ground black pepper
cream, to garnish (optional)
Heat the olive oil in a large stockpot on a low to medium heat. Add the onions and sweat them, covered, for 10 minutes, until soft but not browned. Add the carrots and potatoes to the pot, give everything a good stir to coat in the oil, and sweat for another 10 minutes. Add 4 cups (1 liter) of the vegetable stock and bring to a boil. Lower the heat to a summer and cook until all the vegetables are soft, about 15 minutes. Take the pot off the heat.
Add the cilantro to the soup, including the stems. Puree the soup in a blender or food processor or with a hand-held immersion blender, until smooth. Add the soup back to the pot, reheat it and season to taste. Add more stock if you think the soup is too thick (I wound up using 5 cups (1.2 liters) of stock). Add a swirl of cream to each portion of soup and serve.
***
Plum and Cinnamon Oat Slices
adapted from How to Cook: Book Two by Delia Smith
Makes 15 bars
1 lb (450 g) plums, halved and cut into thin slices
1 rounded teaspoon ground cinnamon
2 cups (160 g) porridge oats
1 3/4 cups (280 g) plain wholemeal flour
1 level teaspoon salt
1 cup (225 g) butter
3/4 cup (120 g) light brown sugar
You will also need a nonstick baking tin measuring 10 x 6 inches and 1 inch deep, lightly greased.
Preheat the oven to 400°F (200°C).
Place the plum slices in a bowl and toss them around with the cinnamon. In a separate bowl, mix the flour, oats and salt together. Melt the butter and sugar in a small saucepan over a fairly gentle heat, stirring from time to time until the butter has melted. Mix the melted butter and sugar with the oat mixture, starting with a wooden spoon but finishing off with your hands so you end up with a lump of dough. Now halve the dough and press one half of the mixture into the baking tin, pressing it firmly all over the base with your hands like a wall-to-wall carpet. Next scatter the plums evenly over the surface, then top with the remaining oat mixture, again pressing down firmly.
Place the tin on the centre shelf of the oven and bake for 25 to 30 minutes, or a bit longer if you like the top really crispy. Remove the tin from the oven and allow to cool for about 10 minutes before marking into 15 squares – to do this, make 2 cuts lengthways, then 4 cuts widthways, and don't worry if they're not all even. Unless you want to serve these warm, leave them to cool completely in the tin.

Email this post

Print this post