Ever since my first try at making polenta a couple weeks ago, I've been craving another taste of it and wondering if it was only beginner's luck that made it so delicious. How had I cooked on a daily basis for so many years without using this staple ingredient? Since last night was a work night, I certainly didn't have the time to braise any meat as I did with my first polenta recipe. Instead, I found a dish that looked equally as tasty but could be cooked in half an hour. I also liked that it was vegetarian. Nobody needs to eat meat every day (that means you, Dad!). I served this with just a bottle of Malbec but next time I think a salad would be a nice accompaniment.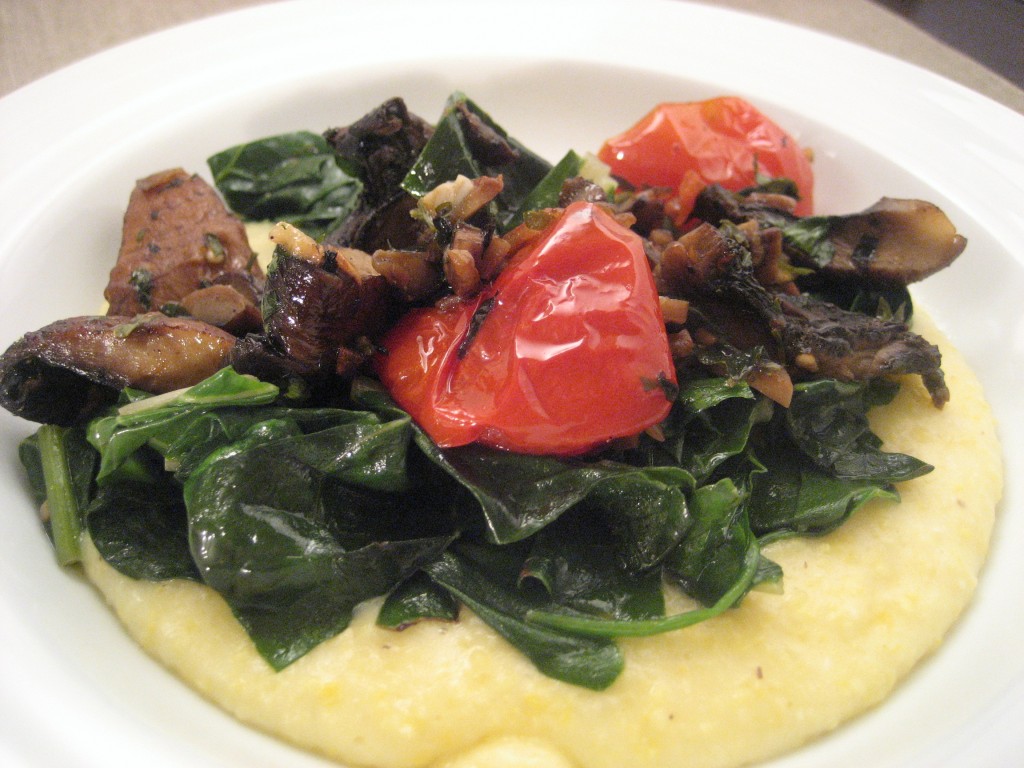 White Cheddar Polenta with Sauteed Greens and Garlic-roasted Portobellos
adapted from Bon Appétit, January 2001
Serves 4
4 medium portobello mushrooms
8 cherry tomatoes, halved, or 4 plum tomatoes, quartered
5 tablespoons olive oil
4 garlic cloves, minced
1 tablespoon chopped fresh parsley
salt and freshly ground black pepper
4 cups (1 liter) water
1 1/2 teaspoons salt
1 cup (225 g) polenta (coarse cornmeal) or yellow cornmeal
2 tablespoons butter
1 cup (packed) grated sharp white cheddar cheese (about 4 oz/110 g)
1 large bunch Swiss chard, ribs cut away, leaves cut into 3 x 1‑inch strips
1 x 7‑oz (200‑g) bag fresh spinach leaves
Preheat the oven to 400°F (200°C). Oil a 13 x 9‑inch baking dish. Remove the stems from the mushrooms and chop the stems finely; place the stems in the prepared baking dish. Using a small spoon, scrape away the dark gills from the underside of the mushrooms and discard. Cut each mushroom cap into 8 wedges; add them to the baking dish with the chopped stems. Sprinkle the tomatoes around the pan and drizzle with about 3 tablespoons of oil. Sprinkle with 2 minced garlic cloves, parsley, salt and pepper on top, and toss to coat. Bake until the mushrooms are tender, 25 minutes.
Meanwhile, combine 4 cups (1 liter) of water and 1 1/2 teaspoons of salt in a large saucepan. Bring to a boil. Gradually whisk in the polenta. Reduce the heat to low. Cook until the polenta thickens and begins to pull away from sides of pan, whisking often, about 25 minutes for polenta or 15 minutes for yellow cornmeal. Whisk in the butter, then the cheese. Season to taste with salt and pepper.
While the polenta cooks, heat 2 tablespoons of oil in a large skillet over a medium-high heat. Add 2 minced garlic cloves and saute for 30 seconds. Add the Swiss chard and cook for 2 minutes. Add the spinach and saute until the greens are tender but still bright green, about 4 minutes more. Season with salt and pepper.
Spoon the polenta onto plates. Top with the greens and the portobello mushrooms mixture.

Email this post

Print this post