I love Nigella Lawson and have all her cookbooks. When Nigella Express
was published two years ago, I even went to the bookstore on the day it was released to get my hands on a copy hot off the presses. The first thing I made was the instant chocolate mousse, which was perfectly fine (though actually a little too sweet for my taste). The second thing I made from the book was lamb shanks and beans. I'm not a big fan of lamb at the best of times, but when I made this I was in my first trimester of pregnancy, with the usual ailments — sensitive to smell and with occasional morning sickness. I could barely stand the smell of the lamb as it was cooking, and after just one bite, I gave one of the shanks to the dog and threw the rest straight into the wheelie bin outside so I wouldn't be able to smell it anymore. After that, I didn't really use that cookbook for the next two years.
But seeing as how the whole premise of the Nigella Express cookbook is fast, easy meals, which I'm in need of lately, and because I still love Nigella as much as ever, lamb shanks notwithstanding, I pulled the book back off the shelf again last week to give it another chance. And to think that I had this maple chicken and ribs recipe all that time and never made it! It's the easiest, tastiest chicken I've made in months, and the maple flavor really comes through, unlike in a lot of dishes that use maple syrup. I've included a recipe for bourbon-mashed sweet potatoes as part of the dinner, but if you want to keep things as simple as possible, then just use plain mashed sweet potatoes that have been boiled on the stove top.
As always, Nigella says it best when describing this dish: "Your input is minimal, but what you get out is a big feast that feels homey and welcoming and makes everyone happy, you included."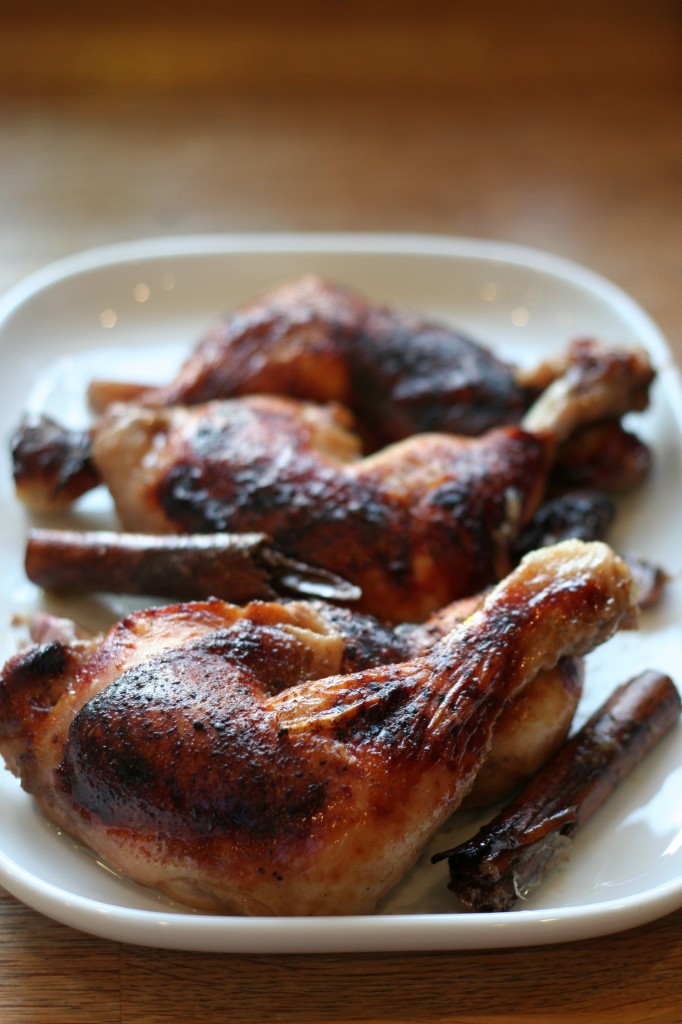 Maple Chicken 'n' Ribs
adapted from Nigella Express by Nigella Lawson
Serves 6 to 8
You can easily decrease the quantities here if you don't want to make 6 to 8 servings, or make this only using ribs or chicken instead of both (I just made chicken).
12 pork spareribs
12 chicken thighs, skin and bone still on
1 cup (240 ml) apple juice, as sharp as possible
4 tablespoons maple syrup
2 tablespoons vegetable oil
2 tablespoons soy sauce
2 star anise (optional; by all means use them if you have them, but I wouldn't get them just for this recipe)
1 cinnamon stick, halved
6 cloves garlic, unpeeled
Put the ribs and chicken pieces in a couple of large freezer bags or into a dish. Add the remaining ingredients, squelching everything together well, before sealing the bag or covering the dish. Leave to marinate in the fridge overnight or up to 2 days.
Preheat the oven to 400°F (200°C).
Pour the contents of the bag into one or two large roasting tins (making sure the chicken is skin-side up), place in the oven and cook for about 1 1/4 hours, by which time everything should be sticky and glossed chestnut brown.
***
Bourbon-Mashed Sweet Potatoes
adapted from Emeril Legasse's recipe in Food Network Favorites
Serves 4 to 6
1 3/4 to 2 lb (800 to 900 g) sweet potatoes
1/2 cup (120 ml) heavy cream
1/4 cup (60 ml) bourbon whiskey
3 tablespoons light brown sugar
2 tablespoons molasses or black treacle
1/8 teaspoon salt
Preheat the oven to 350°F (180°C).
Place the potatoes on a foil-lined baking sheet and prick each potato once or twice with a fork. Bake until they are tender and starting to ooze sugary syrup, about 1 hour and 15 minutes, depending on their size. Remove from the oven and let them sit until they're cool enough to handle.
Cut a slit down each potato and scoop the flesh into a large bowl. Discard the skins. Add the cream, bourbon, brown sugar, molasses, and salt and beat on high speed with an electric mixer until smooth. Cover to keep warm, or gently reheat before serving.
***
Roasted Parsnips and Carrots
adapted from Barefoot Contessa Back to Basics
by Ina Garten
Serves 4
The original recipe calls for the vegetables to be roasted at 425°F (220°C), but I've adapted it here to be 400°F (200°C), which is the temperature that the chicken and ribs are cooked at, meaning you can easily prepare both dishes in the same oven.
2 lb (900 g) parsnips, peeled
1 lb (450 g) carrots, unpeeled
3 tablespoon good olive oil
1 tablespoon kosher salt
1 1/2 teaspoons freshly ground black pepper
2 tablespoons chopped fresh dill or parsley
Preheat the oven to 400°F (200°C).
If the parsnips and carrots are very thick, cut them in half lengthwise. Slice each one diagonally into 1‑inch-thick slices. The vegetables will shrink while cooking, so don't make the pieces too small. Place the cut vegetables on a baking tray. Add the olive oil, salt and pepper and toss well. Roast for 20 to 40 minutes, depending on the size of the vegetables, tossing occasionally, until the parsnips and carrots are just tender. Sprinkle with dill or parsley and serve hot.

Email this post

Print this post