Happy Labor Day to our American readers! If you're looking for a tasty salad to set out at today's barbecue, I have the recipe for you. The Mediterranean Pepper Salad from today's menu is easy to prepare and best yet, it can sit for hours or even overnight in your fridge while its flavors meld. This was a first-time recipe for me. I chose it because I had to use up three bell peppers. Three peppers is an odd amount — too many to use in a stir-fry or omelette and not enough for stuffed peppers. Smitten Kitchen came through with a perfect three-pepper preparation that I'm already craving again.
The seafood pasta recipe is from a cookbook my in-laws gave me for Hanukkah several years back. While typing up this recipe, I realized I never made any other recipe from the cookbook though there are plenty more that intrigue me. Be on the lookout for Gorgonzola Ravioli with Sweet Red Pepper Cream or Chicken Breast with Goat Cheese and Sun-dried Tomato Salsa in future posts. Hmm, now I've made myself hungry.
Spicy Seafood Fettuccini
adapted from Pacifica Blue Plates
by Neil Stuart
Serves 6
3 tablespoons olive oil
2 cloves garlic, minced
1/2 lb (225 g) firm fish, such as swordfish, skinned and cut into 1‑inch cubes
1/4 lb (110 g) bay scallops
18 medium to large shrimp, peeled and deveined
2 large red bell peppers, julienned
4 scallions, sliced thinly
1 teaspoon kosher salt
1/4 teaspoon cayenne pepper
1/2 teaspoon Spanish paprika
1/2 teaspoon dried thyme leaves
1/4 teaspoon freshly ground black pepper
1 large or 2 small tomatoes, diced
1/2 cup (120 ml) fish stock or water
6 tablespoons (90 g) butter
1 lb (450 g) fettuccine or other flat pasta, cooked and drained
Heat the olive oil in a skillet over moderate heat. Add the garlic and cook until fragrant, about 1 minute. Add the seafood and cook, stirring, for another minute. Add the red peppers, scallions and seasonings. Cook for 2 minutes and add the tomatoes, stock, and butter.
Increase the heat to high and cook until the sauce begins to thicken, about 3 more minutes. Serve over the fettuccine.
***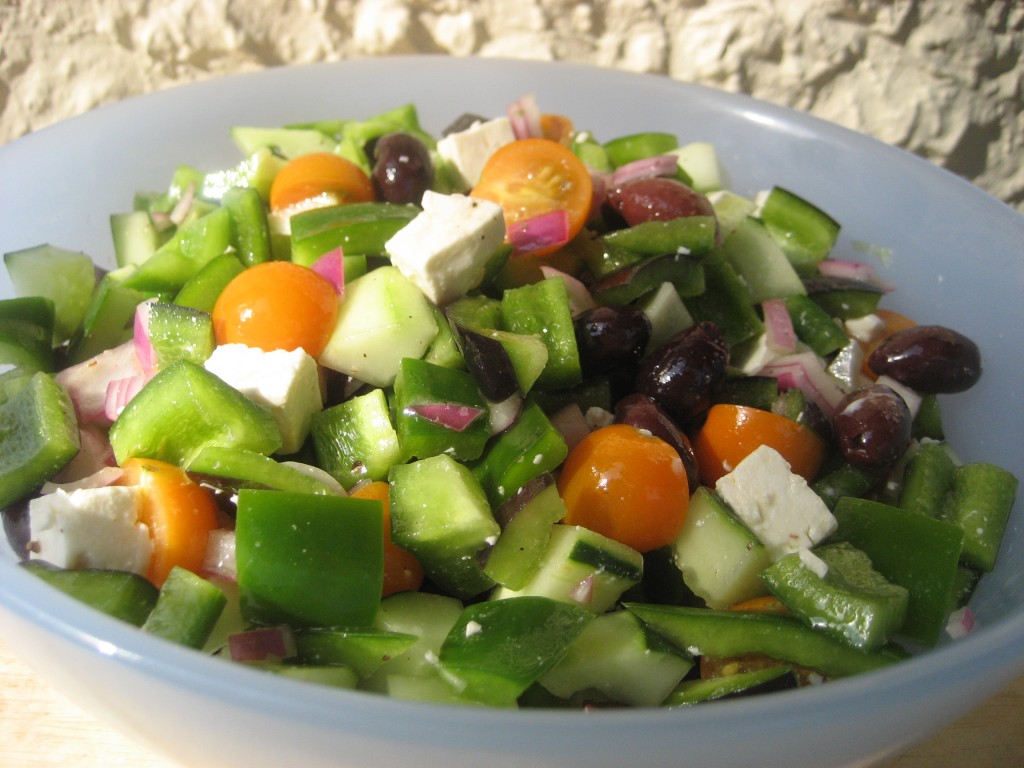 Mediterranean Pepper Salad
adapted from Smitten Kitchen
Serves 8
1/4 cup (60 ml) red wine vinegar
1/4 cup (60 ml) cold water
1 tablespoon kosher salt
2 teaspoons sugar
1/2 red onion, cut into a 1/2‑inch dice (use less if your onion is huge)
3 bell peppers, your choice of colors (I used 2 green and 1 purple)
1 cucumber, peeled, seeded and chopped
4 oz (110 g) firm feta cheese
4 oz (110 g) pitted Kalmata olives
6 to 8 oz (170 to 225 g) grape or cherry tomatoes, halved
1/4 cup (60 ml) olive oil
salt and freshly ground black pepper to taste
Swish together the red wine vinegar, water, kosher salt and sugar in a small bowl until the salt and sugar are dissolved. Add the red onion and set it aside.
Meanwhile, time to practice your knife skills. Core and seed your bell peppers and chop them into 1/2‑inch pieces. Chop the cucumber and feta into similarly sized chunks. Put your peppers, cucumber, feta, olives, and tomatoes in a large bowl.
By now, your onions will have lightly pickled, both sweetening and softening their blow. Drain them and add them to the other vegetables in the large bowl, but reserve the vinegar mixture. Pour a quarter cup of the vinegar mixture over the salad, then drizzle with olive oil. Season generously with salt and freshly ground black pepper, or to taste. Toss evenly and serve at once, or let the flavors muddle together in the fridge for a few hours.

Email this post

Print this post