We have a fellow expat friend who throws a big 4th of July barbecue every year. There's a group of expat regulars who go most years, from Illinois, Kansas, Maine, Michigan and New Hampshire, and I always get a kick out of how we all end up in Chris's back yard in County Meath, so far from where any of us call home. Anyway, Matt took it upon himself the first year we went to make a batch of chocolate chip cookies from his favorite childhood Betty Crocker
recipe to bring with us. While I wouldn't say that I turn to that old American stand-by for inspiration these days, it's a perfectly good cookie recipe, good enough to earn us the nickname the Cookie Couple ever after. We bring a double batch every year and they're always eaten up or hoarded within minutes of being set out. I'm told there were some disappointed barbecue regulars the year we couldn't go when my daughter was born on the 4th of July.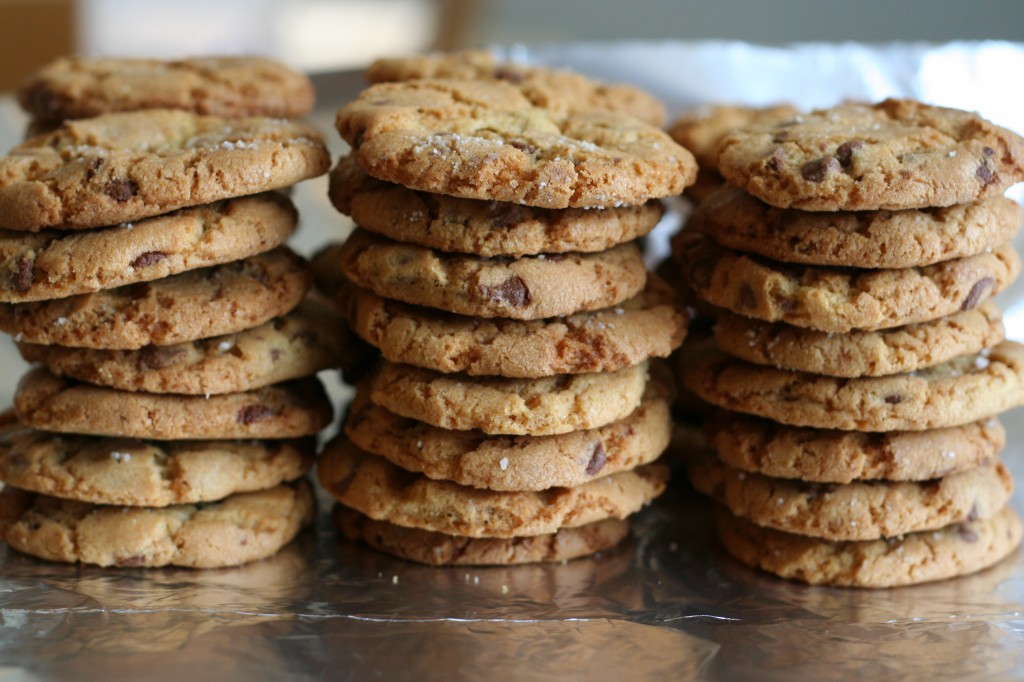 This year, the barbecue was pushed back to Labor Day since our friends were back in the US for the 4th, and instead of dusting off Matt's old recipe again, I decided to make the consummate chocolate chip cookie from The New York Times that was published last July. I made the dough on Thursday afternoon so that it would have 36 hours to rest before I baked the cookies on Saturday morning. Resting the dough apparently allows it to fully soak up all the liquid from the eggs, resulting in a drier, firmer dough that bakes to a better consistency, and gives the cookie "bass notes of caramel and hints of toffee" (who knew cookies had bass notes?). The real genius touch, though, is Dorie Greenspan's addition of a sprinkle of fleur de sel on top (though I prefer the bigger flakes of Maldon sea salt). They've been blogged about all over the place, and I certainly won't be saying anything new when I tell you it really is a damn good cookie. As the NYT itself says, "Doubt it? There's only one way to find out."
The New York Times Consummate Chocolate Chip Cookies
adapted from The New York Times
Makes about 24 cookies
I've only ever made these using plain flour (instead of cake flour and bread flour) and they turn out just fine. I'm sure the chocolate disks they talk about in the article are fabulous, but I just use plain old milk chocolate chips and the cookies are still good. I like to freeze some of the dough (see note below) to bake some cookies another time. Nothing makes you feel like a domestic goddess like having a stash of frozen homemade cookies in the freezer.
2 cups minus 2 tablespoons (240 g) cake flour (or all-purpose)
1 2/3 cups (240 g) bread flour (or all-purpose)
1 1/4 teaspoons baking soda
1 1/2 teaspoons baking powder
1 1/2 teaspoons coarse salt, such as kosher
2 1/2 sticks (280 g) unsalted butter, softened
1 1/4 cups (210 g) light brown sugar
1 cup plus 2 tablespoons (225 g) granulated sugar
2 large eggs
2 teaspoons natural vanilla extract
1 1/4 lb (570 g) bittersweet chocolate disks or fèves, at least 60% cacao content (or your regular brand of chocolate chips)
sea salt, such as Maldon or fleur de sel
Sift the flours, baking soda, baking powder and salt in a bowl. Set aside.
Using a mixer fitted with a paddle attachment, cream the butter and sugars together until very light, about 5 minutes. Add the eggs, one at a time, mixing well after each addition. Stir in the vanilla. Reduce the speed to low, add the dry ingredients and mix until just combined, 5 to 10 seconds, being careful not to overmix. Drop the chocolate pieces in and incorporate them without breaking them. Press plastic wrap directly against the dough and refrigerate for 24 to 36 hours. The dough may be used in batches, and can be refrigerated for up to 72 hours.
When ready to bake, preheat the oven to 350°F (180°C). Line two baking sheets with parchment paper or a nonstick baking mat. Set aside.
Scoop 4 x 3 oz (75 g) mounds of dough (the size of generous golf balls) onto each baking sheet. Sprinkle lightly with sea salt and bake until golden brown but still soft, 15 to 20 minutes (you don't want to overcook them and make them hard). Allow the cookies to cool on the baking sheet for 10 minutes, then slip the the cookies onto a wire rack to cool a bit more. Repeat with the remaining dough, or reserve some dough, refrigerated, for baking remaining batches the next day. (Note: I have also successfully frozen the dough by rolling it into the 3 1/2 oz (100 g) portions specified here, then tightly wrapping each ball individually in cling film and popping them into the freezer. This way you can take out as many as you'd like to bake another day. When you want to bake them, set the oven to the same temperature, but just cook them for a couple more minutes.)

Email this post

Print this post