Pasta with clam sauce is one of my favorite Italian dishes. Unfortunately, I find that most restaurants fail miserably at the dish, making it too heavy or, worse yet, tasteless. I have yet to find anything close to the spaghetti alle vongole I ate while studying in Rome. The recipe below incorporates shrimp, arugula and sun-dried tomatoes for plenty of flavor. The large amount of wine cuts out any greasiness that the oil might lend.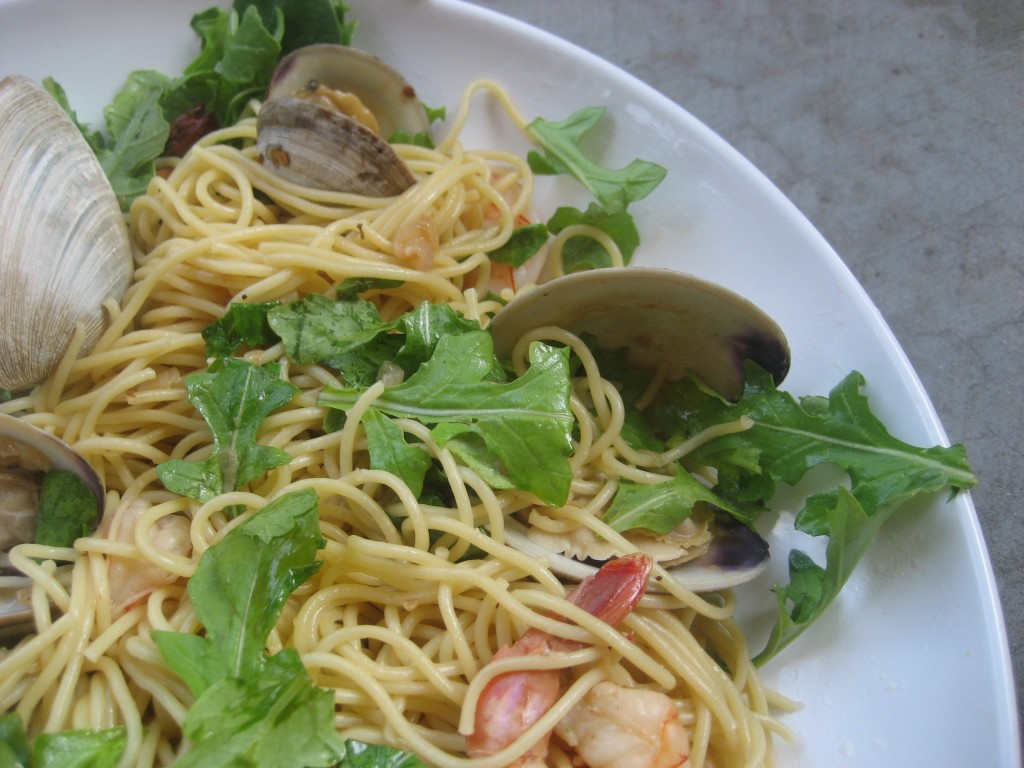 Spaghetti with Pinot Grigio and Seafood
from Everyday Italian by Giada De Laurentiis
Serves 4 to 6
1 lb (450 g) spaghetti pasta
1/4 cup (60 ml) olive oil
3 shallots, chopped
3 cloves garlic, minced
3/4 cup (175 ml) chopped sun-dried tomatoes
1 1/2 cups (360 ml) Pinot Grigio (or other white wine)
1 lb (450 g) shrimp, peeled and deveined
2 lb (900 g) small clams, washed
1 teaspoon kosher salt
1 teaspoon freshly ground black pepper
2 cups (50 g) arugula
Bring a large pot of salted water to a boil over a high heat. Add the pasta and cook until al dente, stirring occasionally, about 8 to 10 minutes. Drain.
Meanwhile, heat the olive oil in a large, heavy skillet over a medium heat. Add the shallots and the garlic and cook for 3 minutes, until tender but not brown. Add the sun-dried tomatoes and cook for another minute. Add the wine, shrimp, and clams. Bring the liquid to a boil. Reduce the heat and simmer, covered, until the shrimp are pink and the clams have opened, about 7 minutes.
Add the spaghetti to the seafood mixture. Add the salt and pepper and stir to combine. Add the arugula. Stir gently and transfer to a serving platter. Serve immediately.
***
Roasted Broccoli
Serves 4
1 large head broccoli, broken into florets
olive oil
sea salt and freshly ground black pepper
freshly grated Parmesan
juice of 1/2 lemon
Preheat the oven to 400°F (200°C). Arrange the broccoli on a baking sheet, drizzle with some olive oil (a couple tablespoons or so) and season with salt and pepper to taste. Toss to coat evenly, making sure oil coats each floret. Transfer to the oven and roast for 10 to 12 minutes, until browned and just tender. Place the broccoli in a serving bowl, top with grated Parmesan and drizzle with fresh lemon juice.

Email this post

Print this post