We recently took advantage of a (rare) sunny Sunday to check out the Howth farmers' market, timing it so that we'd be able to buy some snacks there to have as lunch. Matt passed up the meat and salad sandwiches at Paddy Jack's and even some whole roast hog on a spit and opted instead for a simple potato cake, which gave me the idea to make them at home. Served with a salad, a glass of white wine and my all-time favorite summertime dessert, this strawberry mascarpone tart, this makes a wonderful light summer supper.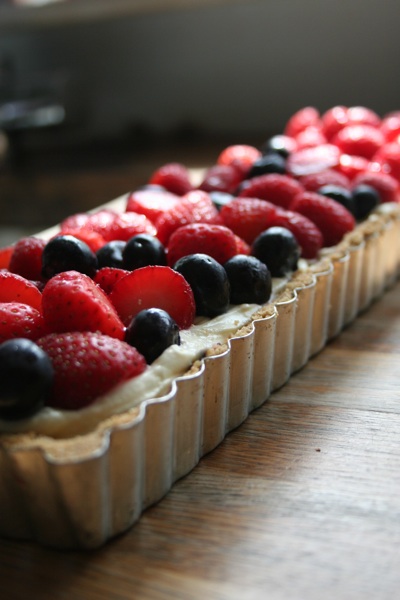 Sour Cream and Chive Potato Cakes
adapted from www.greatfood.ie
Makes 8 small cakes or 4 large ones
Add 1/4 cup (2 oz) of finely diced smoked salmon to the potato mixture to make Smoked Salmon Potato Cakes (or you could use any cooked fish). Some fresh chopped parsley or dill substituted for or added to the chives would also be good.
2 lb (900 g) potatoes, peeled and cut into quarters
2 tablespoons green onions, finely chopped
1/2 cup (120 ml) sour cream
1 teaspoon mustard
2 tablespoons fresh chopped chives
salt and freshly ground black pepper
2 tablespoons (25 g) butter, melted (if you can, skim off the solids so the butter doesn't burn)
olive oil
Boil the potatoes until they are fork tender; this will take 5 to 10 minutes, depending on the size. You need to keep checking so they don't collapse. Drain and mash well, or blend with a stand mixer (not a food processor).
Add the green onions, sour cream, mustard and herbs and season to taste. Leave the mixture to cool, then shape into round cakes about 2 to 3 inches wide (or use a tian ring) and dust with a little flour (optional). Rest on a baking tray in the fridge to firm up for 30 minutes.
Heat the butter and olive oil in a non-stick frying pan and fry until the cakes are heated through and golden on each side. You can also bake these in the oven on a baking tray at 350°F (175°C) until golden. Serve with a dollop of sour cream and a sprinkle of chives on top of each cake.
***
Spinach, Chickpea, Lemon and Feta Salad
adapted from Fresh from the Sea by Clodagh McKenna
Serves 2
bunch of fresh baby spinach leaves, washed
1 cup (100 g) cooked chickpeas
handful of hazelnuts, chopped
1/2 cup (80 g) feta cheese (or soft goat's cheese)
2 tablespoons freshly squeezed lemon juice
1/4 cup (60 ml) extra virgin olive oil
sea salt and freshly ground black pepper
Put the spinach, chickpeas and hazelnuts in a bowl. Crumble the feta cheese over the salad.
Whisk the lemon juice and olive oil together to combine (or shake in a screw-top jar) and season with sea salt and freshly ground black pepper. Drizzle the dressing over the salad and lightly toss to coat evenly.
***
Strawberry Mascarpone Tart
adapted from Avoca Café Cookbook 2
For this recipe you will need a loose-bottomed tart tin (preferably rectangular, like in the photo) or springform pan. The jam glaze is a nice touch, but feel free to leave it out. A handful of blueberries or raspberries scattered amongst the strawberries is fantastic.
for the crust:
about 2 cups (250 g) finely crumbled plain digestive biscuits or graham crackers (or whizzed in a food processor)
6 tablespoons (90 g) unsalted butter, melted
pinch of salt
for the filling:
10 oz (280 g) mascarpone cheese
1/8 cup (25 g) sugar
5 fl oz (150 ml) cream
1/2 vanilla pod, scraped
zest of 1/2 orange or 1 lemon
1/3 cup (100 g) strawberry jam
1 tablespoon water or orange liqueur, such as Cointreau or Grand Marnier
1 lb (450 g) fresh strawberries, hulled
Preheat the oven to 350°F (175°C).
To make the crust, stir together the digestive or graham cracker crumbs, melted butter and salt in a bowl, then press onto the bottom of the tart tin or springform pan. Bake the crust for 7 minutes, then cool in the pan on a rack.
For the filling, combine the mascarpone, sugar, cream, vanilla seeds and orange zest. Whisk with a hand-held or stand mixer until it holds its shape – the consistency should be similar to lightly whipped cream. In a saucepan, heat the jam with the water or liqueur.
Spread the mascarpone filling in the cooled base. Arrange the strawberries in a decorative 'this only took me minutes to do' kind of way. With a pastry brush, glaze the strawberries with the jam mixture.

Email this post

Print this post