We moved into a new house three weeks ago. Exciting to be sure, but as much as I'm relieved to be done with selling my old house and moving 8+ years of life into a new one, I feel a homelessness of sorts. The new house has the right space and modern amenities (a master bathroom!) but it also has odd paint color, lower ceilings, and some kind of smell that is not bad but definitely not good. Paint and ceilings are tough to fix so I've been cooking like crazy trying to get this place to feel (and smell) more like mine. And despite the house not feeling quite like home yet, at least the dining room table feels the same with my family and friends gathered around it enjoying dinners together. This was my recent favorite.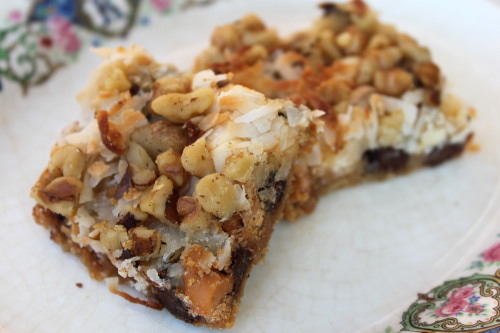 Pistachio-crusted Pork Tenderloin
Serves 4
1 cup (150 g) shelled, salted pistachios
2 pieces pork tenderloin (about 2 lbs/900 g), cut into 1/2 inch thick medallions
freshly ground black pepper
olive oil
Preheat the oven to 375°F (190°C).
Pulse the pistachios in a food processor about 10 times until coarsely ground (like bread crumbs) but not pasty. Place the ground nuts in a shallow bowl.
Season the pork medallions to taste with pepper. Dredge the peppered pork in the ground pistachios, pressing gently so the nuts adhere to the pork. Place the medallions on a plate until they are all coated.
Heat a thin layer of olive oil in a large oven safe skillet over medium-high heat. Fry the pork medallions in a single layer in the heated oil, 2–3 minutes on each side until golden. Adjust the heat if necessary so the pistachios do not burn. Place the skillet in the preheated oven, baking 5–10 minutes until the pork is fully cooked.
***
Lemon-Basil Orzotto
adapted from the Cooking Channel (Kelsey Nixon)
Serves 4
2 tablespoons extra-virgin olive oil
1 small onion, minced
1 1/2 cups (300 g) orzo or pearl barley
1/2 cup (120 ml) dry white wine
3 cups (700 ml) chicken stock or broth
1/2 cup (70 g) frozen petite green peas, thawed
1/3 cup (35 g) grated Parmesan cheese
2 tablespoons chiffonade fresh basil
1 teaspoon lemon zest
1/4 cup (60 ml) heavy cream or half and half
Juice of 1/2 lemon
Salt and freshly ground black pepper
In a heavy-bottomed medium saucepan, heat the olive oil over medium-high heat. Add the onion and saute until fragrant and translucent. Add the orzo and toast for 2 minutes, stirring occasionally. Add the wine and cook until absorbed.
Gradually add the chicken stock, stirring frequently. Bring to a simmer, lower the heat, and cover. Cook for 8 to 10 minutes, until the liquid is almost absorbed and orzo is tender. Remove from the heat.
Stir in the peas, Parmesan, fresh basil, lemon zest, heavy cream, and lemon juice. Season the orzo with salt and pepper, to taste, and serve.
***
Seven Layer Bars
from allrecipes.com
I make these candy-like bars in the morning so they are cool and ready to eat after dinner. They travel well and can be cut into small pieces, making them perfect picnic, pot luck or bake sale fare.
Makes about 2 dozen bars
1/2 cup (110 g) butter
1 1/2 cups (150 g) graham cracker crumbs
1 cup (200 g) semisweet chocolate chips
1 cup (200 g) butterscotch chips
1 cup (100 g) chopped walnuts
14 oz (400 ml) sweetened condensed milk
1 1/3 cups (110 g) shredded coconut
Preheat oven to 350°F (180°C).
Place the butter in 13 x 9 inch pan and melt in the oven. Swirl to coat bottom and sides with butter.
Spread the crumbs evenly over the bottom of the butter, pressing to form a thin even crust on the bottom of the pan.
Layer the chocolate chips, butterscotch chips, and nuts over the crumbs. Pour the condensed milk over nuts. Sprinkle the coconut over the condensed milk. Press the toppings together lightly with a fork.
Bake until the edges are golden brown, about 25 minutes. Let cool and cut into small bars. Store in an air tight container.

Email this post

Print this post