The other day, a fellow expat tweeted, "When I see a tourist in Dublin on a nice sunny day, I always feel the urge to stop them and tell them how lucky they are." "Never mind them," I tweeted back, "lucky us! At least they get to go back home to a proper summer somewhere." After weeks of rain and temperatures that rarely even get above 65°F, I've just about given up on summer again. Even so, I still crave bright, zesty flavors in the summer, such as it is. These fishcakes make for a light supper served with a salad — or maybe soup, if that suits your climate and your woe-is-me mood better.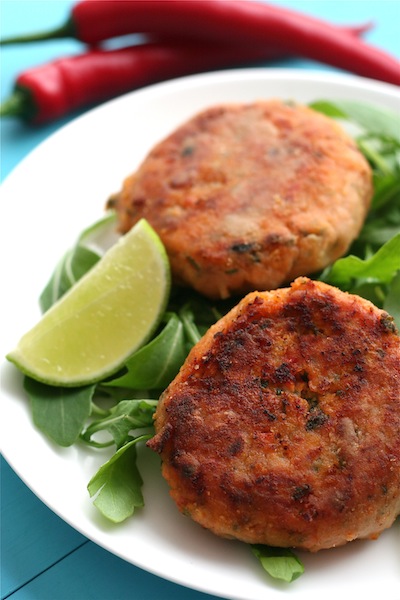 Sweet Potato and Salmon Fishcakes with Chilli and Lime
Serves 4 as a light supper
If you don't want to coat the fishcakes in breadcrumbs, you can simply dredge them in the seasoned flour and pan fry them. And if you'd rather bake the cakes in the oven instead of fry them, just put them on a baking tray lined with parchment paper in an oven at 350°F (180°C) for 20 to 30 minutes.
1 lb 2 oz (500 g) sweet potatoes
2 x 7 oz (200 g) cans of salmon
1 red chilli, finely chopped
zest and juice of 1 lime
a handful of fresh cilantro (coriander), chopped
salt and freshly ground black pepper
1 cup (120 g) flour
1 egg, beaten
1 cup (100 g) dried breadcrumbs
olive, vegetable or rapeseed oil
lime wedges, to serve
green salad, to serve
Peel the sweet potatoes and cut them into large chunks or thick slices. Place in a pot with plenty of cold water and bring to the boil. Simmer for about 10 minutes, until the potatoes are tender when pierced with a sharp knife. Drain and transfer to a large bowl. Mash the potatoes until they're smooth, then stir in the salmon, flaking apart any large pieces with a fork. Add in the chilli, lime zest and juice, the chopped cilantro and some salt and pepper and stir well to combine. Shape the sweet potato and salmon mixture into fish cakes and set aside on a plate.
Place the flour in a shallow bowl or plate and season generously with salt and pepper. Place the beaten egg in a second shallow bowl or plate and the breadcrumbs in a third bowl or plate. First dredge each fish cake in the flour, shaking off any excess. Set aside the floured cake on a plate and repeat with the remaining cakes (doing it this way helps to keep your hands cleaner). Next, dip each floured cake in the beaten egg, making sure it gets coated all over with the egg, then place in the bowl with the breadcrumbs, sprinkling the crumbs all over the cake and gently patting them in place. Set aside the breaded cake on a plate and repeat with the remaining cakes.
Heat some oil in a large frying pan over a medium heat. Add the cakes to the pan in batches, taking care not to overcrowd the pan. Cook the cakes for 5 to 8 minutes, until the breadcrumbs are golden. Flip the cakes over and cook for 5 to 8 minutes more, until the other side is golden and the cakes are cooked through. (Alternatively, you can bake the cakes in the oven; see note above.) Serve with lime wedges and a green salad for a light summer supper.

Email this post

Print this post