The first time I met Shelia Kiely at a food blogging event in Ireland and she let it slip that she has six kids, I'm sure I had the same reaction she gets from just about everyone: "Six kids?" What's more, that number includes not one, but two sets of twins. And as if being a mother to six children and running her own food safety management consultancy wasn't enough, she somehow found the time to write a cookbook, Gimme the Recipe
, in addition to writing her blog of the same name. So to ask the question I'm sure everyone is wondering: Shelia, where do you get the energy? Or at the very least, what brand of coffee are you drinking?
I think it's fair to say that Shelia takes the whole working mom thing and raises it to the nth degree. Not surprisingly, her book focuses on good, wholesome, no-nonsense food. There are lots of family-friendly and comfort food classics, from soups to stews, meat pies to pasta bakes, and every working mom's favorite, one-pot casseroles. But Shelia caters to grown-ups too with dinner party and girls' night in suggestions as well as helpful meal planners for special occasions like birthday parties, coffee mornings and the holidays. She covers all the bases.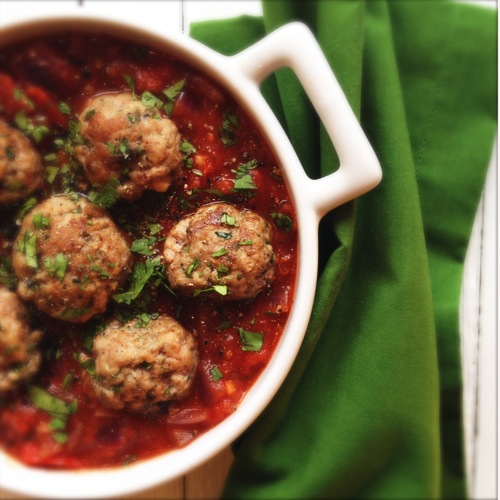 As for me, I made these easy, tasty, moreish Moroccan meatballs from her book and we all enjoyed them so much that I promptly made them again the next week. With two young kids as judges, it's as ringing an endorsement as you can get for a family cookbook.
If you like this, you might also like Moroccan Chicken Tagine with Lemon and Mint Couscous, or see this post for a round-up of our other meatball recipes.
Moroccan Meatballs
adapted from Gimme the Recipe
by Shelia Kiely
Because I was feeling lazy and didn't fancy lugging out my food processor to make a paste, like Shelia's original recipe calls for, I adapted it by adding the onion and garlic to the sauce instead of to the meatballs. I also used garam masala instead of the cumin and cinnamon called for (you can see the original recipe here). I serve this with couscous studded with chopped apricots, raisins, a finely chopped sliver of preserved lemon and chopped fresh coriander (aka cilantro).
Serves 4 to 6
2 lb (1 kg) minced lamb
2 tablespoons garam masala
salt and freshly ground black pepper
olive oil
1 large red onion, chopped
3 garlic cloves, chopped
1 red chilli, deseeded and finely chopped (optional)
1 x 1 inch (3 cm) thumb-width piece of ginger, peeled and finely chopped
2 x 14 oz (400 g) cans of chopped tomatoes
1 cup (250 ml) chicken stock
chopped fresh cilantro (a.k.a. coriander), to garnish
couscous (see intro above) or rice, to serve
Place the minced lamb in a large bowl along with 1 tablespoon of the garam masala and some salt and pepper, mixing well to combine. Form the mixture into small meatballs about the size of golf balls.
Heat a large frying pan over a medium heat (don't add any oil because the lamb will throw off a lot of fat). Add the meatballs to the pan in batches (don't overcrowd the pan) and cook for about 5 minutes, until browned all over. Remove the browned meatballs from the pan and set aside and repeat with the remaining meatballs.
Meanwhile, in a large heavy-based pot or casserole, heat the oil over a medium-low heat. Add in the onion and a pinch of salt to stop it from browning and cook for about 10 minutes, until softened but not browned. Add in the garlic, chilli (if using), ginger and the remaining 1 tablespoon garam masala and cook for 1 minute more. Stir in the chopped tomatoes and the chicken stock and season to taste. Bring to the boil, then reduce the heat and add in the browned meatballs. Partially cover the pot and simmer for 20 to 30 minutes, until the meatballs are cooked through. Serve with couscous or rice and a sprinkling of chopped fresh cilantro (coriander).

Email this post

Print this post