I've hit on the perfect play date treat with these banana, cherry and white chocolate cupcakes. Unusually for a cupcake these days, they're not smothered with any frosting, so they're not messy to eat and don't make for sticky fingers. Plus they don't have too much sugar in them, relying on the bananas for sweetness instead, and I always feel like any treat with fruit keeps it on the right side of indulgence. Friends, you've had fair warning now — next time you invite me and my kids over, I'll be bringing a batch of these.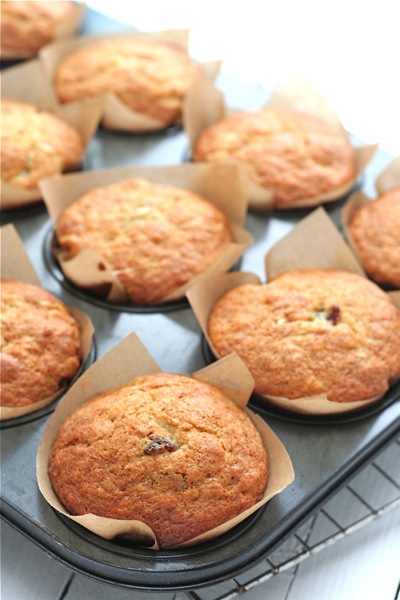 Banana, Cherry and White Chocolate Cupcakes
adapted from How to Be a Domestic Goddess
by Nigella Lawson
Makes 12 cupcakes
1/2 cup + 1 tablespoon (125 g) unsalted butter
1 cup (200 g) sugar
1 teaspoon vanilla extract
3 ripe bananas, mashed
1/4 cup (60 ml) sour cream or natural yogurt
2 large eggs, beaten
2 1/2 cups (300 g) plain flour
1 teaspoon baking soda
1/2 teaspoon baking powder
1/3 cup (40 g) dried cherries, chopped (you could substitute dried cranberries or even raisins)
1/4 cup (50 g) white chocolate, chopped, or use chips or buttons
Preheat the oven to 350°F (180°C). Line a muffin tin with paper or silicone cases.
Melt the butter in a saucepan big enough to eventually hold all the batter. Off the heat, add the sugar, vanilla and mashed bananas. Stir in the sour cream or yogurt and the eggs and beat to mix with a wooden spoon. Sift in the flour, baking soda and baking powder, then fold in the cherries and chocolate. Mix until everything is just blended (don't overmix!), then divide the mixture between the 12 muffin cases. Cook for 20 minutes, until golden and springy on top and a tester comes out clean. Remove the cupcakes in their papers to a wire rack and leave till cool.

Email this post

Print this post