I have an embarrassing confession to make. Despite living an hour's drive away from Belfast for the past 12 years, the first time I visited the city was only this past March (I don't count a couple trips to the Ikea off the motorway). But I tried to make up for lost time this summer with the Belfast Bred food tour, a Sunday trip to the Ulster Museum with the kids and an evening at the brand new Belfast Cookery School.
I love the fresh, bright flavors of Thai food, so I jumped at the chance to take a class with Kate Allen from the Thai-Tanic noodle bar using authentic ingredients. We made a tom yam soup and a Thai red curry, and even though we made our own curry paste from scratch, Kate admitted that they don't even do that in her restaurant — they use a ready-made paste. I feel no shame, then, in doing the same at home for a quick weeknight supper.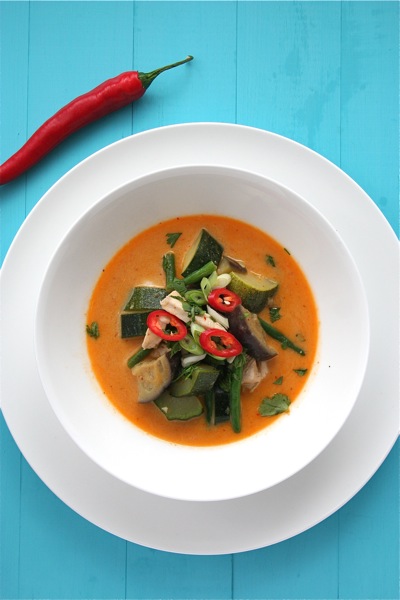 The Belfast Cookery School is still running their Thai cooking classes, as well as classes on Italian food, dinner parties, fish and bread, if you live in Ireland and want to check it out. And if you're looking for authentic Asian ingredients in Ireland, try Asia Market in Dublin or Asia Supermarket in Belfast.
Lazy Thai Red Curry
Serves 4
This recipe lends itself to a lot of variation. Try yellow or green curry paste if you don't like red, use prawns instead of or in addition to the chicken, or leave out meat altogether to make a vegetarian version. The key to this recipe is having everything prepped and ready to go before you start cooking since it comes together quickly.
2 tablespoons ready-made Thai red curry paste (or more, to taste)
2 garlic cloves, finely chopped
1 x 14 oz (400 g) can of coconut milk
2 chicken breasts, sliced thinly into strips or into bite-sized pieces so they cook quickly
7 oz (200 g) green beans, cut into thirds
1 zucchini, cut into large dice
1 eggplant, cut into large dice
1 red chilli, deseeded and chopped, plus a few slices to garnish (optional)
juice and zest of 1 lime (or more, to taste)
2 tablespoons Thai fish sauce (or more, to taste)
1 teaspoon sugar
4 scallions, sliced thinly on the diagonal
chopped fresh cilantro and/or basil, to garnish
cooked jasmine or basmati rice, to serve
Heat a large pot over a medium heat. Add in the curry paste and allow it to cook for 1 or 2 minutes. Add in the garlic and cook for 1 minute more. Shake the can of coconut milk before you open it to distribute any solids, then pour it into the pot. Stir well to combine the coconut milk and the curry paste, then taste it and add more curry paste if you want it hotter.
Add in the chicken strips and bring to the boil. Reduce the heat to a fast simmer and cook for 10 minutes, until the chicken is cooked through. Add in the green beans, zucchini, eggplant, chilli (if using), lime zest and juice, Thai fish sauce and sugar. Cook for 5 to 10 minutes, or until the vegetables are cooked through. Taste and adjust the seasoning, adding more fish sauce if you think it needs more saltiness or more lime juice if it needs more zing. Ladle the curry into 4 bowls and sprinkle over the scallions, fresh cilantro and/or basil and the sliced chilli (if using). Serve with jasmine or basmati rice.

Email this post

Print this post