You may have noticed that Kristin and I cook salmon pretty regularly. Not only is salmon healthy, loaded with omega‑3 and other good stuff, but it's easy to prepare and hard to mess up. Unlike some more delicate varieties of fish, salmon can take a few minutes of overcooking. It's also less "fishy" tasting than most other seafood, so most kids won't turn up their noses at it. This recipe is one of my family's most recent favorites. It's fancy enough to serve for guests, but a breeze to throw together, especially if you make the compound butter and lentils the night before. Steamed artichokes make an excellent side dish, especially if served with a bit of melted butter and lemon juice for dipping.
The picture doesn't quite do this dish justice. I snapped the photo quickly before I called the kids to dinner. By the time everyone was seated, their sippy cups filled, and our napkins unfolded, the butter had melted beautifully, leaving the salmon with a lovely layer of herbs and mustard seeds.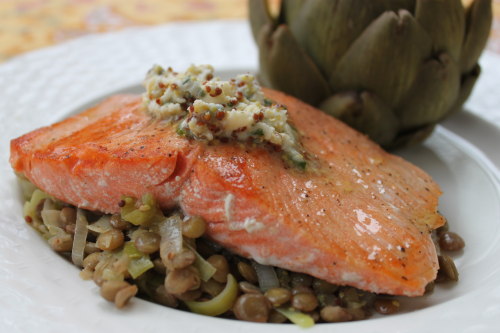 Salmon with Lentils and Mustard-Herb Butter (Saumon aux Lentilles)
adapted from Gourmet, March 2008
For mustard-herb butter:
5 tablespoons unsalted butter, softened
1 tablespoon chopped chives
1 teaspoon chopped tarragon [I substituted 1/2 teaspoon dried tarragon]
2 teaspoons grainy mustard
2 teaspoons fresh lemon juice
For lentils:
1 cup French green lentils
4 cups water
2 medium leeks (white and pale green parts only)
1 tablespoon unsalted butter
1/2 to 1 tablespoon fresh lemon juice
For salmon:
4 (6‑ounce) pieces skinless salmon fillet
2 tablespoons unsalted butter
Make the mustard-herb butter:
Stir together all the ingredients with 1/4 teaspoon each of salt and pepper. [The mustard-herb butter can be made 1 day ahead and chilled, covered. Soften at room temperature before using (1 hour).]
Cook the lentils:
Bring the lentils, water, and 3/4 teaspoon salt to a boil in a heavy medium saucepan, then reduce heat and simmer, uncovered, until the lentils are just tender, 20 to 25 minutes. Remove from heat and let stand 5 minutes. Reserve 1/2 cup cooking liquid, then drain lentils. [The lentils can be cooked (but not drained) 1 day ahead and chilled in cooking liquid, covered (once cool).]
While the lentils cook, chop the leeks, then wash them. Cook the leeks in the butter in a heavy medium skillet over medium-low heat, stirring occasionally, until softened, 6 to 8 minutes.
Add the lentils with the reserved cooking liquid to the leeks along with 3 tablespoons mustard-herb butter and cook, stirring, until the lentils are heated through and the butter is melted. Add the lemon juice and salt and pepper to taste. Remove from heat and keep warm, covered.
Sauté the salmon while the leeks cook:
Pat the salmon dry and sprinkle with 1/2 teaspoon salt and 1/4 teaspoon pepper (total).
Heat the butter in a large nonstick skillet over medium-high heat until foam subsides, then sauté the salmon, turning once, until golden and just cooked through, 6 to 8 minutes total.
Serve the salmon, topped with the remaining mustard-herb butter, over lentils.

Email this post

Print this post