I buy cookbooks for different reasons. Most of the time I buy them because I flipped through them in the store and wanted to make everything I saw, which is always a good sign. Sometimes I buy them because I'm a fan of the writer (I have a bookshelf that's taken up solely with Nigella Lawson and Nigel Slater's books). But other times I buy them because they'll be a good reference book, the kind of book that you know will stand the test of time or point you in the right direction if you want the authentic version of a recipe. Larousse Gastronomique
and The Silver Spoon
are such books, and so is French Country Cooking
by Michel and Albert Roux, which has now been reprinted.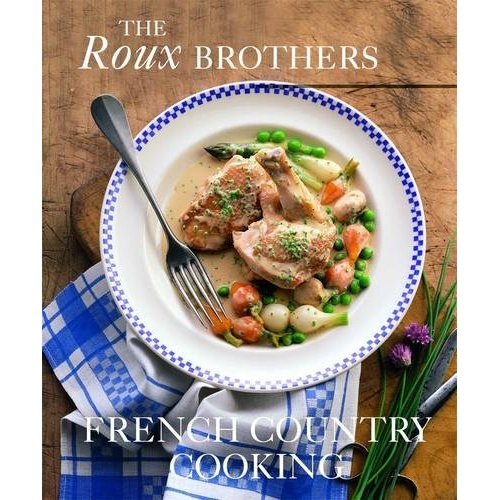 This book isn't for the casual cook — it includes hard-core rustic dishes like Lyonnaise ox tripe, frogs' legs and pig's head soup and offal features prominently. Yet it also includes authentic recipes for classics like pissaladière, quiche Lorraine, salad niçoise, cassoulet and soupe au pistou as well as dishes that I hadn't heard of but have bookmarked to try, such as fricassée of farmhouse chicken with baby vegetables or chickpeas with bacon and peppers. But this classic recipe for chicken in vinegar (poulet au vinaigre) is the one that called out the loudest to be tried first.
The book is divided into 12 regional chapters that each give an overview of the region's culinary traditions and then presents 12 recipes from the region as well as a list of ingredients that are indigenous to the area. With the continuing interest in local foods, this kind of extra detail will appeal to those who want to know more about regional cooking and foods. As the authors say themselves in the introduction, "It is regional, homely cooking which manages to be both rustic and sophisticated at the same time."
Chicken in Vinegar (Poulet au Vinaigre)
adapted from French Country Cooking
by Michel and Albert Roux
Serves 4
In Gourmet magazine's version of this recipe, they said the vinegary sharpness of this dish is "edgy and refreshing" — perfect for hot, sluggish summer weather when you want to wake up your taste buds. The headnote to the recipe explains that this easy, inexpensive dish originally comes from Lyon or Burgundy and that fresh pasta is the perfect accompaniment, but I like it with some good crusty bread to mop up the sauce instead and a green salad on the side.
1 x 2 lb 14 oz (1.3 kg) chicken, cut into 8 pieces (or just use chicken breasts/thighs)
4 tablespoons (60 g) butter
3 or 4 large shallots, finely sliced
1/2 cup (125 ml) red wine vinegar
1 bouquet garni (parsley, thyme, bay leaf)
For the sauce:
2 tablespoons (30 g) butter, softened
1 tablespoon flour
1/2 cup (125 ml) dry white wine
1/2 cup (125 ml) chicken stock
salt and freshly ground black pepper
1 tablespoon chopped fresh flat-leaf parsley
crusty bread, to serve
green salad, to serve
Heat the butter in a frying pan over a medium heat. Add the chicken pieces and fry on all sides for 7 to 8 minutes, until golden. Add the shallots and cook for 1 minute, then pour in the vinegar. Add in the bouquet garni, cover the pan and cook over a gentle heat for 10 minutes (or in the oven at 325°F/170°C), or until the chicken is cooked through. Remove the chicken from the pan and keep warm.
To make the sauce, mash the butter and flour together in a bowl with a fork until they're well combined (this makes a beurre manié). Pour the white wine into the pan and reduce by one-third. Add the chicken stock and whisk in the beurre manié to bind the sauce. If it seems too thick, add a little more chicken stock. Season to taste with salt and pepper.
To serve, arrange the chicken pieces in a deep dish and pour over the hot sauce. Sprinkle with the freshly parsley and serve immediately with buttered pasta or crusty bread and a green salad.

Email this post

Print this post