A few months ago, someone was on Twitter asking for recommendations for where to bring visitors for good seafood in Kinsale, County Cork. About a dozen people replied, and everyone said the same thing — Fishy Fishy. So it's no surprise that Martin's Fishy Fishy Cookbook has already entered its second printing just a few weeks after being released. Like the name of his TV show says, Martin Shanahan is mad about fish and he wants everyone else to love it too. My favorite episode from his first series was when he cooked mussels at the cattle mart in the land-locked Midlands and tried to get farmers who had never had a mussel in their lives to taste them (and almost all of them liked them). But even though Ireland is an island nation, we export most of our fish and notoriously eat very little of it ourselves. Martin thinks this is down to what he calls the "fear factor" when cooking fish, and his mantra has become "no skin, no bones, no fear".
Flipping through his new cookbook and dog-earing pages of tempting recipes to try, his enthusiasm is catching. This mackerel with a warm potato and chorizo salad was outstanding, but also bookmarked are the crab crumble, warm chilli seafood salad, salmon and cucumber wraps and the Thai-style white Pollock fish cakes with Asian cabbage and a sweet and sour dipping sauce. With recipes that sound that good, he's bound to pick up loads of new seafood-loving converts.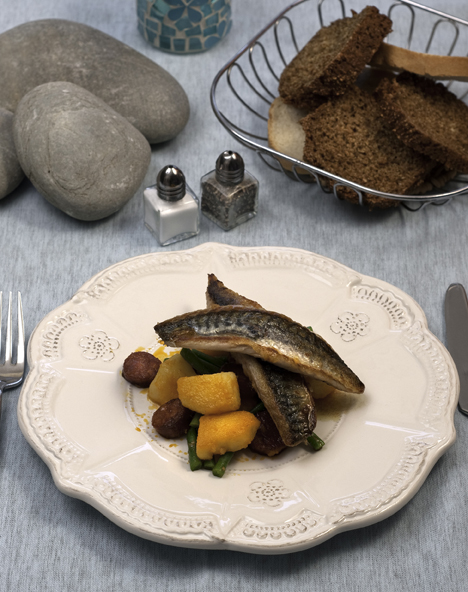 Photo © Kevin O'Farrell from Martin's Fishy Fishy Cookbook

Mackerel with Warm Potato and Chorizo Salad
adapted from Martin's Fishy Fishy Cookbook by Martin Shanahan
Serves 4
Chorizo is one of those ingredients (like bacon) that automatically makes anything better, but the dressing is what really made this recipe for me — it gave it just a little oomph and lifted the whole dish. Martin says that you can substitute some lightly cooked kale for the green beans here. Next time I make this — and there will definitely be a next time — I'm going to try using smoked mackerel fillets, warmed through, since I can get that more easily than fresh mackerel.
For the salad:
1 1/4 lb (600 g) potatoes, cooked
1 link of chorizo sausage
olive oil
7 oz (200 g) green beans, blanched and refreshed in ice water
salt and freshly ground black pepper
8 mackerel fillets
For the vinaigrette:
3 tablespoons olive oil
1 tablespoon red wine vinegar
1 teaspoon French mustard
salt and freshly ground black pepper
Cube the cooked potatoes and slice the chorizo. Heat a little oil in a pan and add the chorizo. Cook for 1 or 2 minutes to release the oil from the sausage, then add the potatoes and green beans. Make the vinaigrette by whisking together all the ingredients or shaking to combine in a screw-top jar, then toss the potato mixture in this dressing.
Heat a pan over a high heat and add a little oil. Season the mackerel fillets with salt and pepper, then cook the mackerel skin side down, pressing down on the skin to crisp it. Cook for 2 minutes, then turn and cook for a further 2 minutes on the other side.
Spoon a little of the warm potato salad into the center of each plate and top with the mackerel fillets.

Email this post

Print this post