Feeling frazzled from the demands of two young children after a long month, I fired off an email to Kelly on Friday evening asking if I could hop on a plane and join her in Mexico, where she was spending the weekend for work. "I'm sitting on my balcony watching the waves crash on the beach, a little tipsy from my margarita. Wish you were here!" she wrote back. "I'm making a Rick Bayless recipe on Sunday, which is about as close as I'm likely to get to Mexico anytime soon," I replied. As compromises go, at least it was a tasty one — I just wish I'd had the makings of a Rick Bayless margarita on hand too.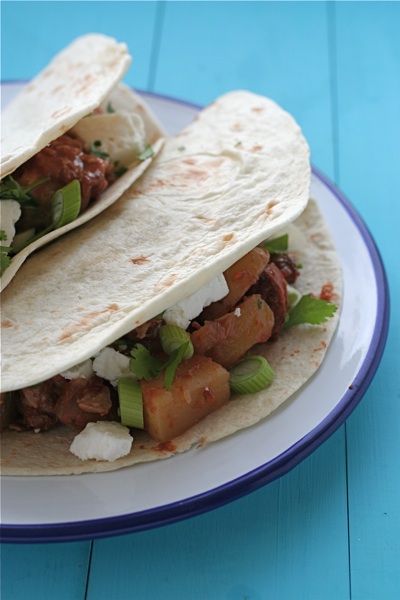 Slow Cooker Smoky Pork Tacos with Avocado and Feta
adapted from Mexican Everyday
by Rick Bayless
Serves 8
Rick Bayless calls this Smoky Pork Tinga Tacos in his book and says you can vary the recipe by replacing the pork with 2 lb (1 kg) of boneless, skinless chicken thighs or cubed boneless beef chuck (stewing beef). I picked up a couple cans of chipotle chilies on my trip back to the US this summer and have been rationing them for the past 5 months, but if you can't get them, you should still try this recipe, perhaps using 1 or 2 chopped red chilies or using more chorizo, though you won't get the same smoky taste. You can also buy dried, crushed chipotles from Seasoned Pioneers in the UK. Or if you don't like spicy food, you can just leave out chilies altogether.
4 medium (1 lb/450 g) boiling potatoes or Yukon Gold potatoes, cut into 1/2‑inch cubes
1 onion, cut into 1/4‑inch slices
2 lb (1 kg) boneless pork shoulder, cut into 1‑inch pieces
1 x 28 oz (or 2 x 400 g) cans of chopped tomatoes (preferably fire-roasted if you can get them)
3 or 4 canned chipotle chiles en adobo, seeded and sliced 1/4 inch thick
1 tablespoon chipotle canning sauce
1 tablespoon Worcestershire sauce
1 teaspoon dried oregano
3 garlic cloves, finely chopped
1 1/2 teaspoons salt
4 oz (100 g) chorizo, cut into small pieces (optional)
flour or corn toritllas, to serve
feta cheese, crumbled, to serve
2 large avocados, pitted and cubed, to serve
sour cream or natural yogurt, to serve
fresh cilantro, chopped, to serve
Spread the potatoes over the bottom of a slow cooker* and top with the sliced onions, then the pork. In a large bowl, mix the undrained tomatoes with the chillies, chipotle canning sauce, Worcestershire, oregano, garlic and salt. Pour the mixture evenly over the pork, onions and potatoes (don't stir — keep everything in layers). Cover and cook on high for 6 hours or low for 8 hours.
When you're ready to eat, fry the optional chorizo in a skillet over a medium heat for about 5 minutes. Uncover the pork tinga and spoon off any fat that might have accumulated on top. Add in the chorizo, then stir everything together, breaking the pork into small pieces that are suitable for tacos. Serve with warm corn tortillas, feta cheese, avocados, sour cream or yogurt and a sprinkling of fresh chopped cilantro to make soft tacos.
*Note: If you don't have a slow cooker, lay the pork in a medium-large heavy pot, preferably a Dutch oven, and top with the potatoes and onions. Pour over the tomato mixture, cover with a lid and braise in a 300°F (150°C) oven for 2 to 2 1/2 hours, until the pork is completely tender.

Email this post

Print this post