I love Indian food, but the more I research my favorite recipes, the more I realize they're about as Indian as chop suey is Chinese. For example, Scotland lays claim to my favorite "Indian" dish, chicken tikka masala. My runner-up "Indian" favorite, pork vindaloo, is actually Portuguese in origin. I was drawn to vindaloo dishes because they're usually listed as the most spicy dishes on Indian restaurant menus. Besides being spicy, vindaloos are quite tangy, made with a good amount of vinegar. I should warn you, the recipe calls for a large amount of oil. I use much less than the amount of oil called for in the original recipe and still find myself shocked when I pour the 2/3 cup into the pan. But trust me, it all comes together superbly.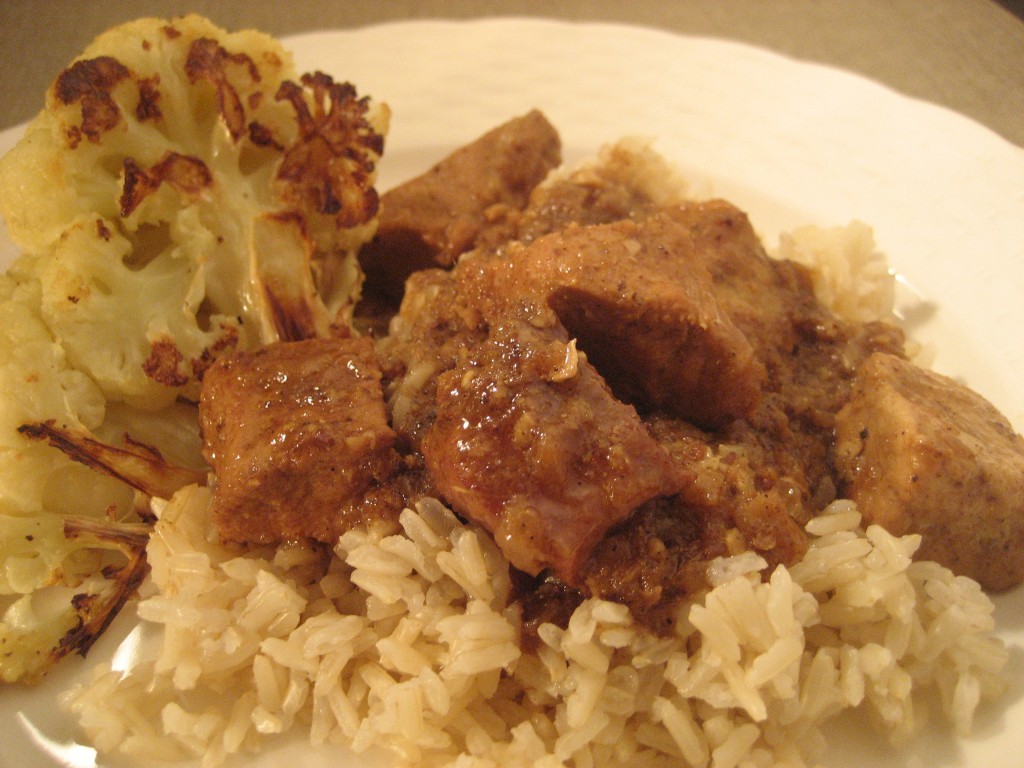 Pork Vindaloo
adapted from epicurious.com
Serves 4 to 6
2 teaspoons whole cumin seeds
2 to 3 dried red chilies
1 teaspoon black peppercorns
1 teaspoon cardamon seeds
1 x 3‑inch stick of cinnamon
1 1/2 teaspoons whole black or brown mustard seeds
1 teaspoon fenugreek seeds
5 tablespoons white or white wine vinegar
1 1/2 to 2 teaspoons salt
2 teaspoons brown sugar
2/3 cup (160 ml) vegetable oil
2 large onions, peeled and finely sliced
2 tablespoons minced fresh ginger
10 cloves of garlic, peeled and separated
2 lb (900 g) pork, trimmed and cut into 1‑inch cubes [Note: country style ribs work well]
1 tablespoon ground coriander
1 teaspoon turmeric
1 cup (240 ml) water
cooked white or brown basmati rice, to serve
Grind the cumin seeds, red chilies, peppercorns, cardamon seeds, cinnamon, mustard seeds and fenugreek seeds in a coffee mill, spice mill or pestle and mortar. Put the ground spices in a small bowl. Stir in the vinegar, salt and brown sugar. Set aside.
Heat the oil in a wide pot over a medium heat. Put the onions in and fry, stirring frequently, until the onions turn brown and crisp. (Be careful not to over-brown or it will have a burned taste.)
Remove the onions with a slotted spoon and drain on paper towels. Place the cooked onions into an electric blender or food processor. Add 2 or 3 tablespoons of water and puree the onions. Add this puree to the ground spice mixture in the bowl. This is the vindaloo paste.
Rinse the blender or processor and add the ginger, garlic and 2 to 3 tablespoons water and blend until you have a smooth paste.
Heat the oil remaining in the pot that you cooked the onions in over a medium-high heat. Cook the pork cubes a few at a time, browning lightly on all sides. Remove each batch with a slotted spoon and keep in a bowl. Repeat until all the pork has been browned.
Now add the ginger-garlic paste into the same pot and reduce the heat to medium. Stir the paste for a few seconds. Add the coriander and turmeric. Stir for another few seconds. Add the pork cubes and any juice that has accumulated in the bowl, the vindaloo paste and 1 cup (240 ml) water. Bring to a boil, cover and simmer gently for 1 hour, or until the pork is tender. Stir occasionally. Serve over cooked basmati rice with raita.
***
Roasted Cauliflower
Serves 6
1 head cauliflower
4 to 5 tablespoons olive oil
1 teaspoon kosher salt
Preheat the oven to 425°F (220°C).
Cut the cauliflower in half lengthwise. Remove the stem and about 1 inch of the core with a paring knife. Slice each half of the cauliflower into 3 wedges (or 4 wedges if the head is large).
Place the wedges on a baking sheet. Drizzle the wedges with enough olive oil to coat each piece (about 4 tablespoons total). Using your hands, gently toss the wedges until well coated with the olive oil. Sprinkle the cauliflower with the salt.
Cover the baking sheet with aluminum foil, crimping the sides so that steam will not escape. Roast for 10 minutes covered, then remove the foil and roast for another 10 minutes uncovered. Carefully turn the wedges over and roast for another 8 to 10 minutes, until the cauliflower is tender.
***
Cucumber Raita
Serves 4
1 1/2 cups (360 ml) plain yogurt
1/4 cup (60 ml) milk
1/2 cucumber, peeled, seeded, and diced small
1/2 teaspoon salt
1/2 teaspoon freshly ground black pepper
pinch of cayenne pepper or garam masala
Beat together the yogurt and milk with a whisk until very smooth. Stir in the remaining ingredients. Sprinkle with cayenne or garam masala and chill for up to 2 hours. Serve this as a side dish to any spicy Indian dish.

Email this post

Print this post