At the office where my husband worked for 10 years in Drogheda, there's a fantastic fishmonger just down the street. Matt tended to stop in to buy fish there at least once a week, eventually getting to be on first-name terms with them. Since September, though, Matt has been based in the Dublin office. The move has brought lots of changes, not least of which is the fact that getting fish is now a lot harder than it used to be and we don't eat as much of it as we used to. (I don't suppose anyone knows a good fishmonger around Parnell Square in Dublin?) But any time we have to run errands in Drogheda instead of our own town, we make a point of stopping in to get something. I had to go tthere recently and jumped at the chance to pick up some of the fishmonger's own fish pie mix, a combination of salmon, smoked haddock and white fish. If you're lucky enough to have a fishmonger near you, they might do something similar. Otherwise, just use the fish called for in the recipe.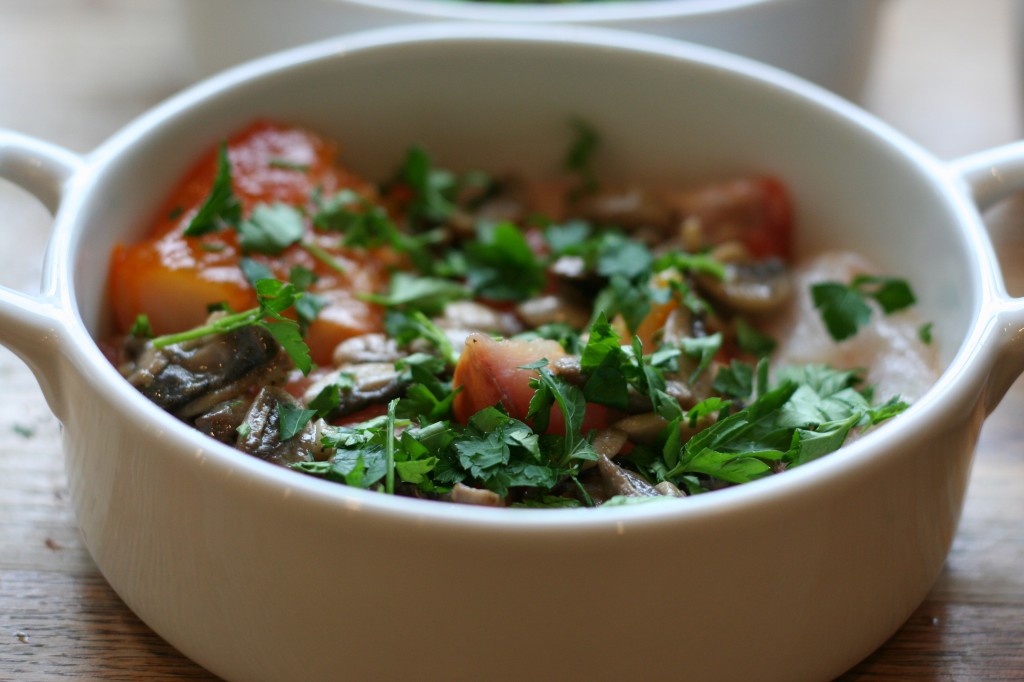 Fish Pie
adapted from Apples for Jam
by Tessa Kiros
Serves 5
I sometimes add diced carrots and celery along with the mushrooms to pack in some extra veggies. You could also try adding a few chopped shallots.
for the sauce:
2 tablespoons (30 g) butter
1/4 cup (30 g) all-purpose flour
1 1/4 cup (300 ml) vegetable broth, warmed
1/2 cup (120 ml) cream
for the pie:
4 tablespoons (60 g) butter
1 clove garlic, chopped
7 oz (200 g) mushrooms, sliced
2 tablespoons white wine
1 lb 2 oz (500 g) skinless halibut, cod or snapper fillets
1 lb 2 oz (500 g) raw prawns, peeled and deveined
2 tablespoons chopped parsley
2 lb 4 oz (1 kg) potatoes, peeled and cut into chunks
3/4 cup (185 ml) milk, warmed
lemon wedges, to serve
Preheat the oven to 400°F (200°C) and butter a large ovenproof dish (or you could do individual serving dishes).
To make the sauce, melt the butter in a small saucepan and then stir in the flour. Cook for 1 minute or so over a medium heat and then add the broth, whisking well to make a smooth sauce. Let it bubble up for a few minutes and then stir in the cream. Taste for salt and pepper (your broth will probably be seasoned already).
To make the pie, heat 1 tablespoon (30 g) of the butter and the garlic in a frying pan, and when it's sizzling, add the mushrooms and a little salt. Saute over a high heat, stirring the mushrooms around with a wooden spoon until all the juices have evaporated and they turn golden. Add the wine and some pepper and cook until the wine has evaporated. Remove from the heat.
Cut the fish into large, 2‑inch chunks and put in the bottom of your dish(es). Scrape the mushrooms over the fish, then add the prawns. Scatter with the parsley and a few grinds of pepper. Pour the sauce over the top.
Meanwhile, boil the potatoes in salted water until soft. Heat the remaining butter in the milk. Drain the potatoes and mash them. Beat in the rest of the butter and the warm milk and season, if necessary.
Arrange the mash over the top of the fish and sauce, then bake for 30 to 45 minutes, until the mash is golden in places and the sauce is bubbling up underneath. Leave it to stand for 5 to 10 minutes before serving with lemon wedges.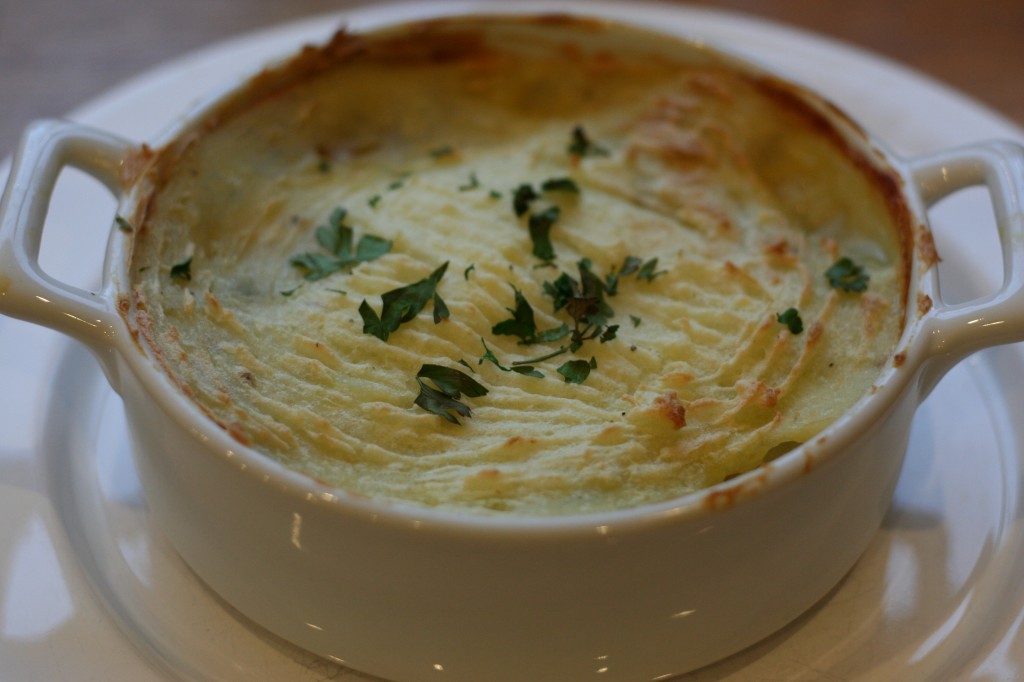 ***
Sauteed Carrots
from Barefoot Contessa Family Style by Ina Garten
Serves 6
2 lb (900 g) carrots
1/3 cup (80 ml) water
1 teaspoon kosher salt
1/4 teaspoon freshly ground black pepper
2 tablespoons (30 g) unsalted butter
1 1/2 tablespoons chopped fresh dill or flat-leaf parsley
Peel the carrots and cut them diagonally in 1/4‑inch slices. Place the carrots, water, salt, and pepper in a large (10- to 12-inch) saute pan and bring to a boil. Cover the pan and cook over a medium-low heat for 7 to 8 minutes, until the carrots are just cooked through. Add the butter and saute for another minute, until the water evaporates and the carrots are coated with butter. Off the heat, toss with the dill or parsley. Sprinkle with salt and pepper and serve.
***
Pumpkin Seed Brittle
from Feast by Nigella Lawson
Serves 8
1 1/4 cups (250 g) sugar
1/2 cup (120 ml) water
1/4 teaspoon cream of tartar
1 cup (125 g) green pumpkin seeds
Cover a baking sheet with a Bake-O-Glide, Silpat or other reusable parchment, or tear off some aluminum foil and lightly oil it. Dissolve the sugar, water and cream of tartar in a saucepan over a low heat. Turn the heat up and bring the mixture to a boil but do not stir. Let the syrup bubble over a fairly high heat for about 10 minutes, until it turns a deep golden amber color. Don't be tempted to wander away, make a phone call or leave the pan unattended, as the syrup could caramelize sooner.
Quickly tip the pumpkin seeds into the amber-colored syrup, swirl the pan so that they become evenly coated and then take off the heat. Pour the syrup immediately onto the Bake-O-Glide or oiled-foil-lined tray, trying to spread the molten liquid in a thin layer. It is possible to spread the brittle with a palette knife if it has mounded too much, but move fast: you will have only a short time to do this before it begins to set. Leave the brittle to cool and harden completely before breaking it into pieces.

Email this post

Print this post