I've been thinking about this cantaloupe salsa ever since seeing it on my favorite cooking blog, Smitten Kitchen, a couple weeks ago. The question was, as ever, what to pair it with as part of a meal (tempting as it may be to just eat it straight up with tortilla chips). Grilled chicken seemed like a good choice, but boring. But chicken wrapped in Parma ham? That's more like it. Parma ham and melon is a classic combination, and this dinner plays on that. The lime-garlic dressing in this fast, easy spin on a Greek salad also helps to balance out the salty Parma ham and keep the dinner light for summertime. But if you make nothing else from my posts this week, make these melt-in-your-mouth roasted peaches.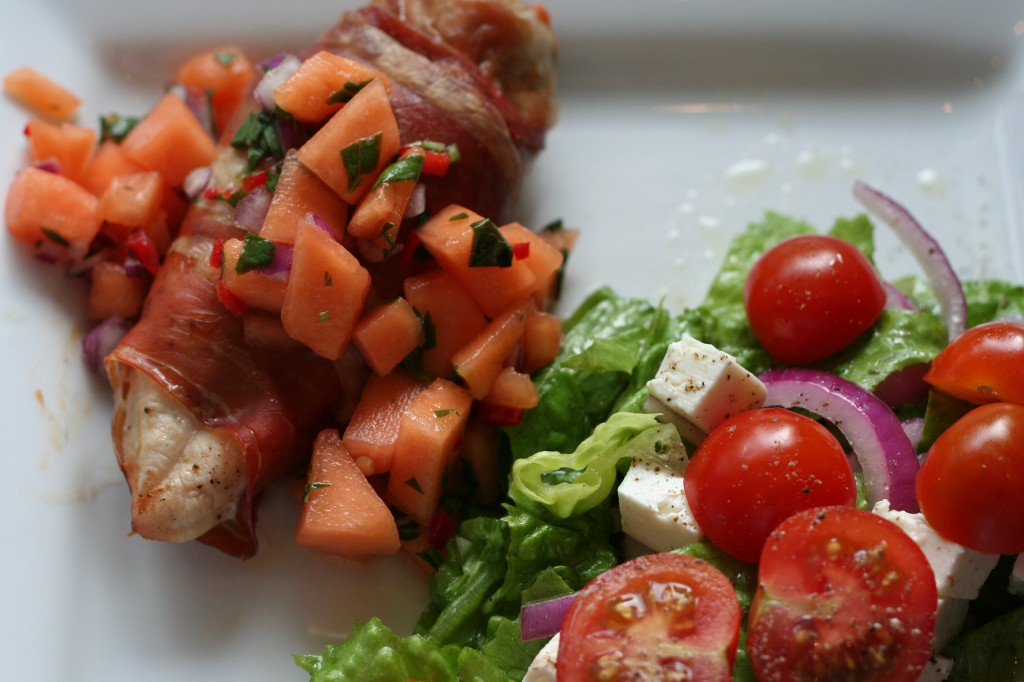 Chicken Wrapped in Parma Ham

Serves 4
Stuffing the chicken breasts with slices of buffalo mozzarella would also work well here — cut the chicken breast in half (but not right through), stuff with two or three mozzarella slices, then fold the breast back together and wrap the Parma ham around it. If you're serving this without the salsa, you could spread a thin layer of pesto on the Parma ham slices before wrapping the chicken up in them. If you'd like some visual step-by-step instructions on how to prepare the chicken for this recipe, Bon Appétit has a tutorial here.
4 chicken breasts
8 slices Parma ham (or bacon)
Preheat the oven to 350°F (180°C) and oil a baking tray. Season the chicken breasts with salt and freshly ground black pepper.
Lay 2 slices of Parma ham on a piece of greaseproof or parchment paper or aluminium foil, making sure they overlap slightly. Place a chicken breast at one end and, using the paper or foil to get started, gently roll it up in the ham. Carefully transfer the wrapped-up chicken breast to the well-oiled baking tray. Repeat for the other chicken breasts. Cook for 25 to 30 minutes. Serve with the cantaloupe salsa spooned on top.
***
Cantaloupe Salsa
from Smitten Kitchen
Makes about 2 cups of salsa
2 cups (300 g) diced cantaloupe
1/4 cup (30 g) diced red onion
2 tablespoons chopped fresh basil or cilantro
1 red or green chili, deseeded and minced
2 tablespoons fresh lime juice
1/4 teaspoon salt
Mix everything and eat immediately.
***
Summer Romaine Salad with Lime-Garlic Dressing
from Orangette
Serves 3 to 4
This dressing will keep, covered and chilled, for up to 1 week. Some fresh finely chopped cilantro added to the dressing would also be good.
for the dressing:
3 tablespoons plus 1 teaspoon fresh lime juice (or more to taste)
5 tablespoons good-quality olive oil
1/4 teaspoon minced garlic
1/8 teaspoon fine sea salt
for the salad:
1 head Romaine lettuce, washed, dried and cut into rough 1/2‑inch strips
1 pint (1 punnet) cherry or grape tomatoes, halved
1/2 red onion, finely sliced
1/2 cup (100 g) feta cheese, crumbled
To make the dressing, combine the lime juice, olive oil, garlic, and salt in a small bowl (or shake to combine in a screw-top jar). Whisk until emulsified and set aside.
In a salad bowl, combine the lettuce, tomatoes, and red onion. Toss with dressing to taste and top with plenty of feta. Serve.
***
Roasted Peaches Stuffed with Amaretti Cookies
from Everyday Italian by Giada De Laurentiis
Serves 6
3 large, ripe, firm peaches (about 5 oz/140 g each), halved and pitted (nectarines would also work well here, or even a mix of peaches and nectarines)
1 1/2 oz (40 g) amaretti cookies (about 12 small cookies)
3 teaspoons sugar (1/2 teaspoon per peach half)
1 tablespoon (15 g) unsalted butter (1/2 teaspoon per peach half)
fresh whipped cream or vanilla ice cream, to serve
Preheat the oven to 375°F (190°C). Butter the bottom of an 8‑inch baking dish and set aside.
Using a melon baller or a spoon, clean out the red flesh from the center of each peach. Arrange the peaches cut side up in the prepared dish. In the bowl of a food processor, add the amaretti cookies and pulse until finely crumbled (or place in a Ziploc bag and bash with a rolling pin). Divide the amaretti crumbs between the peaches, filling the center of each peach with the amaretti cookie crumbs. Sprinkle 1/2 teaspoon of sugar over each. Dot each peach with 1/2 teaspoon of butter.
Bake until the peaches are tender and the filling is crisp on top, about 30 minutes. Serve warm with whipped cream or vanilla ice cream.

Email this post

Print this post