My friend Alex hosted this month's book club and amazed us with a delicious yet light sandwich and salad meal. I contributed black bottom cupcakes to the event. As with all Alpineberry recipes that I have tried, the cupcakes turned out great. I will never spend $2.99 on another Simma's black bottom cupcake again!
Chicken Mozzarella Sandwich
adapted from Cooking Light
Serves 4
1/4 cup (about 2 oz) sun-dried tomato pesto or basil pesto
2 tablespoons fat-free mayonnaise
1 lb skinless, boneless chicken breasts
1/8 teaspoon salt
1/4 teaspoon pepper
1 teaspoon olive oil
1 x 8 oz loaf ciabatta – round is most fun!
12 large basil leaves
3/4 cup (3 oz) shredded part-skim mozzarella cheese
1/2 cup sliced bottled roasted red bell peppers
1 large tomato, thinly sliced
Combine the pesto and mayonnaise in a small bowl, stirring to blend.
Sprinkle the chicken with salt and pepper. Heat the oil in a large nonstick skillet over a medium-high heat. Add the chicken and cook for 3 minutes on each side or until done. Remove the chicken to a cutting board and cool slightly. Cut the chicken lengthwise into thin slices.
Preheat the broiler. Cut the ciabatta in half horizontally. Place the bread, cut sides up, on a baking sheet. Broil for 3 minutes or until lightly browned. Remove the bread from the pan. Spread the pesto mixture evenly over the cut sides of bread and arrange the chicken slices evenly over the bottom half. Top the chicken evenly with basil leaves and sprinkle the cheese over top. Place the bottom half on a baking sheet and broil for 2 minutes or until the cheese melts. Arrange the bell pepper and tomato over the cheese and cover with the top half of bread. Cut into 8 equal pieces.
***
Orzo Salad with Feta, Olives and Bell Peppers
from Bon Appétit, October 1997
This can be prepared 6 hours ahead. Cover and refrigerate.
12 oz orzo (rice-shaped pasta)
2 tablespoons plus 1/2 cup olive oil
1 1/2 cups crumbled feta cheese
1 cup chopped red bell pepper
1 cup chopped yellow bell pepper
3/4 cup pitted Kalamata olives
4 green onions, chopped
2 tablespoons drained capers
3 tablespoons fresh lemon juice
1 tablespoon white wine vinegar
1 tablespoon minced garlic
1 1/2 teaspoons dried oregano
1 teaspoon Dijon mustard
1 teaspoon ground cumin
salt and freshly ground black pepper
3 tablespoons pine nuts, toasted
Cook the orzo in a large pot of boiling salted water until tender but still firm to bite. Drain. Rinse with cold water and drain well. Transfer to a large bowl and toss with 2 tablespoons olive oil. Add the crumbled feta cheese, chopped bell peppers, Kalamata olives, green onions and capers.
Combine the lemon juice, vinegar, garlic, oregano, mustard and cumin in a small bowl. Gradually whisk in the remaining 1/2 cup olive oil. Season the dressing to taste with salt and pepper. The sauce is very strong to the taste but is light when added to the orzo.
Add the dressing to the orzo mixture and toss to blend. Season to taste with salt and pepper. Garnish salad with the toasted pine nuts and serve.
***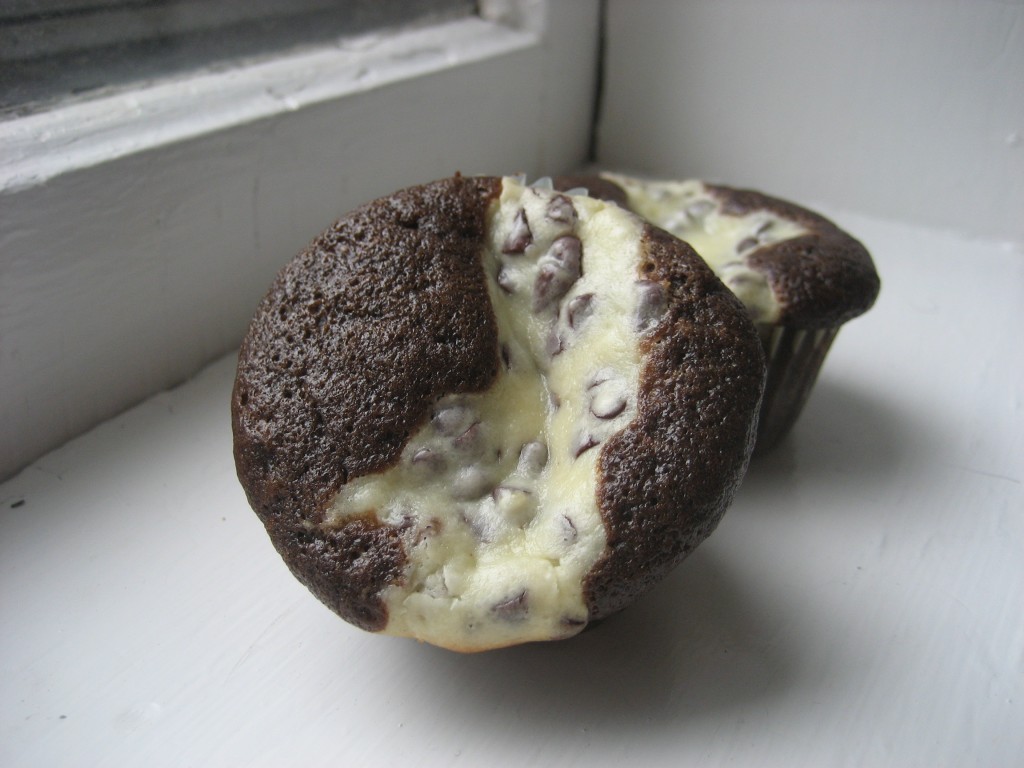 Black Bottom Cupcakes
from Alpineberry
Makes 15 cupcakes
for the cream cheese filling:
1 x 8 oz (225 g) package cream cheese, softened
1 egg
1/3 cup (75 g) granulated sugar
1/8 teaspoon salt
1 cup (160 g) miniature semisweet chocolate chips
for the cupcake batter:
1 1/2 cups (170 g) all-purpose flour
1 cup (225 g) granulated sugar
1/4 cup (30 g) unsweetened natural cocoa powder (don't use Dutch-processed cocoa)
1 teaspoon baking soda
1/2 teaspoon salt
1 cup (240 ml) water
1/3 cup (80 ml) unflavored oil (canola, grapeseed, etc.)
1 tablespoon white or apple cider vinegar
1 teaspoon vanilla extract
Preheat the oven to 350°F (180°C). Butter 15 wells of a standard muffin pan or line the wells with paper liners.
To make the cream cheese filling, in a bowl, mix together the cream cheese, egg, sugar, and salt. Stir in the chocolate chips. Set aside the filling while you make your cupcake batter.
To make the cupcake batter, sift the flour, sugar, cocoa, baking soda and salt into a large mixing bowl. In another bowl, mix together the water, oil, vinegar and vanilla. Add the wet to the dry ingredients and mix until just combined and the batter is smooth. Be careful not the overmix.
Divide the cupcake batter evenly among the wells of your muffin pan. (I would suggest that each well be no more than half full with cupcake batter. If you still have some cupcake batter left, then line and fill more wells of your muffin pan.) Spoon a few tablespoons of the cream cheese filling into the center of each cupcake, dividing the filling evenly. Your wells might be almost full but that's just fine.
Bake for about 20 to 25 minutes or until the cupcakes feel springy when gently pressed. Cool in the pan for 5 minutes, then gently remove the cupcakes from the pan and allow to cool on a wire rack.

Email this post

Print this post