There are a million ways to make chicken salad, but my mom's recipe makes a knock-your-socks-off, can't-go-wrong sandwich, especially when served on a buttery croissant. It's perfect to take to baby showers, wedding showers, work lunches, picnic lunches, or any other place where you aren't sure how picky the eaters are going to be. Everyone enjoys it. Pair it with this fresh and fabulously textured farro salad or, if you don't feel like babysitting a pot of simmering farro or wheat berries but want an equally healthy and tasty side dish, try some roasted chickpea snacks. The Good Bean sent me a few complimentary packets of their pre-packaged version and we all loved them, especially my husband. I plan to pack them in lunches and throw them in my purse for snack emergencies.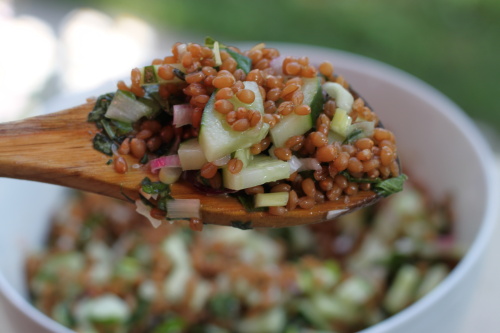 Cheddar Chicken Salad
Makes a dozen cocktail sandwiches (or 6 full-size sandwiches)
3 cooked chicken breast halves (boneless, skinless), diced
1/2 cup (125 ml) mayonnaise or Miracle Whip
4 oz (100 g) chopped pitted black olives
1/2 cup (50 g) shredded cheddar cheese
1/2 green bell pepper, chopped fine
1/2 small onion, chopped fine
small croissants or cocktail rolls (about 1 dozen)
Gently mix all the ingredients together except the rolls (obviously). Fill the rolls and serve. If not serving immediately, chill the salad for up to 24 hours or filled rolls for up to 2 hours in the fridge, covered.
***
Farro with Cucumber
adapted from Molto Gusto: Easy Italian Cooking
by Mario Batali
Serves 6
As much as I love this recipe and Molto Gusto: Easy Italian Cooking
, the cookbook it came from (currently on its third renewal from my local library), it doesn't taste great as leftovers. Try to eat it within 24 hours of preparing it unless you like seriously chewy grains.
8 oz (225 g) farro or wheat berries, picked over and rinsed
1 lb (450 g) cucumbers, cut into 1/4‑inch dice
1 medium red onion, cut into 1/4‑inch dice
1 red finger chile or serrano chile, cut into tiny dice
1/3 cup (10 g) packed fresh basil leaves, thinly sliced (chiffonade)
1/2 cup (125 ml) red wine vinaigrette (below)
Maldon or other flaky sea salt
Combine the farro and water to cover by 2 inches in a large saucepan and bring to a simmer, skimming off the foam. Reduce the heat to a bare simmer and cook until the farro is just tender, about 25 minutes if using pearled farro, about 1 1/2 hours if using wholegrain farro (or wheat berries).
Drain the farro and transfer to a large bowl. Add the cucumbers, onion, chile and basil, mixing well. Add the vinaigrette, tossing well. Season well with salt and serve, or let stand at room temperature for 1 hour to bring out the flavors.
Red Wine Vinaigrette
Makes 1 cup (250 ml)
1/2 cup (125 ml) extra virgin olive oil
1/4 cup (60 ml) good-quality red wine vinegar
1/4 cup (60 ml) sparkling water
Whisk the oil, vinegar and water together in a small bowl, or shake the ingredients together in a small, lidded jar, until well incorporated. The vinaigrette can be refrigerated for up to 5 days.

Email this post

Print this post