Though this blog project is a tad more work than I expected, it's worth it for many reasons, one being the new recipes I get to try out. And I like that Kristin keeps me on my toes in the kitchen. After reading through her meals each week, I'm too embarrassed to cook/post some of my old standby recipes. After all, how many times can you type up an adaptation of the same stir-fry? So often I end up in food ruts because my old standby recipes are standby recipes for a reason — they're good, they're easy. But food ruts are dangerous, an easy way to forget how amazing food can taste or the thrill of finding that perfect new recipe or pulling off a multi-course dinner for a party of 10.
For those of us that love cooking, it's not about filling our stomachs as much as creating a meal, an experience, a taste. These days I don't have the energy to wax poetic about why I love cooking. Luckily, Jonah Lehrer has written a brilliant essay that explains the attraction quite well. All of this is a long way of saying that I'm happy this blog forces me to try new things, like making polenta for the first time. The polenta was easy to make, comforting, and the perfect base for the lovely braised lamb dish.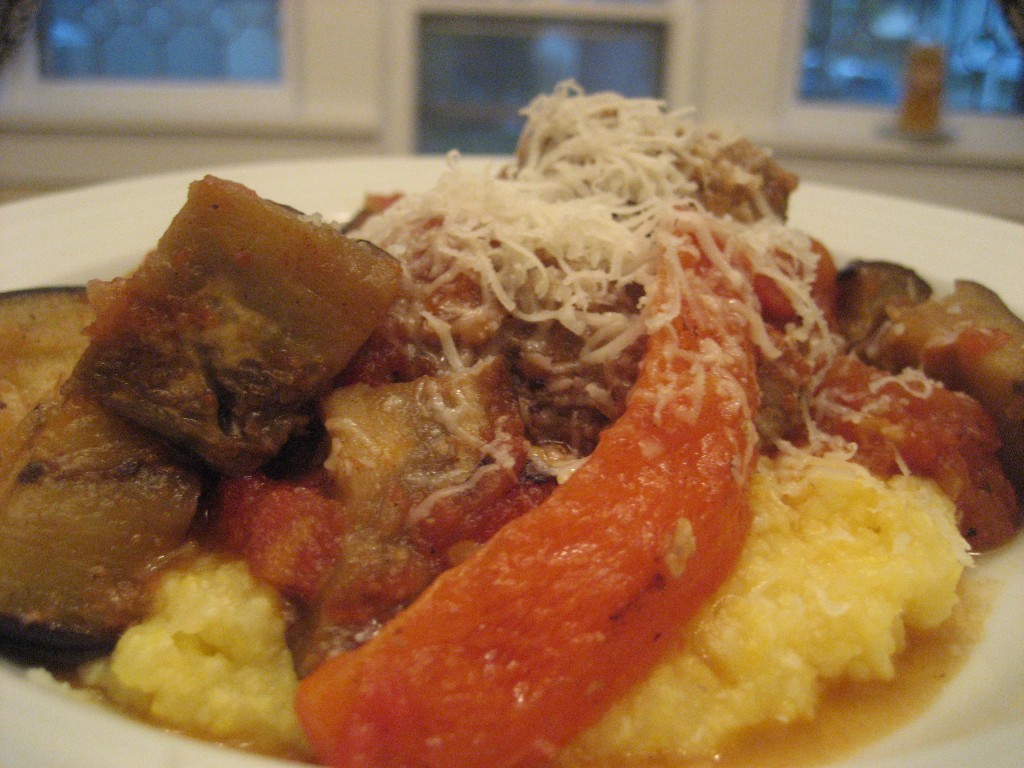 Sicilian Lamb Patties Braised with Eggplant, Peppers, and Tomatoes
adapted from Bon Appétit, October 2008
Serves 6
In place of polenta, you could serve this over penne, ziti or rigatoni.
for the lamb patties:
1/2 cup (25 g) fresh breadcrumbs (from crustless French bread ground in a food processor)
1/4 cup (60 ml) water
1 1/4 lb (570 g) ground lamb
1/2 cup (30 g) finely grated Pecorino cheese
1 large egg, beaten to blend
1 tablespoon chopped fresh marjoram
1 teaspoon coarse kosher salt
1/2 teaspoon freshly ground black pepper
1/8 teaspoon ground cinnamon
for the eggplant mixture:
2 small or 1 large eggplant (about 1 1/2 lb/680 g), unpeeled, cut into 1‑inch cubes
7 tablespoons extra virgin olive oil, divided
coarse kosher salt
1 large red bell pepper, halved, seeded and cut into 1/2‑inch-wide strips
1 onion, finely chopped
1 1/3 cups (320 ml) dry white wine
3 large garlic cloves, minced
2 1/2 cups (450 g) chopped, seeded, peeled tomatoes
for the polenta:
4 cups (1 liter) water
1 teaspoon salt
1 cup (150 g) polenta (coarse cornmeal)
grated Pecorino cheese
To make the lamb patties, combine the breadcrumbs and water in a small bowl. Soak for 5 minutes, then squeeze all the water from the crumbs. Place the crumbs in a large bowl. Add the lamb and remaining ingredients and mix gently to combine. Shape into 12 oval patties, each about 2 1/2 inches long and 3/4 inch thick.
To make the eggplant mixture, preheat the oven to 350°F (180°C). Combine the cubed eggplant and 5 tablespoons of oil in a large bowl and toss to coat. Spread the eggplant out on a rimmed baking sheet and sprinkle with coarse kosher salt and pepper. Bake for 12 minutes, then turn the eggplant over and bake until soft, about 12 minutes longer.
Heat 1 tablespoon oil in a large, deep skillet over a medium-high heat. Add the lamb patties and saute until brown, about 3 minutes per side. Transfer the lamb patties to a plate. Add the bell pepper strips to the drippings in the skillet and saute until they begin to soften, about 4 minutes. Transfer the pepper to the plate with the lamb.
Reduce the heat to medium. Add the remaining 1 tablespoon olive oil and the chopped onion to the same skillet. Cover and cook until the onion is soft, stirring occasionally, about 5 minutes. Add the wine and garlic. Cook, scraping up any browned bits, until the wine is reduced to a glaze, about 7 minutes. Return the lamb and peppers to the skillet, then add the eggplant, tomatoes, and marjoram. Reduce the heat to medium-low. Cover and simmer until the lamb is cooked through and the vegetables are tender, about 12 minutes. If the sauce is thin, simmer, uncovered until it has thickened to the desired consistency. Season the sauce to taste with coarse salt and pepper.
To make the polenta, bring the water and salt to boil in a heavy, large saucepan over a medium-high heat. Gradually whisk in the polenta and reduce the heat to medium-low. Simmer until the polenta is very thick, whisking often, about 20 minutes.
Spoon the polenta into shallow bowls. Top with the lamb and vegetables, sprinkle with Pecorino cheese and serve.

Email this post

Print this post