I'm coming full circle to finish up my first week of posts, which started with potato cakes and salad and is ending with crab cakes and a simpler, lighter spinach salad. I admit that there are plenty of crab cake recipes out there that are faster to make than this one, but I like that this one sneaks in some vegetables (always a consideration when feeding two little ones). You've probably already guessed that we like to eat as much salad as we can in the summertime, while greens are fresh from the garden or market and, in this case, with pretty edible flowers too. The potato cakes and crab cakes were big hits with both of my children — what kid doesn't like to eat with their hands instead of a fork?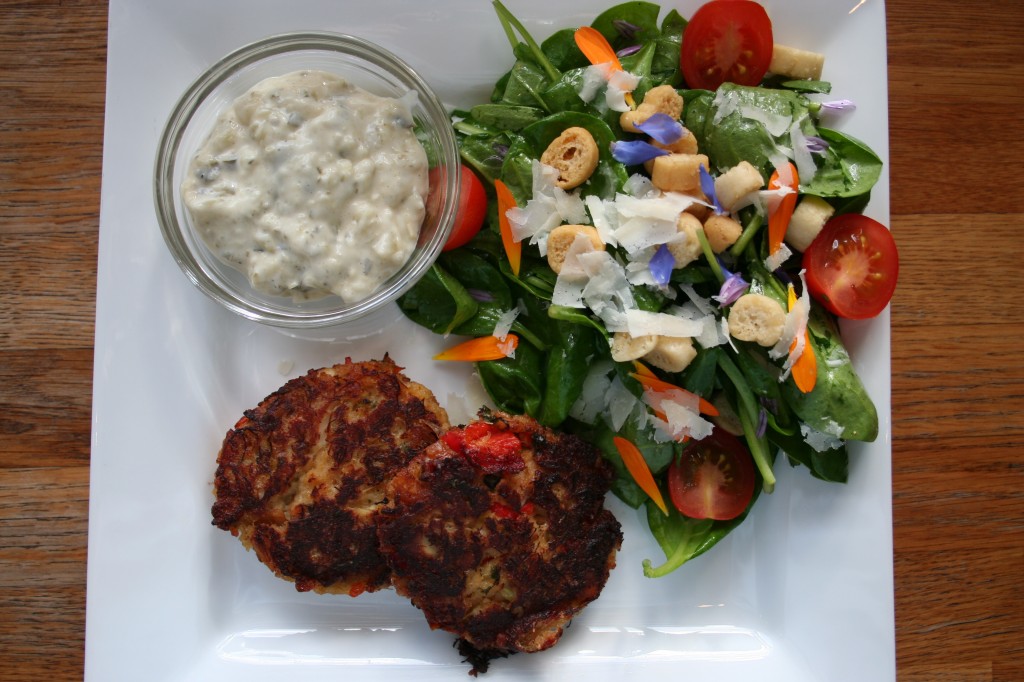 Crab Cakes with Rémoulade Sauce
adapted from The Barefoot Contessa Cookbook by Ina Garten
Makes about 24 small cakes to serve as appetizers or 8 to 10 large ones for a main course
Don't be put off by the long list of ingredients for the crab cakes, it comes together quicker than you might think, especially if you use a food processor to dice the vegetables (just be careful not to overdo it, you don't want them to turn to mush). If you have any leftover vegetable mixture, use it with some chopped ham to make a Denver omelette. And as for the rémoulade sauce, store-bought tartar sauce would be a perfectly fine substitute. If you can't get the Old Bay Seasoning called for here, you could make your own, or just leave it out altogether. And of course you could make this with fresh crab, which is what the original recipe calls for.
We had a couple crab cakes left over that we had for lunch the next day, and surprisingly, they were much better the second day. Consider making them ahead of time and leaving overnight.
2 tablespoons (30 g) unsalted butter
2 tablespoons olive oil
3/4 cup (1 small onion) small-diced red onion
1 1/2 cups (4 stalks) small-diced celery
1/2 cup (1 small pepper) small-diced red pepper
1/2 cup (1 small pepper) small-diced yellow pepper
1/4 cup (5 g) minced fresh flat-leaf parsley
1 tablespoon capers, drained
1/4 teaspoon Tabasco
1/2 teaspoon Worcestershire sauce
1 1/2 teaspoons Old Bay Seasoning
1/2 teaspoon kosher salt
1/2 teaspoon freshly ground black pepper
1/2 pound (225 g) canned crab meat, drained
1/2 cup (25 g) plain dry breadcrumbs
1/2 cup (120 ml) good mayonnaise
2 teaspoons Dijon mustard
2 extra-large eggs, lightly beaten
4 tablespoons (60 g) unsalted butter, for frying
1/4 cup (60 ml) olive oil, for frying
Place the 2 tablespoons butter, 2 tablespoons oil, onion, celery, red and yellow peppers, parsley, capers, Tabasco, Worcestershire sauce, Old Bay Seasoning, salt, and pepper in a large frying pan over medium-low heat and cook until the vegetables are soft, approximately 15 to 20 minutes. Cool to room temperature.
In a large bowl, break the crab meat into small pieces and toss with the breadcrumbs, mayonnaise, mustard, and eggs. Add about three-quarters of the cooked vegetable mixture and mix well, then judge whether you need to add more of the vegetable mixture – you don't want the cakes to be too loose. Alternatively, you could add more breadcrumbs. Cover and chill in the refrigerator for 30 minutes (or overnight to let the flavors develop). Shape into about 2 dozen bite-sized or 8 to 10 larger crab cakes.
Heat the butter and olive oil for frying over a medium heat in a large frying pan. Add the crab cakes and fry for 4 to 5 minutes on each side, until browned. Drain on paper towels. Keep them warm in a 250°F (120°C) oven and serve hot with the rémoulade sauce.
Rémoulade Sauce
Makes 3/4 cup (175 ml)
1/2 cup (120 ml) good mayonnaise
2 tablespoons small-diced pickles or cornichons
1 teaspoon coarse-grained mustard
1 tablespoon white wine vinegar
pinch sea salt and freshly ground black pepper
Place all the ingredients in a food processor fitted with a steel blade and pulse several times until the pickles are finely chopped and all the ingredients are well mixed but not puréed.
***
Baby Spinach Salad with Lemon Vinaigrette
To make this salad for 2 adults, I used 2 or 3 handfuls of washed baby spinach, lightly dressed in lemon vinaigrette and topped with halved cherry tomatoes, Parmesan shavings, croutons and edible flowers from our garden (borage, chive and marigold).
Lemon Vinaigrette
from Bon Appétit, December 1998
Makes about 3/4 cup (175 ml)
1/2 cup (120 ml) good-quality olive oil
3 tablespoons fresh lemon juice
1 tablespoon minced shallot
1 1/2 teaspoons Dijon mustard
1/2 teaspoon grated lemon peel
1/2 teaspoon sugar
Whisk all the ingredients in a bowl to blend (or shake to combine in a screw-top jar). Season to taste with salt and pepper. This can be made 1 day ahead and chilled, just bring to room temperature before using.

Email this post

Print this post