Last year I succumbed to a telemarketer begging me to buy a magazine subscription in support of a well-known charity. I'd like to tell you it was because I care deeply for the organization or felt pity for the poor saleswoman, but honestly, I just missed receiving a magazine with my name on it every month. After years of being a loyal subscriber to Gourmet (my idealistic college days), then Cooking Light (I put on weight working an office job in my early twenties) and, most recently, Cook's Illustrated (the serious cooking began), I let the subscriptions expire four years ago when my first-born arrived. But no longer. My magazine days are here again. Unfortunately, I regretted last year's selection of Food & Wine magazine. Besides this fantastic pork burger recipe and one other interesting salmon preparation, I didn't find much inspiration in the magazine. Maybe I don't drink enough wine to appreciate it. So, dear readers, tell me what periodical to order next. What cooking magazines do you love?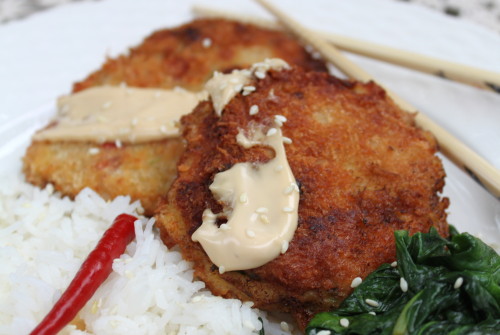 Crunchy Pork Kimchi Burgers
adapted from Food & Wine, May 2012
I used the last few precious tablespoons of my sister-in-law's homemade kimchi for this recipe. Because the kimchi has a bit of kick to it, I made some of the burgers without the kimchi for the kids. Both versions tasted good but the kimchi really made the burger memorable.
Serves 4
1 tablespoon grated fresh ginger
1 large garlic clove, minced or grated
2 scallions, minced
1 lb (450 g) ground pork
3/4 cup (170 g) finely chopped kimchi
Kosher salt
All-purpose flour, for dusting
2 large eggs, beaten
1 1/2 cup (100 g) panko (Japanese bread crumbs), lightly crushed
Vegetable oil, for frying
12 oz (340 g) baby spinach
1/4 cup (60 ml) mayonnaise
1/2 teaspoon toasted sesame oil
1 tablespoon light soy sauce
Toasted sesame seeds, for garnish
Steamed rice
In a bowl, combine the ginger, garlic, scallions, pork and kimchi with 1 teaspoon of salt. Form the mixture into eight patties, about 1/2 inch thick. Dust the patties with flour and refrigerate for 10 minutes while you prep the other ingredients.
Put the eggs and panko in 2 shallow bowls. Dip the patties in the egg and then in the panko, pressing to help the crumbs adhere.
In a large skillet, heat 1/4 inch of vegetable oil. Depending on the size of your skillet, you will probably need to cook the patties in 2 batches. Add as many patties to the hot skillet as will fit and fry over moderate heat, turning, until golden and cooked through, 5 to 6 minutes. Drain on paper towels.
Pour off all but 1 tablespoon of the oil in the skillet. Add the spinach in batches, season with salt and cook over high heat until wilted, about 1 minute.
In a bowl, mix the mayonnaise, sesame oil and soy sauce. Mound the spinach on plates and top with the burgers. Top with the sauce and sprinkle with sesame seeds. Serve with steamed rice

Email this post

Print this post