Whenever people ask where I'm from, I always hesitate before answering. Although I spent my teenage years in Illinois, I lived my younger years in Tomball, Texas, a tiny town near Houston. Inevitably, I answer that I was "raised in Texas." Growing up in Texas during your formative years definitely leaves a mark. The food, the weather, the people all have the indelible stamp of Texas on them. It took me a long time to get over my move to north. While I can appreciate the faster pace of my current hometown, I still miss many, many things about Texas. The warm and generous people, amazing sunsets, never buying a winter coat, and jalapenos and sweet tea served with every meal.
I am still, after all these years, a homesick Texan. I regularly follow Lisa Fain's blog by the same name and was thrilled when Kristin sent me her cookbook. I spent the evening reading it–yes, reading it–with that bittersweet ache of nostalgia in my stomach. There is nothing quite like food to trigger memory. A certain conversation or taste or smell that you've forgotten for years can come roaring back to life with just the mention of the food that you were eating when it occurred. When I read Lisa's green salsa recipe I knew I was going to be in for a long ride down memory lane. This salsa is one that I ate constantly growing up. It was (and probably still is) served alongside traditional red salsa at every Mexican restaurant in southeastern Texas. Alas, I never tasted it again after moving up north. Until now that is. I've made this salsa five times since Christmas Eve, where I served it as surprise for my Texas-born siblings. For me, that is an astounding amount of times to make the same recipe. It's just that good. I can, and have, eaten it by the spoonfuls. It's topped my carnitas, been served along side yellow rice and a roasted chicken, gone perfectly with tortilla chips, and accompanied tonight's steak tacos.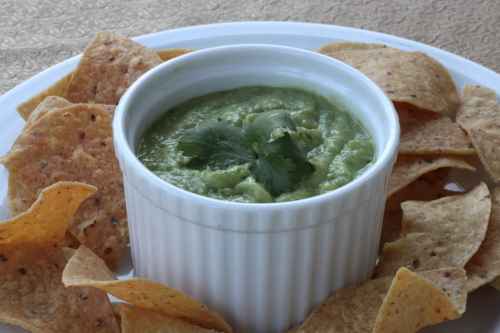 Steak & Swiss Chard Tacos
Serves 6
2 steaks (preferably ribeye or flank steak, but sirloin will work in a pinch)
2 cloves garlic, minced
juice of 1 lime
1 teaspoon cumin
salt and pepper
1 bunch Swiss chard, tough stems chopped into 1/2 inch pieces and leaves roughly chopped
1 tablespoon olive oil
1 clove garlic, thinly sliced
12 corn or flour tortillas
toppings (shredded cheese, diced tomatoes, sour cream, avocado)
Spread the minced garlic evenly on top of the steaks. Sprinkle with the lime juice, cumin, and salt and pepper, to taste. Let the steaks sit for 20 minutes. If desired, steaks can sit for up to one hour in the fridge. Make the salsa while your steaks marinate.
While the steak marinates, heat the olive oil in a skillet over medium heat. Add the Swiss chard stems and sliced garlic and cook, stirring frequently for 2–3 minutes until the garlic turns golden. Add the Swiss chard leaves and continue cooking until the leaves are wilted and stems are just tender, another 5–10 minutes. Season the chard with salt and pepper to taste and set aside.
Preheat a large cast iron skillet or griddle over medium high heat. When hot, place the steaks into the pan and cook for 5–8 minutes until nicely seared on one side. Flip the steaks and continue cooking on the other side until cooked to your desired doneness. I like my beef medium rare so usually another 5 minutes will do the trick, depending on the thickness of the steak. When done, remove the steaks from the pan and let them rest on a cutting board. After letting them rest for 5–10 minutes, thinly slice the steaks against the grain. Serve the steak with warmed tortillas, topped with the swiss chard, salsa and other accompaniments.
***
Houston-style Green Salsa
from The Homesick Texan Cookbook
by Lisa Fain
Makes about 2 cups
3/4 lb (340 g) small tomatillos, husks removed or 1 x11 oz (x310 g) can of whole tomatillos, drained
1 avocado, peeled and pitted
1 or 2 serrano chiles, stems and seeds removed, roughly chopped
4 cloves garlic, chopped
1 tablespoon lime juice
1/4 cup (8 g) cilantro
salt, to taste
If using fresh tomatillos, on high heat, bring a pot of water to boiling and cook tomatillos until soft, about 5 minutes.
Add the tomatillos to a blender along with the avocado, serrano chiles, garlic, lime juice, and cilantro. Blend until smooth then add salt, to taste.

Email this post

Print this post