You think you're busy now? I sometimes find myself thinking on days when I'm feeling frazzled by the ceaseless demands of two young kids. Wait till they're old enough to want to be doing things after school and on weekends. I imagine future weekday afternoons and Saturday mornings spent ferrying them around to sports or music or friends' houses, when no doubt I'll look back at this time and laugh at how easy I actually had it. We've taken our first steps down this road recently after my daughter started swimming lessons in the new year, which means we don't get home till late on Tuesdays now. Landing in the door with homework still to be done and two tired, hungry kids clamoring to be fed, I've been keeping an eye out even more than usual for recipes that I can get on the table quickly on Tuesday nights. So far I've made stew the night before that I could just come home and reheat and ditto for a big pot of spaghetti Bolognese, but I've also been relying on my slow cooker a lot again.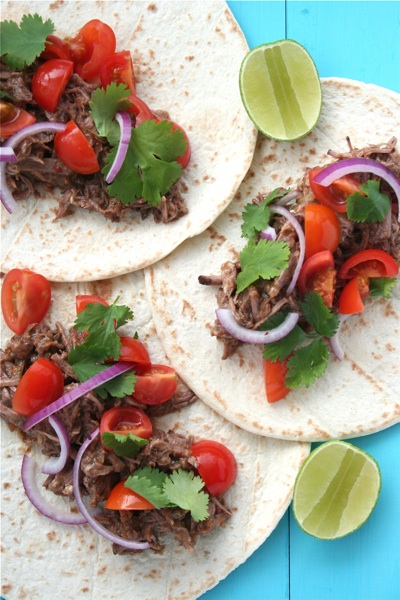 I'd never heard of barbacoa beef before spying this recipe on The Kitchn, where it was presented as Superbowl party food to feed a crowd. The tangy flavors of the lime and vinegar sounded like just to thing to perk up dulled winter taste buds, not to mention the smoky chipotles. It's a new favorite in my repertoire of slow cooker recipes and a lifesaver on a busy day.
Slow Cooker Barbacoa Beef
adapted from The Kitchn
Makes enough for 30 tacos
Dinner doesn't get much easier than when it's made in a slow cooker, but this makes more than enough for two dinners if you want to have the same thing all over again as leftovers on a second night for an even easier time of it. Otherwise freeze half of it for another time. Instead of using the beef as a taco filling, you could also pile it onto nachos. In Ireland, you can get tinned chipotle chiles from my friend Lily's online shop. I found this recipe had plenty of flavor as it is, but you could try adding oregano, cumin, ground cloves, smoked paprika or even a teaspoon of espresso powder if you want to spice it up a little more.
4 chipotle peppers (from a can), finely chopped, plus all the adobo sauce they sit in
1 red onion, roughly chopped
1 head of garlic, peeled and cloves smashed
1 bunch cilantro, chopped
5 dry bay leaves
1 tablespoon salt
4 to 6 cups (1 to 1.5 litres) beef or chicken stock
1/2 cup (125 ml) cider vinegar
juice of 4 limes
5 to 7 lb (2.2 to 3.2 kg) beef brisket or stewing beef
to serve:
flour or corn tortillas
cherry tomatoes, quartered, or salsa
1 or 2 red onions, thinly sliced, or a few thinly sliced scallions
chopped fresh cilantro
lime wedges
Place all the ingredients except for the beef directly into your slow cooker and stir them around until they're fairly well combined. Add in the beef and put on the lid. Cook on low for 6 to 8 hours, until the meat is cooked through and can be shredded easily when pulled with a fork.
When it's done, remove the meat from the slow cooker and place it on a rimmed baking sheet or in a large bowl, then use two forks to shred the meat. Place the shredded beef in a large serving bowl and pour over a few ladlefuls of the cooking liquid (you want the meat to be moist but not drowning in the liquid). Serve in tortillas topped with quartered cherry tomatoes or salsa, onion slices, fresh cilantro and an extra squeeze of lime juice.

Email this post

Print this post