Lucky for me, my co-blogger Kristin keeps up on the cookbook scene. I rarely buy cookbooks (I think I've purchased maybe three in my lifetime) but Kristin always send me a good one for my birthday. This year, I was thrilled to receive Super Natural Every Day: Well-loved Recipes from My Natural Foods Kitchen
by Heidi Swanson of 101 Cookbooks blogging fame. I pull regularly from her site for easy vegetarian recipes. I wasn't aware she had a new cookbook until I opened Kristin's package. What treat to try out some healthy dishes after weeks of December holiday food overload. I mean, I love Christmas cookies and Chanukah latkes, and a birthday cake or two goes down easy, but what really hit the spot after our New Year's festivities were these savory chickpea wraps. The crisp celery, tangy mustard, and cool yogurt played off the tender chickpeas perfectly. The other recipes I've tried from the book have also been lovely, with the exception of one very terrible, nearly inedible chickpea stew. Note to Heidi (and fellow cookbook readers), I love saffron, yogurt, egg yolk and chickpeas–but not in soup form.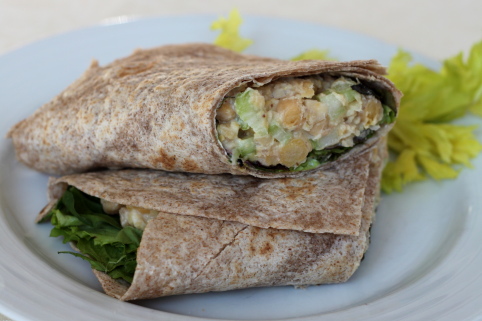 Chickpea Wraps with Celery, Dill and Mustard
adapted from Super Natural Every Day: Well-loved Recipes from My Natural Foods Kitchen
by Heidi Swanson
For the bean-phobic, try substituting two cups of cooked, diced chicken breast for the chickpeas. I haven't tried it yet but I'd bet good money this recipe makes a damn good chicken salad wrap.
Serves 4
3 cups (425 g) cooked chickpeas (garbanzo beans) or 2 x 15 oz/425 g cans chickpeas, rinsed and drained
1/3 cup (45 g) minced shallots
1/2 cup (60 g) chopped celery
1/2 teaspoon (or more to taste) dried dill or 2 tablespoons chopped fresh dill
1 1/2 tablespoons Dijon-style or stone-ground mustard
2/3 cup (155 g) plain yogurt
1/2 teaspoon sea salt
1 tablespoon fresh lemon juice, plus more if needed, and a bit of grated zest
4 pieces lavash flatbread or whole wheat tortillas (12 inch)
2 cups (30 g) mixed salad greens
In a large mixing bowl, whisk together the mustard, yogurt and salt. Spread about 2 tablespoons of the yogurt sauce across each piece of lavash.
Pulse 2/3 of the chickpeas in a food processor a few times, just enough to break them up. Transfer them to the mixing bowl with the remaining yogurt sauce, along with the remaining chickpeas, shallots, celery and dill. Gently toss to combine then add the lemon juice and zest and toss again. Taste and add more salt or lemon juice, if needed.
Sprinkle each piece of lavash with 1/4 of the mixed greens (the yogurt will help hold the greens in place), top each of the four wraps with 1/4 of the chickpea mixture. Fold or roll into a wrap and serve.

Email this post

Print this post