Though I'm a city dweller, I see my fair share of corn at the end of summer. A half hour drive north, south, or west of Milwaukee (Lake Michigan borders our eastern coast) will lead you into corn country. At this time of year, the fields are just turning from gold to green or are being turned under in preparation for next year's crop. Grocery stores, farmers markets, tiny hand built produce stands, and even the backs of pick up trucks offer plenty of corn for sale. Our CSA delivered a dozen ears for the second week in a row. Though the corn was past its prime, I salvaged the slightly starchy ears in this chowder. I am not usually a fan of corn chowder, having experienced one too many mediocre, pasty bowls of the stuff but this version is vastly better than any other I've eaten, helped out by the addition of tomatoes and hot peppers–also abundant right now. And since I'm on the topic of corn, I may as well mention one of my favorite documentaries in recent years, King Corn. If you ever wondered how, what, and why America grows mass quantities of corn, check it out.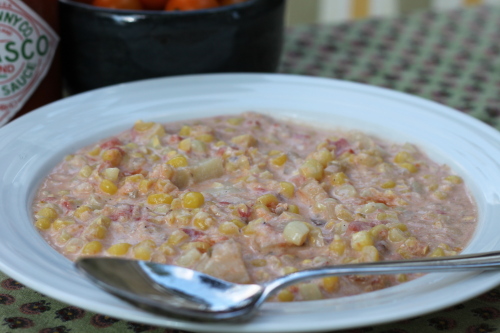 Summer Corn Chowder
adapted from Food52
Though I rarely follow recipes that call for peeling tomatoes, this time the effort was worth it. The diced tomatoes nearly melt into the soup, turning it an appealing shade of pink. To peel tomatoes, simply score each tomato on the bottom with a small "x" then submerge them into a pot of boiling water. After a minute or two, gently remove the tomatoes from the boiling water and place them in a bowl of ice water. After a quick soak in the ice bath, you'll be able to easily peel of the skins.
Serves 6
8 medium ears of corn
6 strips of bacon, cut into 1/2‑inch pieces
1 onion, diced small
1 medium poblano or other hot pepper, seeded and finely chopped
1 jalapeno, seeded and finely chopped (optional, I omitted this ingredient to keep the chowder kid friendly)
1 celery rib, finely chopped
1 lb (450 g) red potatoes, peeled and cubed into 1/2 in. pieces
3 medium tomatoes, peeled, seeded and finely chopped
1 teaspoon salt
1/4 teaspoon ground allspice
1/4 teaspoon sugar
1 small bay leaf
2 cups (500 ml) light cream (half and half), at room temperature
1 cup (250 ml) milk
freshly ground black pepper, to taste
Tabasco hot sauce, to serve
Working over a bowl, cut the corn kernels from the cobs at about half their depth. Then, using the back of the knife, scrape the cobs over the bowl to release all the "milk"; set aside.
In a large dutch oven, fry the bacon over moderately high heat, stirring occasionally, until crisp, about 10 minutes. Transfer the bacon to paper towels to drain. Crumble and reserve.
Discard all but 3 tablespoons of the bacon drippings from the pan. Add the onion and cook over moderate heat until golden, 4 to 5 minutes. Add the poblano and jalepeno peppers and celery and cook until slightly softened, about 5 minutes more. Add the potatoes, tomatoes, salt, allspice, sugar, bay leaf and the reserved corn kernels with their "milk" and stir well. Cook over moderate heat until mixture begins to sizzle.
Reduce the heat to low. Cover and cook, stirring occasionally, until the potatoes are tender, about 45 minutes. Stir in the cream, milk and bacon and bring just to a boil. Remove from heat and season with black pepper to taste. Ladle the chowder into bowls and serve with a good loaf of bread and a few drops of Tabasco.

Email this post

Print this post