Growing up, there was always a jar of Dell'Alpe giardinera in the door of the fridge, as much of a staple in my house as ketchup and mustard and mayonnaise. But when my mom, stepdad and twin brothers moved from Illinois to Florida a few years ago, my stepdad was dismayed to realize that giardineria is apparently a regional food, popular with Chicago-area Midwesterners but impossible to find in Tampa. He now orders it in bulk online and even sent me a few jars from his stash earlier this year, cushioned in multiple layers of bubble wrap to survive the transatlantic trip. It's good on all sorts of things, but it's a must for Italian beef sandwiches.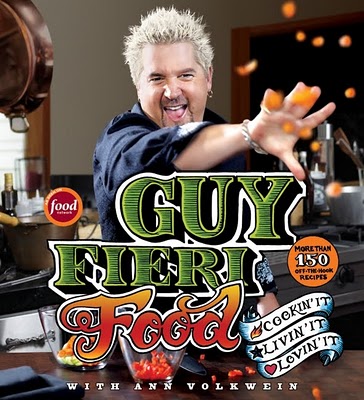 When I got a review copy of Guy Fieri Food
and saw this recipe for Chicago Italian beef sandwiches, I knew it would be one of those recipes that would make the book worth buying alone, and I wasn't disappointed. But if that wasn't enough, how could you not be tempted by recipes like Firecracker Wings, Bacon-wrapped Shrimp with Chipotle BBQ Sauce, Grilled Chicken Tortilla Soup with Tequila Crema, Grilled Romaine with Blue Cheese-Bacon Vinaigrette, Cajun Chicken Alfredo and Watermelon Pork Tacos? The flavors are as big and bold as Guy Fieri himself. What other celebrity chef has his tattoo artist do the illustrations for his cookbook or gets women's lingerie thrown at them as if they were Tom Jones?
Guy Fieri says this should be the state sandwich of Illinois. This Illinois native agrees.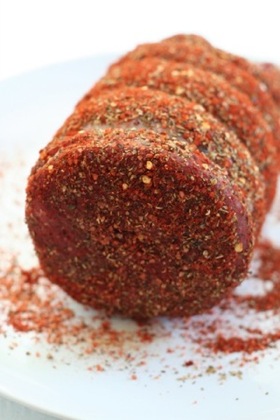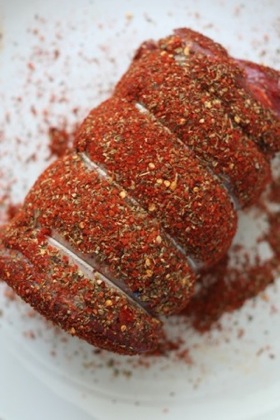 We've got a copy of Guy Fieri Food to give away! To enter, just leave a comment on this post. The giveaway is open to US residents only until Monday, 20 June and will close at midnight, when a winner will be randomly selected. Good luck!
Chicago Italian Beef Sandwiches
adapted from Guy Fieri Food
by Guy Fieri
Serves 6 to 8
If you were to order an Italian beef sandwich in a restaurant, it would probably be served with some potato chips or french fries. For serving at home, though, I'd suggest a potato salad or coleslaw.
You could also try cooking this in the slow cooker for 6 to 8 hours on a medium heat, or until the meat shreds apart with a fork, which is how my mother always makes Italian beef. Guy Fieri suggests that if you have any leftovers, try using it on a homemade pizza with grated pepper Jack cheese and giardiniera.
For the spice mix:
3 tablespoons Italian seasoning
2 tablespoons fine sea salt
2 tablespoons freshly ground black pepper
1 tablespoon paprika
1 teaspoon cayenne pepper
1 teaspoon red chilli flakes
For the beef:
4 lb (1.8 kg) beef top round, with fat cap (I used a pot roast)
3 tablespoons canola oil
3 yellow onions, chopped
1 head of garlic, cloves peeled and chopped
1/2 cup (125 ml) red wine
3 tablespoons Worcestershire sauce
2 cups (500 ml) beef stock
2 bay leaves
To serve:
6 sourdough hero or hoagie rolls, or baguettes or ciabattas, split and toasted
giardiniera
jarred or roasted red bell peppers, sliced 1/4 inch thick
Combine all the ingredients for the spice mix. Rub the meat with the spice mix, cover tightly with cling film and refrigerate for 2 to 3 hours.
Preheat the oven to 275°F (140°C).
Place a Dutch oven or roasting pan over a high heat on the stovetop and add the oil. When it's smoking, add the beef and cook for 15 minutes, turning the meat often, until it's nicely browned on all sides. Add the onions and cook for 5 minutes, then add the garlic and cook for 1 minute more. Add the wine, Worcestershire, stock and bay leaves and scrape up all the brown bits on the bottom of the pan.
Transfer the pan to the oven and roast the meat for about 1 hour 30 minutes, uncovered, or until a thermometer inserted in the center of the meat reads 135°F (60°C). Remove the meat from the pan and set aside to let it cool. Cool the broth in the pan and remove the fat that rises to the top.
When the meat is cool, slice it very thin. Reheat the broth and add the meat back in.
To serve, place some meat on each roll, ladle some broth over the meat and top with the giardiniera vegetables and red peppers.

Email this post

Print this post