Things are still crazy, hectic, almost out of control in my household. We're still managing to eat well though, thanks in part to my husband. We've settled into a pattern where I do the meal planning and grocery shopping and he takes care of the cooking while I pick up the kids from daycare. His most recent dinner was absolutely amazing, the type of meal where the only full sentence spoken (even from your kids) involves some variation of "this is delicious." While the meal is quick and healthy, it does require multiple pans and you really have to be on your toes to make sure nothing is overcooked. Still, if you're short for time but energized enough to maneuver three pots at once, this one is hard to beat.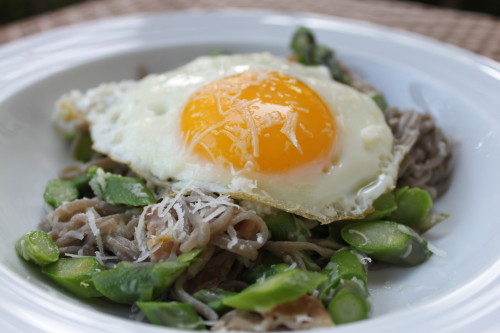 Egg-Topped Soba Noodles with Asparagus and Prosciutto
adapted from Bon Appétit, February 2010
Serves 6
4 tablespoons extra-virgin olive oil, divided
5 garlic cloves, coarsely chopped
4 oz (110 g) thinly sliced prosciutto, cut crosswise into strips
6 large eggs
10 to 12 oz (280 to 340 g) thin soba noodles
1 lb (450 g) asparagus, ends trimmed, cut on sharp diagonal into 1/8‑inch-thick slices
1 cup (100 g) freshly grated Parmesan cheese
Fill a large pot with water and bring to a boil.
Meanwhile, heat 2 tablespoons extra-virgin olive oil in a large skillet over a medium-high heat. Add the garlic and stir 30 seconds. Add the prosciutto strips and cook until slightly crisp. Remove from the heat and set aside.
Heat 2 teaspoons of oil in a large nonstick skillet (or 2 small nonstick skillets) over a medium heat. Crack the eggs carefully into the skillet. Cook on 1 side until the eggs begin to set, about 2 minutes. Remove from the heat. Cover and set aside.
Cook the soba noodles in the large pot of boiling water for 5 minutes, stirring occasionally. Add the sliced asparagus to the pot. Cook until the noodles are cooked through and the asparagus is just tender, 2 to 3 minutes. Do not overcook! Drain the noodles and asparagus, reserving 1 cup (250 ml) of the cooking liquid.
Add the drained noodles and asparagus to the prosciutto mixture in the skillet. Cook over a medium heat until just heated through, tossing and adding the reserved cooking liquid by 1/4 cupfuls (50 ml) to moisten.
Remove the skillet from the heat. Add the grated Parmesan cheese and remaining 1 tablespoon plus 1 teaspoon olive oil and toss to coat. Divide among 6 plates or shallow bowls. Top each serving with 1 egg and serve immediately, breaking and stirring the egg yolk (which should still be a bit runny) into the noodles.
***

Double Chocolate Muffins
My daughter is "graduating" to a toddler room at her daycare this week. In a fit of panic after forgetting to buy her teachers a good-bye gift, I threw together these muffins with the odds and ends I had in my house. What a discovery! They are moist and chocolaty, and just healthy enough to eat for breakfast. I hope they enjoyed them. I know we did.
Makes 24 muffins
1 1/2 (180 g) cups all-purpose flour
1 cup (120 g) whole wheat flour
1 1/2 cups (300 g) sugar
1/2 cup (60 g) cocoa
1 1/2 teaspoons baking soda
1/2 teaspoon salt
3 eggs
1 cup (250 ml) plain yogurt
1/2 cup (125 ml) water
1/2 cup (125 ml) milk
1/2 cup (125 ml) vegetable oil
1 teaspoon vanilla extract
1/2 cup (80 g) grated dark chocolate
1 cup (200 g) white chocolate chips
Preheat the oven to 325°F (160°C). In a large bowl, whisk together the flours, sugar, cocoa, baking soda and salt.
In a medium bowl, whisk together the eggs, yogurt, water, milk, oil and vanilla. Stir the wet ingredients into the dry ingredients until just moistened. Do not overmix! Fold in the grated chocolate and white chocolate chips.
Fill greased or paper-lined muffin cups about 3/4 full. Bake for about 20 minutes, or until a toothpick comes out clean. Cool the muffins for 5 minutes before removing from the pans to wire racks.

Email this post

Print this post