Every time my husband and I play the lotto (which is hardly ever), we convince ourselves we're going to win it. We usually only buy a ticket when the jackpot is huge after rolling over a few times, but we don't let the decreased odds stand in the way of our daydreaming. We'll pay off our student loans! We'll build an extension on our house! Hell, we'll knock down the house and just build a bigger and better one! You get the idea.
Well, I might not have won the lotto, but I did get a visit from the Fairy Hobmother after entering the contest over at Eat Like a Girl's blog. And while I didn't get a big ticket prize like a new food processor, I did get an Amazon gift certificate, which is always a well-received present for this professional bookworm. I promptly put it to good use on a few cookbooks from my wish list, one of which was Baked Explorations: Classic American Desserts Reinvented
. I can't wait to make Mississippi Mud Pie, New York Style Crumb Cake, Quick Skillet Snack Cake, Burnt Sugar Bundt Cake with Caramel Rum Frosting, Heartland Turtle Bars, Buckeyes … the list goes on and on (and on). But first up was this Double Chocolate Loaf with Peanut Butter Cream Cheese Spread.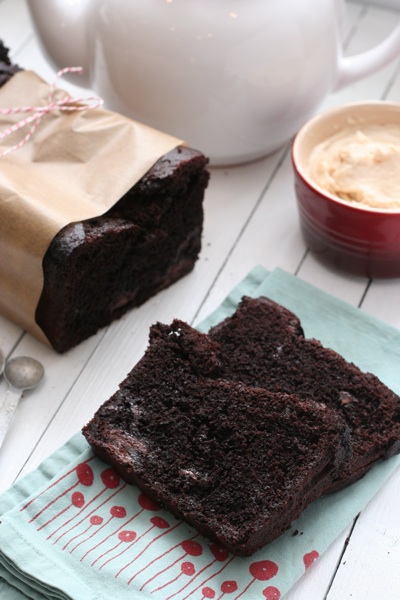 Double Chocolate Loaf with Peanut Butter Cream Cheese Spread
adapted from Baked Explorations: Classic American Desserts Reinvented
by Matt Lewis and Renato Poliafito
Makes one 9 x 5‑inch loaf
The authors suggest slicing this and eating it plain, or toasting it and spreading with a bit of butter, cream cheese or, of course, this peanut butter cream cheese spread. They also say this loaf is wonderful with coffee and the morning newspaper. Chocolate cake for breakfast? I like their style.
For the loaf:
3/4 cup (120 g) firmly packed dark brown sugar
1 1/2 cups (180 g) flour
1 cup (120 g) dark unsweetened cocoa powder, sifted (I used Green & Blacks)
3/4 cup (150 g) granulated sugar
1 1/2 teaspoons baking soda
3/4 teaspoon baking powder
1 teaspoon salt
2 eggs
1 egg yolk
3/4 cup (180 ml) buttermilk
1/2 cup (125 ml) vegetable oil
1 teaspoon vanilla extract
8 oz (225 g) good-quality dark chocolate, coarsely chopped
For the peanut butter cream cheese spread:
5 oz (140 g) cream cheese, softened
2 tablespoons creamy peanut butter
1/3 cup (75 g) sugar
Preheat the oven to 350°F (180°C) and position the rack in the center of the oven. Butter a 9 x 5‑inch loaf pan, dust it with flour and knock out the excess flour.
Place the brown sugar in the bowl of a standing mixer fitted with the paddle attachment. Press out any lumps with the back of a large spoon. Add the flour, cocoa, granulated sugar, baking soda, baking powder and salt. Scrape down the sides and bottom of the bowl.
In a separate bowl, whisk the eggs and egg yolk until blended, then add the buttermilk, oil and vanilla and whisk until combined.
Turn the mixer to low and slowly pour the wet ingredients into the dry ingredients, mixing until just combined (don't overmix!). Stir in the dark chocolate chunks by hand.
Pour the batter into the prepared loaf tin and bake for 1 hour to 1 hour 10 minutes, or until a tester inserted in the center of the loaf comes out clean. Let the cake cool in the pan for 15 minutes, then turn it out onto a wire rack to cool completely.
Meanwhile, to make the peanut butter spread, beat the cream cheese and peanut butter together in a bowl with an electric mixer until smooth. Add the sugar and beat until incorporated. If you aren't using the spread immediately, place it in a ramekin, tightly cover it with cling film and it will keep in the fridge for up to 3 days.
Serve the loaf plain or toasted, topped with the peanut butter spread. The loaf will keep in an airtight container or wrapped tightly at room temperature for up to 3 days.

Email this post

Print this post