Donal Skehan ticks all the boxes. He's young, hip and even had a brief stint as a pop star before turning his attention exclusively on food. He's also one of the new generation of food blog success stories who's just published his second book, Kitchen Hero, and his corresponding new TV show is due to air on May 16 on RTÉ in Ireland. Not only that, he's also an accomplished food photographer (check out his website to see what I mean) and took all his own photos for the cookbook. And did I mention he's an all-around great guy too? Despite having thousands of Twitter followers and Facebook fans, he has time for everyone. Who else would host an afternoon tea party at Dublin's posh Westbury Hotel just for food bloggers like Donal did last week so we could sample the tea he's designed exclusively for them, not to mention get a signed copy of his book? He's a true star.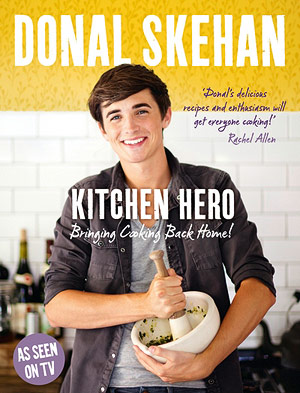 And he also knows his way around the kitchen. You can just about feel Donal's energy and enthusiasm leaping off the pages of his new book. "I am a home cook and I'm here to show you how to be a kitchen hero!" he proclaims in the first line of his introduction. "I've come to the conclusion that if you have confidence in the kitchen, you can cook absolutely anything." He wants to get people back in the kitchen and his focus is on cooking simple, tasty food using fresh ingredients. His recipes are do-able for even the most novice cook — like this pasta with slow-roasted tomatoes, basil and goat's cheese. As for me, a working mom with two young kids, the 'Meals in Minutes' and 'Stretch Your Meals' chapters are already full of dog-eared pages of recipes I'll be making in the next few weeks.
Slow-roast Tomato, Basil and Goat's Cheese Pasta
adapted from Kitchen Hero by Donal Skehan
Serves 4
Donal's original recipe is vegetarian, but I wouldn't be averse to adding in some bacon or even leftover roast chicken. Or you could try adding in a few handfuls of baby spinach or arugula (rocket) and some toasted pine nuts. I stirred through the juice of half a lemon, which I thought gave this a lovely lift. The great thing about roasting tomatoes is that even if they're not at their best in the off season, this method brings out all their flavor. If you're pressed for time though, substitute sun-dried tomatoes for the slow-roasted ones, in which case this is the kind of dinner that you can pull together in the time it takes to boil water and cook your pasta.
3 tablespoons olive oil
1 tablespoon balsamic vinegar
1 lb 2 oz (500 g) cherry tomatoes, cut in half
salt and freshly ground black pepper
11 oz (300 g) of your favorite pasta shape
3 oz (75 g) goat's cheese, crumbled
a handful of fresh basil leaves, shredded
Preheat the oven to 375°F (190°C).
Whisk together the olive oil and balsamic vinegar in a large bowl. Add the tomatoes and toss gently to coat them. Arrange the tomatoes cut side up on a large baking tray and season with salt and pepper. Roast in the oven for about 45 minutes, until the tomatoes have shrunk and are slightly charred.
Meanwhile, cook the pasta in a large pot according to the instructions on the packet. Drain the pasta and return it to the pot. Immediately stir through the goat's cheese, basil and tomatoes while the pasta is still hot so that the cheese melts and coats the pasta. Season with a good pinch of salt and pepper and serve immediately.

Email this post

Print this post