"How easily happiness begins by / dicing onions", writes William Matthews in his poem, "Onions". This is never more true than when making French onion soup. And surely there can be no higher calling or better end for an onion than to be sauteed in butter, then doused in a boozy broth of brandy, sherry and wine. As an easy midweek soup-and-sandwich dinner goes, you could do worse than one that makes you wish you were sitting in a Parisian café.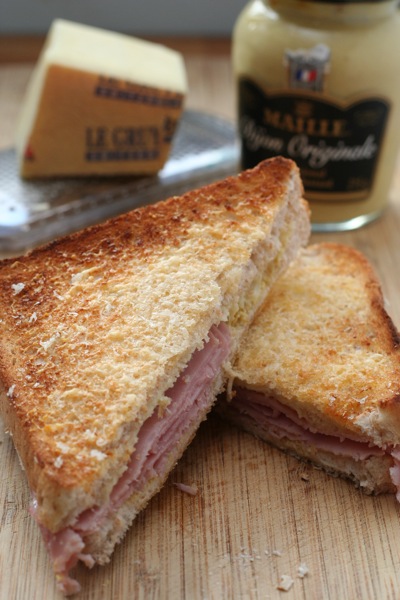 French Onion Soup
adapted from The Barefoot Contessa Cookbook by Ina Garten
Serves 4 to 6
2 1/2 lb (1.1 kg) yellow onions, halved and sliced 1/4 inch thick
1/4 lb (110 g) unsalted butter
1 bay leaf
1/2 cup (125 ml) medium-dry sherry
1/2 cup (125 ml) brandy or Cognac
1 1/2 cups (375 ml) good dry white wine
8 cups (2 liters) beef stock
salt and freshly ground black pepper
freshly grated Parmesan, to serve
Melt the butter in a large stockpot on a medium heat. Saute the onions with the bay leaf and a pinch of salt (to stop the onions from browning) for 20 minutes, until the onions turn a rich golden brown color. Deglaze the pan with the sherry and brandy and simmer uncovered for 5 minutes. Add the white wine and simmer uncovered for 15 more minutes. Add the beef stock plus salt and pepper (but not too much salt because your stock is liable to be salty already). Bring to a boil, then simmer uncovered for 20 minutes. Remove the bay leaf, adjust the seasoning and serve hot with grated Parmesan on top.
***
Croque Monsieur
adapted from How to Cook: Book One by Delia Smith
Serves 1
A croque monsieur is really just a grilled ham and cheese sandwich. It originated in France as a kind of fast food snack served in cafés and bars. A croque madame is a version of this sandwich with a fried or poached egg on top. I was tempted by the Barefoot Contessa's version of this classic, which she smothers in a béchamel sauce, but I opted to keep things simpler (and less calorific) with Delia Smith's recipe. I did use Ina's tip though to add some Dijon mustard to the sandwich.
2 large slices good-quality white bread, buttered
Dijon mustard (optional)
1/2 cup (50 g) Gruyère, finely grated
2 or 3 slices of cooked ham, Parma ham or wafer-thin ham
2 tablespoons (30 g) butter, melted
1 rounded tablespoon finely grated Parmesan
salt and freshly ground black pepper
On one slice of the buttered bread, add a thin smear of Dijon mustard (option). Sprinkle over half the grated Gruyère, then cover that with the slices of ham, folding them if need be to fit the size of the bread. Now sprinkle the rest of the Gruyère on top of the ham, season with salt and pepper, then press the other slice of bread on top of that and press it down firmly. Now brush the top side of the sandwich with some of the melted butter, sprinkle it with half the Parmesan and press it into the bread. Transfer the sandwich to a baking sheet and grill it in the oven for about 2 minutes, 2 inches from the heat, making sure to keep a close eye on it so that it doesn't burn. When it's golden brown, turn it over, brush the other side with melted butter, sprinkle the rest of the Parmesan all over and grill for another 2 minutes. Remove it from the grill, cut it into halves or quarters and eat it while it's still warm and crunchy.

Email this post

Print this post