There's been a lot of bad news about Ireland in the world media these past few months, but I'm determined to focus on the positives about my adopted country and there are plenty of them, including the vibrant food scene. One such Irish success story is L. Mulligan Grocer, a gastropub started by another food blogger, Seáneen of 9 Bean Row, in 2010 with her two partners. Open only since July, it's already been named one of the top 100 restaurants in Dublin, got a great review in the Sunday Tribune and from Tom Doorley in the Daily Mail and has become the meeting place of choice for food bloggers in Dublin. Caroline and I didn't have to think twice about where to have a dinner out to celebrate the launch of the Irish Food Bloggers Association — it was practically just assumed it would be Mulligan's. At the IFBA launch dinner back in November, our menu — with a matching craft beer menu to complement each course — included potted crab with sourdough soldiers; bangers and mash with TJ Crowe's free-range sausages with wholegrain mustard mash and O'Hara's stout gravy; and toffee apple sundae with Cuinneog butterscotch, spiced apple, Kilbeggan cream and Murphy's sea salt ice cream. In short, it's the kind of place you wish was your local. Feeling inspired by the dinner at Mulligan's and my orchard apple tour in October, I pulled out this recipe. Made with sausages from my local butcher, Irish cider and Irish apples, it was a perfect reminder of some of the things I love best about Ireland — good food made by good people.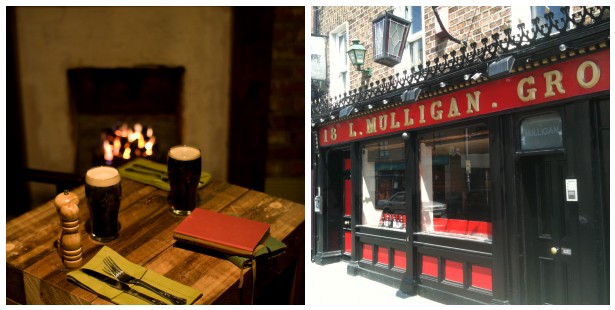 Sausages Braised in Cider with Apples and Juniper
adapted from Delia's How to Cook Book One by Delia Smith
Serves 4
Delia calls for Bramley and Cox's apples, but if you can't get those, use one each of any cooking apple and eating apple. And if you can't find juniper berries, don't worry about leaving them out, this is still worth making without them.
olive oil
8 to 10 large pork sausages, weighing about 1 lb (450 g)
2 onions, peeled and sliced into rings
8 oz (225 g) lean smoked bacon, roughly chopped
2 cloves garlic, chopped
1 Bramley apple, cored and sliced into rings (unpeeled)
1 Cox's apple, cored and sliced into rings (unpeeled)
1 tablespoon plain flour
2 cups (500 ml) dry cider (hard cider)
1 tablespoon cider vinegar
a few springs of fresh thyme
2 bay leaves
1 tablespoon juniper berries, crushed slightly in a pestle and mortar or with the back of a spoon
salt and freshly ground black pepper
mashed potatoes, to serve
Heat a splash of olive oil in a large, heavy-based frying pan over a medium heat. As soon as it's hot, fry the sausages until they are nicely browned on all sides, then transfer them to a plate and set aside. Add the onions and bacon to the frying pan and cook for about 10 minutes, until the onions have softened. Add the garlic and cook for 1 minute more.
Meanwhile, place a casserole pot (a.k.a. Dutch oven) or large heavy-bottomed pot onto a medium heat. Add a splash of olive oil, and when it's hot, add the apple rings and brown them on both sides, which will take 2 to 3 minutes. Add the sausages, followed by the bacon, onion and garlic, then sprinkle the flour in to soak up the juices, stirring it gently with a wooden spoon. Next add the cider and cider vinegar a little at a time, stirring after each addition. Add the thyme, bay leaves and crushed juniper berries and season with salt and pepper, but not too much salt because of the bacon. Put the lid on and simmer very gently on the lowest possible heat for 1 hour. Serve with mashed potatoes.

Email this post

Print this post