Don't you love finding a recipe that's tasty, easy, quick, and healthy? Here's one I just discovered. This recipe is also an excellent choice for anyone looking to serve the wild Gulf of Mexico shrimp that are finally back in stores (ahem, thank you BP for the forced hiatus). One word of caution — make sure you have enough dinner guests at the table for this dish. Couscous doesn't reheat particularly well and you won't want a bite of it to go to waste.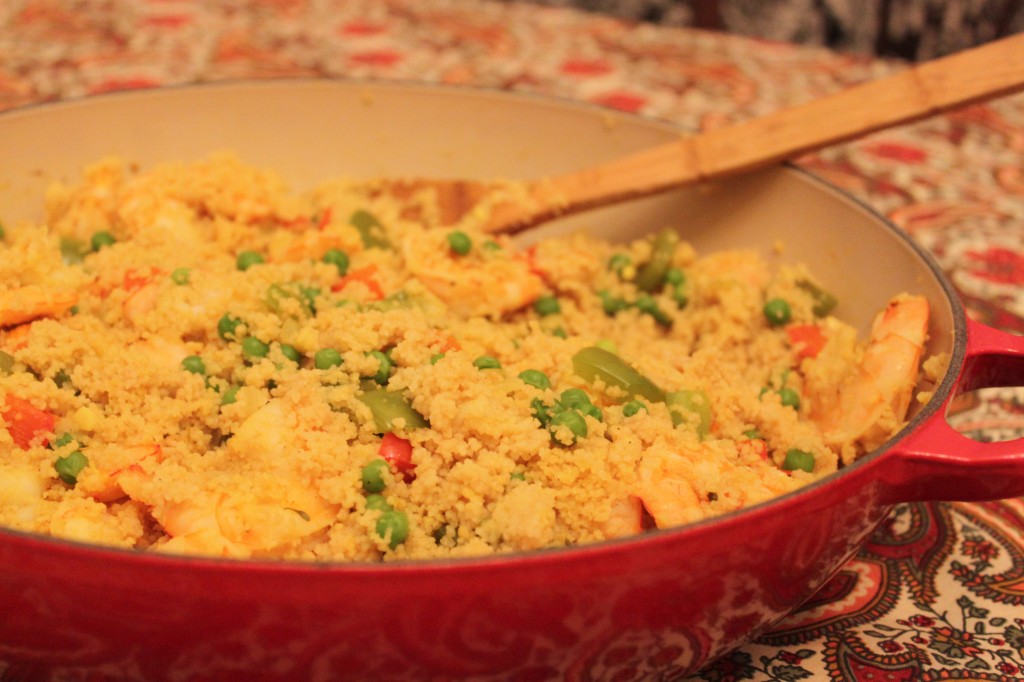 Couscous Paella with Shrimp
adapted from Family Circle as posted on Food Network
Serves 6
1 tablespoon olive oil
1 medium onion, chopped
3 cloves garlic, chopped
2 bell peppers (green, yellow, and/or red), cut into 1/2‑inch dice
1 teaspoon salt
1/2 teaspoon black pepper
1/2 teaspoon dried thyme
1/2 teaspoon red pepper flakes
1/2 teaspoon ground turmeric
1 can (14 oz/400 ml) chicken broth
1 cup (240 ml) water
10 oz (280 g) frozen peas, thawed
1 1/2 lb (680 g) large shrimp, shelled and cleaned
10 oz (280 g) couscous (plain or whole wheat)
Heat the oil in a large heavy-bottomed pot that has a lid. Add the onion, garlic and peppers and cook until the peppers are tender, about 8 minutes. Add the salt, black pepper, thyme, pepper flakes and turmeric and cook for 1 minute. Add the broth, water, peas and shrimp. Simmer, covered, for 2 minutes.
Remove the pan from the heat. Stir in the couscous and cover. Let stand for 5 minutes, then remove the cover, fluff the couscous with a fork, and serve immediately.

Email this post

Print this post