After more than a year of blogging, nearly all my favorite recipes have been gathered, photographed and posted. While this has forced me to try out new recipes, the new recipes don't always turn out to be blog-worthy. Sometimes they don't even turn out to be edible. Thankfully, friends and family will sometimes throw a tried and true recipe of their own my way. Leah, high school friend of Kristin and me, also of Tzatziki Chicken fame, sent me a bunch of her family's favorite recipes earlier this month. This is the first of the bunch I tried and if the others are even half as tasty, we're in for some good eating in my house. Thank you, Leah! If anyone else has a favorite recipe of their own, please send them our way.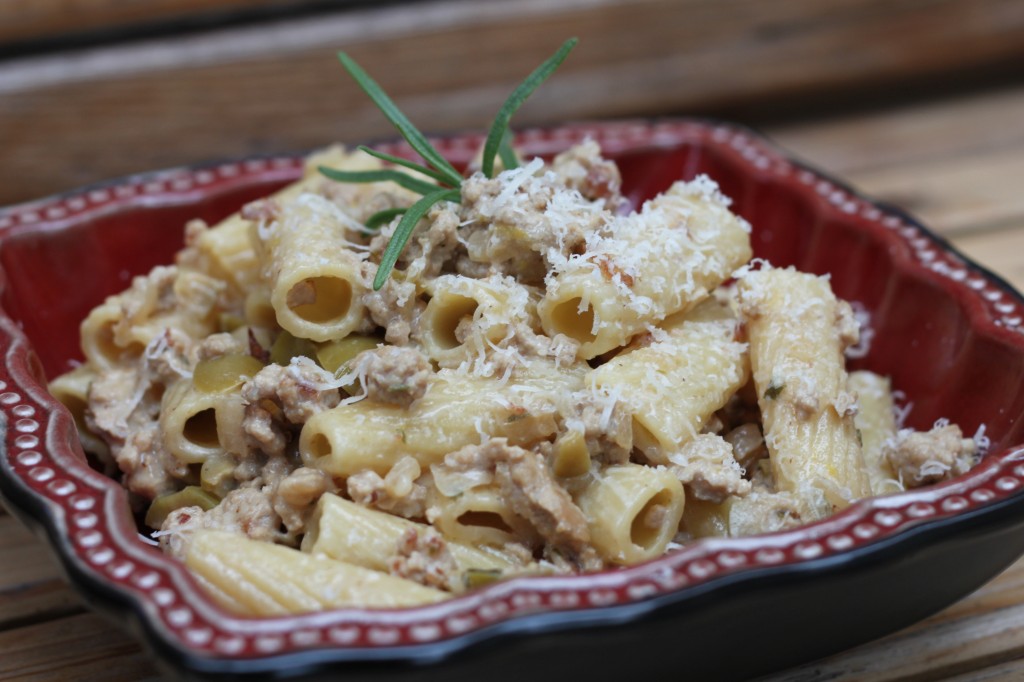 Rigatoni with Pork and Lemon Ragu
adapted from Easy Everyday: Simple Recipes for No-fuss Food (Ryland Peters & Small))
Serves 6
2 tablespoons olive oil
1 lb (450 g) ground pork
1 onion, finely chopped
3 garlic cloves, thinly sliced
4 anchovy fillets in oil, drained
2 tablespoons fresh rosemary leaves, minced
1 lemon, zested and juiced
1 lb (450 g) rigatoni
2 cups (475 ml) whole milk
handful of good quality green olives, pitted and chopped
1/2 cup (120 ml) heavy cream
1/2 teaspoon freshly ground nutmeg
1/2 cup (50 g) Parmesan shavings, plus extra to serve
salt and black pepper, to taste
Put a large pan of salted water on to boil for the rigatoni.
Meanwhile, heat the olive oil in a large skillet over high heat and add the pork. Cook the pork 3–4 minutes until lightly browned, breaking up clumps with the back of a wooden spoon. Add the onion, garlic, anchovies, rosemary, and lemon zest and stir to combine with the pork. Reduce the heat, cover, and let the onion soften for 10 minutes, stirring occasionally.
When the salted water is boiling, add the rigatoni and cook according to the package instructions until al dent and drain.
When the onion is translucent, add the milk, lemon juice, and olives, and bring to a boil, scraping the bottom of the skillet to loosen any sticky, flavorful bits and incorporating them into the sauce. Simmer for 15 minutes or utnil about two-thirds of the liquid has evaporated and the pork is soft. Stir in the cream, then season with nutmeg, salt, and pepper.
Carefully stir in the cooked rigatoni to the pork ragu. Add the Parmesan and transfer to bowl, sprinkling extra Parmesan on top if desired.
***
Garlic Sauteed Spinach
Serves 4
2 bunches spinach, stems removed
1 tablespoon olive oil
1 tablespoon butter
2 cloves garlic, minced
1/2 teaspoon sea salt
lemon juice or rice wine vinegar, to taste
Fill your sink or a large bowl with cold water. Add the spinach to the water and let it soak for a few minutes. Any dirt on the spinach should settle to the bottom of the sink or bowl. Remove the spinach, drain the water (and any dirt) and repeat the procedure to remove any remaining dirt. Drain the spinach and dry it as much as possible in a salad spinner or on a dish towel.
Heat the olive oil and butter over medium heat in a large skillet. Add the garlic and cook 1–2 minutes until it is just starting to turn golden. Add half the spinach and stir until it begins to wilt. Add the other half of the spinach and continue to cook, stirring occasionally, for another 4–5 minutes until fully wilted but still green. Season with salt and lemon juice or vinegar, to taste.

Email this post

Print this post